Join fellow celestial enthusiasts aboard the world's most adventurous cruise line, Royal Caribbean, to view the highly-anticipated total solar eclipse on August 21, 2017. Nearly a century in the making, this phenomenon will be captured on the decks of Royal Caribbean's Oasis of the Seas.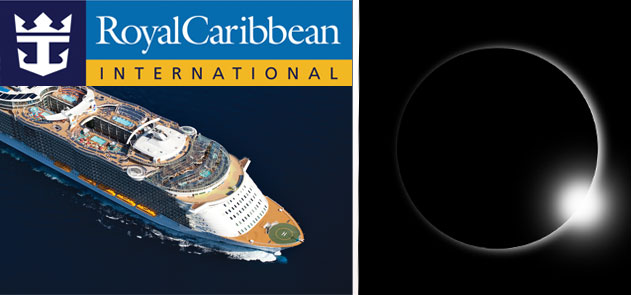 This brag-worthy adventure will be headlined with a live concert during the viewing party. You know something's special when it has cocktails labeled after it – namely, Cosmic Cosmo, Planetary Punch and Moon Pie. Other full slated eclipse-themed activities include dance parties, trivia, enrichment lectures and interactive science fun for kids. Enjoy FlowRider surf simulators, zip lining nine decks high, acrobatic performances, high diving and hit Broadway musical, 'CATS'.
According to experts, "the eclipse's path will stretch across the country from Oregon to South Carolina before passing over the Atlantic Ocean, during which the sun will be entirely covered by the moon." Since the United States hasn't experienced a crossing of a total solar eclipse for 99 years, this event is sure to go down in history!
A truly iconic cruise terminal meant to serve as a home port to Royal Caribbean International ships like the Oasis of the Seas is currently in the early stages of design and development for the port of Miami. This dramatic statement piece will be a symbol of commitment to Miami by boosting huge economic benefits estimated to impact the economy by $500 million and generate about 4,000 jobs.
The creative thinking and cutting-edge design of this 170,000 square foot terminal will be a striking impression to all passengers of Royal Caribbean departing and disembarking from PortMiami. The design will reflect different views from different angles, evoking a dynamic façade at every turn. When viewed from the eastern or western side, the 'M' of Miami will become apparent, and an illusion of waves rising or ships sailing will seem evident from the terminal side. The port of Miami is a befitting choice to establish Royal Caribbean's largest cruise port in the world, seeing that the city was the groundbreaking port for the company when it started almost 50 years ago.
Check out highlights of the fascinating architectural design of this world-class cruise terminal and get ready for your next cruise getaway with Royal Caribbean to/from the port of Miami in 2018.

The Cruise Web, Inc.
reply@cruiseweb.com
1-800-377-9383


Royal Caribbean is growing by leaps and bounds. The contemporary cruise company announced that they are hard at work on a new Quantum Class of ships. The Quantum Class will consist of two ships, Quantum of the Seas, which will make its debut in the fall of 2014, and Anthem of the Seas, which will follow in the spring of 2015.
These ships are currently being constructed at the Meyer Werft shipyard in Germany and promise to "WOW" with innovative features and designs. "Throughout our history we have made huge strides in cruise ship design and innovation and the Quantum class will be no exception," said Richard D. Fain, Chairman and CEO, Royal Caribbean Cruises, Ltd. [Read more →]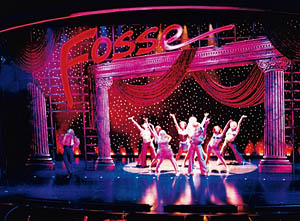 Royal Caribbean's Oasis of the Seas is headed to Broadway. The ship will be featured on Sunday night's live broadcast of the TONY Awards. The cast on the ship will perform one song from the Opal Theater as the ship sails in the middle of the Caribbean. [Read more →]
Courtesy of Royal Caribbean International.
Royal Caribbean International is rolling out the red carpet in honor of the May 26, 2011 world premiere of the highly anticipated DreamWorks Animation SKG, Inc. film "Kung Fu Panda 2" with 3-D movie viewings, a family-themed promotion and special onboard programming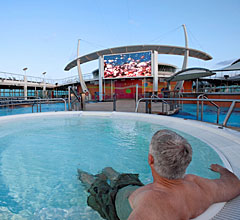 throughout the summer. Guests sailing on Allure of the Seas, Oasis of the Seas, Freedom of the Seas and Liberty of the Seas from June through August 2011 will have the unique opportunity to see the 3-D animated film at sea while it is still in movie theaters across the globe. The cruise line will host a series of red-carpet premieres, which will be celebrated onboard Oasis of the Seas on June 4, 2011, Freedom of the Seas and Allure of the Seas on June 5, 2011, and June 18, 2011 for Liberty of the Seas. Ample viewings of "Kung Fu Panda 2" will take place throughout each sailing onboard all four ships through the end of August 2011. [Read more →]
Courtesy of Royal Caribbean International.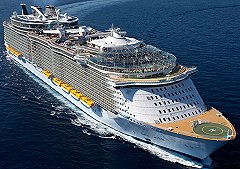 While global audiences eagerly await Taylor Swift's third album Speak Now, dedicated fans also can look forward to seeing Taylor Swift perform live onboard the world's newest and largest ship. The four-time Grammy® award-winner Taylor Swift will perform onboard Royal Caribbean International's highly anticipated Allure of the Seas in the ship's signature AquaTheater, an amphitheater-style space with an ocean view, on Friday, Jan. 21, 2011. To date, the first single released from Speak Now, entitled "Mine," has sold more than 1 million copies. [Read more →]
Courtesy of Royal Caribbean Int'l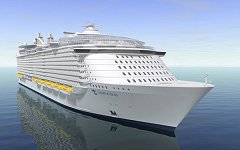 Royal Caribbean International officially named its newest cruise ship, Oasis of the Seas, on November 30, during an elaborate maritime celebration designed especially for the world's largest and most revolutionary cruise ship. Putting a new twist on one of maritime`s longest standing traditions, the global cruise line was honored to have not one, but seven celebrity godmothers – Gloria Estefan, Daisy Fuentes, Shawn Johnson, Keshia Knight Pulliam, Michelle Kwan, Jane Seymour and Dara Torres – preside over the festivities. The celebration took place throughout the seven signature neighborhoods onboard Oasis of the Seas, culminating with the traditional Champagne bottle breaking ceremony followed by a fireworks display in the AquaTheater, the ship`s dazzling oceanfront theater. [Read more →]
Courtesy of Royal Caribbean International
Royal Caribbean International's newest cruise ship – the highly anticipated Oasis of the Seas – made her global debut today, arriving into her home port of Port Everglades in Fort Lauderdale, Fla. following a 14-day transatlantic crossing from Turku, Finland. Hundreds of eager onlookers – ranging from Royal Caribbean top executives to local government officials, residents and media – came out to welcome Oasis of the Seas to the United States for the first time and to be among the first to catch a glimpse of the world's most revolutionary cruise ship.

In the course of the next six days, the ship will undergo the final touches in preparation for pre-inaugural festivities kicking off with an exclusive private performance by pop music artist Rihanna, the first performer ever to take the stage on Oasis of the Seas', Thursday, Nov. 19, 2009. Oasis of the Seas will then make her national television premiere on ABC's "Good Morning America," Friday, Nov. 20, from 7:00 a.m. to 9:00 a.m. (EST). The official naming ceremony for Oasis of the Seas will take place on Monday, Nov. 30 during a one night inaugural celebration fundraiser to benefit the non-profit Make-A-Wish Foundation, which grants the wishes of children with life-threatening medical conditions. [Read more →]
Courtesy of Royal Caribbean
Royal Caribbean Evolves Culinary Experiences With Al-Fresco Seating, Gourmet Venues And My Time Dining
Oasis of the Seas will set the stage for Royal Caribbean International's culinary innovations. The world's most revolutionary cruise ship will offer guests more variety and flexibility than ever before, thanks to 24 distinct dining experiences, ranging from an exclusive signature restaurant, to neighborhood-specific themed venues and new twists on the global brand's traditions.
"Oasis of the Seas showcases the evolution of Royal Caribbean dining," said Adam Goldstein, president and CEO, Royal Caribbean International. "Both the new concepts and the established Royal Caribbean offerings found throughout the neighborhoods are designed to meet contemporary dining standards, cater to individual preferences and schedules and foster epicurean curiosity. With so many options, guests could choose a new place to dine for every meal."
Fleetwide, Royal Caribbean strives to deliver the best dining experience possible by continuously developing innovative programs and upholding the highest culinary standards. As guests expectations continue to rise, the global cruise line introduces new elements of variety and flexibility, such as My Time Dining and My Family Time Dining. In addition, Royal Caribbean trains and certifies all culinary chefs through the American Culinary Federation's accredited education program and implements U.S. training standards of safe alcohol service.
From breakfast to late night snacks, guest's onboard Oasis of the Seas can find an extensive variety of food and beverage offerings, available at no extra charge, that will satisfy any craving, providing more options for breakfast, lunch and dinner than Royal Caribbean guests have ever had before.
Central Park
150 Central Park – The most exclusive dining venue on Oasis of the Seas, 150 Central Park will provide an intimate dining experience that will combine leading-edge cuisine with modern design, creating a trendy upscale ambiance. Signature features will include a tasting menu with customized wine pairings. Open for dinner; $35 cover charge.
Giovanni's Table – This Tuscan countryside influenced trattoria will be a more-accessible, casual Italian restaurant featuring both indoor and al fresco seating. Giovanni's Table will offer rustic dishes with a contemporary flair, including toasted herbal breads, pizzas, salads, pastas, Italian sandwiches, braised meat dishes and stews, all served family-style. Open for lunch and dinner; $10 lunch and $15 dinner cover charge.
Park Café – A casual dining choice providing a high level of variety and flexibility, Park Café will be an indoor/outdoor gourmet market with walk-up counters. From freshly prepared salads and madeto- order sandwiches, to paninis, crepes and hearty soups, guests will order directly from the chefs behind food stations. European pastries, sublime chocolates and decadent fudge will round out the offerings. Open for breakfast, lunch, snacks, dinner and late night treats.
Vintages – Always a popular hot spot for Royal Caribbean guests on Voyager- and Freedom-class ships, the Vintages wine bar will evolve into a larger space on Oasis of the Seas. Great for a pre-dinner rendezvous, Vintages will provide a selection of cheeses and a broad tapas menu to accompany a robust selection of fine wines, from a tropical white Riesling to a mocha-inflected Merlot. Open for lunch and dinner; á la carte pricing.
Chops Grille – Continuing the tradition, Royal Caribbean's popular signature steakhouse will offer premium cut, quality meats. Guests can choose to enjoy the upscale, contemporary setting indoors with views of Central Park or al fresco. Open for dinner; $25 cover charge.
Boardwalk
Seafood Shack – The indoor/outdoor casual family restaurant will bring the surf style of beach side amusement parks to the Boardwalk, serving a variety of seafood, as well an extensive beverage menu of non-alcoholic cocktails and over-sized desserts. Open for lunch and dinner; $7.95 lunch and $9.95 dinner cover charge.
Boardwalk Bar – The main bar in the Boardwalk will offer on-the-go snacks and a variety of prepackaged sandwiches, fruit and salads. Open for breakfast, lunch and dinner.
Donut Shop – Guests can stop into the classically styled shop for a casual snack any time of day. Open for breakfast, lunch and dinner.
Ice Cream Parlor – The 1950's styled ice cream venue will display classic sundaes and a variety of ice cream flavors and toppings to choose from and then mixed-to-order on a frozen slab. Open throughout the day; á la carte pricing.
Johnny Rockets – Extending the signature "eat-ertainment" hours, a diner breakfast menu will be introduced. Open for breakfast, lunch and dinner; $3.95 breakfast and $4.95 lunch and dinner cover charge.
The Royal Promenade
Mondo Cafe – This new addition to the Royal Promenade will feature coffee, sandwiches and pastries native to countries such as Italy, Spain and Cuba. Steps from Boleros and open around the clock, it is sure to be popular after an evening on the dance floor. Open for breakfast, lunch, snacks, dinner and late night treats.
Sorrento's Pizzeria – The New York style pizzeria will feature a more extensive menu with madeto- order pizza pies and slices, in addition to the ready-made selections introduced with the Freedomclass ships. Open for lunch, dinner and late night snacks.
Café Promenade – Located on the opposite end of the Royal Promenade from the Mondo Cafe, the popular café will continue serving Seattle's Best Coffee, fruit shakes, pastries and sandwiches throughout the day and night. Open 24 hours; á la carte pricing.
The Pool and Sports Zone
Solarium Bistro – Located in the Solarium the contemporary bistro will offer health-conscious dining for breakfast and lunch in a casual setting. In the evenings, Solarium Bistro will transform into a romantic and intimate dining setting for specialty healthy-fare dinner and dancing under the stars. Open for breakfast, lunch and dinner; dinner has a $20 cover charge.
The Wipe Out Café – The casual self-service buffet will offer a variety of options from pizza, hamburgers, sandwiches and fresh salads to quick snacks and desserts, for young cruisers on-the-go. Open for breakfast, lunch and dinner.
Vitality at Sea Spa and Fitness Center
The Vitality Café – Located at the entrance of the Vitality at Sea Spa and Fitness Center, the Vitality Café will feature healthy snacks, sandwiches, wraps and fruit, in addition to refreshing juices and smoothies from the Vitality spa menu for the calorie conscious guest. Open for breakfast, lunch, and dinner.
New Twists on Fleet Fixtures
Opus Dining Room – The three-level main dining room will revive the grandeur of the 1920s and feature French art deco design. Catering to guests' varying preferences, the newly introduced My Time Dining and My Family Time Dining, as well as the traditional main and late seating options will be offered. My Time Dining provides guests with the option to enjoy the dining room ambiance with Royal Caribbean's renowned Gold Anchor Service whenever they wish during dining hours. Guests choosing My Time Dining will not have a pre-assigned table, but will be seated in the ships main dining room and will order from the same traditional dinner menu. My Time Dining guests can make daily reservations for specific seating times or choose to walk in. My Family Time Dining accommodates parents and children by offering an expedited 40-minute dining service for young cruisers, ages 3-11. Open for breakfast, lunch and dinner.
Windjammer Marketplace – Offering the utmost flexibility for breakfast, lunch and dinner, this next generation of the brand staple will feature multiple islands, each serving a variety casual buffet fare.
Izumi – The new Asian cuisine restaurant will feature a sushi bar and hot rock cooking, as well as other Asian fare in a more formal setting. Open for lunch and dinner; á la carte pricing.
In-Stateroom Service – Guests wanting to enjoy a meal in the comfort of their staterooms will be able to choose from the complimentary breakfast, lunch and dinner menus, as well as the recently introduced Dine in Delights menu, which offers name-brand culinary options ranging from the Original Johnny Rockets hamburger to Ghirardelli Chocolate Cookies. Open 24 hours; á la carte pricing for Dine In Delights and $3.95 service charge for in-room deliveries between 12:00 a.m. and 5:00 a.m.
By Jennifer Crivelli, Cruise Consultant, The Cruise Web.
READY, GET SET, GO! The race is on to see which cruise line can launch the biggest ship with the most attractions at sea. It all began with White Star Line in 1912, who at the time decided to build the "Grandest" passenger ship at sea. Ship building has come a long way in 97 years….
In the modern era of "BIG" ships, Royal Caribbean has led the way. Each ship designed is bigger and better

than the last, and traditionally, the largest ship in the industry. Royal Caribbean was the first to offer rock-climbing walls on all of their ships. In early 2005, Royal Caribbean took the "BIG" ship idea to the extreme, when they stretched the Enchantment of the Seas, adding a 70 foot section into the middle of the vessel. [Read more →]