Your kids might feel like they're too cool for school, but here are 10 cruise ship experiences they'll never stop raving about! From laser tag and 3D movie theaters, to surfing simulators and aqua parks, these cruise ship experiences will guarantee a photo album full of unforgettable family vacation memories.
Without further ado, make like every kid on summer vacation, put off those summer assignments and continue below to check out The Cruise Web's top family cruise experiences:
Splashaway Bay Aqua Park (Royal Caribbean)
Families won't have themselves a better or wetter time than at Royal Caribbean's Splashaway Bay aqua parks, featuring waterslides, water cannons, fountains, pools and the infamous drench bucket! With plenty to occupy everyone from toddlers to teens, Splashaway Bay is one of the most family-friendly aqua parks at sea. Note: Splashaway Bay requires a minimum height of 42"-45" for select waterslides.*
Royal Caribbean ships featuring Splashaway Bay: Adventure of the Seas, Harmony of the Seas, Liberty of the Seas, Majesty of the Seas, Ovation of the Seas & Symphony of the Seas
LEGO Experience On Board (MSC Cruises)
MSC Cruises is the only cruise line to offer the LEGO Experience On Board, featuring LEGO-themed play areas where activities include LEGO building competitions, LEGO video games and more! Plus, each ship with the LEGO Experience features one entire day during every cruise dedicated to family-friendly LEGO activities and entertainment. At the end of this day, children can even earn Junior LEGO Master Builder diplomas!
MSC Cruises ships featuring the Lego Experience: MSC Armonia, MSC Bellissima, MSC Grandiosa, MSC Lirica, MSC Meraviglia, MSC Opera, MSC Seaside, MSC Seaview & MSC Sinfonia (and eventually fleetwide)
Enjoy a colorful preview of MSC Cruises' next groundbreaking ship, MSC Seaview, with The Cruise Web's latest cruise ship infographic! MSC Seaview is a sister to the Miami-based MSC Seaside, featuring a plethora of carefully curated entertainment options, diverse palate-pleasing dining and unforgettable onboard activities. Plus, guests have their choice of a wide range of accommodations in which to retire – each a welcoming retreat to provide the energy needed to experience all MSC Seaview has to offer when she debuts in the Mediterranean in June of 2018!
CLICK HERE to view the full-size version of The Cruise Web's MSC Seaview infographic: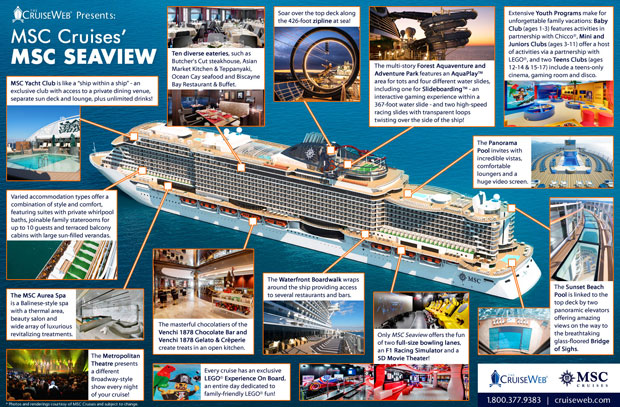 Embed this image on your site! Simply copy and paste the code below into your website:
MSC Seaview, one of the next ships from MSC Cruises, is rapidly preparing for her debut in June 2018. The ship recently reached a huge milestone by celebrating her floating out ceremony in Italy – which is the first time MSC Seaview touched water since the beginning of her construction.  This means the exterior of the MSC Seaview is now complete and she can enter her final stage of construction, which involves the completion of interiors, fixtures, and furnishings.
The goal of MSC Seaview is to bring travelers closer to the sea than ever before. The ships of the Seaside Generation aim to provide the ultimate sun and sea experience, which is why they have been designed for warmer climates. MSC Seaview will come into service June 2018, six months after the debut of her sister ship – MSC Seaside.
Go inside MSC Seaside – the next cruise ship from MSC Cruises – with The Cruise Web's latest infographic! MSC Seaside's revolutionary design features unique public spaces and amenities like the outdoor Waterfront Boardwalk, Panorama Pool and terraced balconies – all designed to offer fantastic views from any point on the ship. Guests aboard MSC Seaside will also enjoy a seemingly endless supply of onboard entertainment options – from the adrenaline-pumping Formula1 racing simulator to the state-of-the-art Metropolitan Theater, there's something for everyone!
Preview The Cruise Web's MSC Seaside infographic below, or CLICK HERE for full version: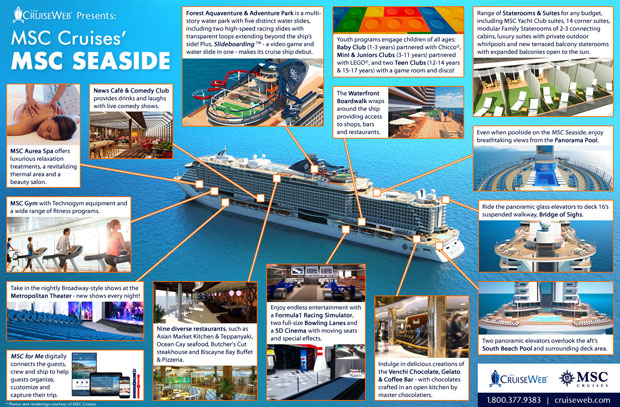 Embed this image on your site! Simply copy and paste the code below into your website:
MSC Cruises' MSC Seaside will debut in December 2017 in the Mediterranean, but will quickly cross the Atlantic for the warm waters of the Caribbean. She'll homeport in Miami, Florida for the foreseeable future to sail year-round 7- and 14-night Caribbean voyages.
To learn more about MSC Cruises' newest ship, MSC Seaside, contact The Cruise Web's expert consultants today at 1-800-377-9383.


The Cruise Web, Inc.
reply@cruiseweb.com
1-800-377-9383

We've all had moments when we wished for a more optimized vacation planning that could be simplified before, during and after our cruise, leaving us with plenty of time to enjoy our getaway. Well it seems someone was reading our minds because MSC Cruises is getting ready to roll-out the very latest advancement in customer-centric technology on its first, next generation mega-ship, MSC Meraviglia! The fleet-wide digital innovation program known as 'MSC for Me' will capture the very essence of a personalized, holistic and guest-centric experience.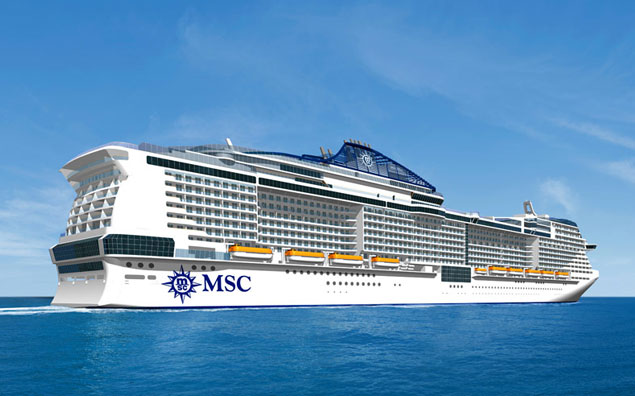 Debuting this June in the Mediterranean, MSC Meraviglia will be equipped with "16,000 points of connectivity, 700 digital access points, 358 informative and interactive screens, and 2,244 staterooms with RFID/NFC access technology."
After working with the world's leading digital, technology and behavioral science experts, the following innovative features will be made available on MSC Meraviglia, 11 upcoming next-generation mega-ships, and 12 existing cruise ships:
Navigation: Similar to a smart map, this digital way-finder will help you locate your children anywhere onboard and find your way to any location on this 1000+ foot-long ship.
Concierge: Make real-time 24/7 reservations, book excursions and request services with this amazing tool.
Capture: Use digitally immersive, interactive screens to preview excursions and a unique gallery telling a story of your trip in a virtual reality format. You can also share this with friends and family in real time.
Organizer: Use your mobile device to check in, book trips, save seats for shows and make dinner table reservations prior to embarkation or when on board.
TailorMade: Use interactive bracelets to activate geo-located suggestions through 3,050 Bluetooth beacons and connect to the ship's services. Your digital, personal advisor will also elevate the level of personalized service offered using intelligent face recognition.
Take a virtual ship tour of MSC Cruises' next state-of-the-art cruise ship, MSC Meraviglia, in The Cruise Web's newest infographic (click to expand):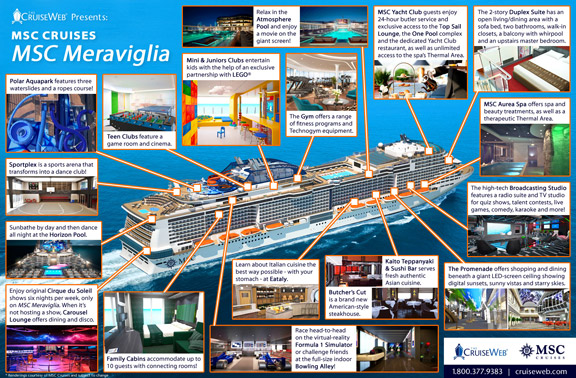 Embed this image on your site! Simply copy and paste the code below into your website:
MSC Meraviglia is on sale NOW! She will debut to the cruising public in June 2017 in Marseille, France. Her inaugural season of 7-night Mediterranean cruising will take her to Barcelona, Marseille, Genoa, Naples, Messina and Valletta. Also, make sure you check out our recent blog about the new 'MSC for Me' onboard technology debuting aboard the MSC Meraviglia.
To learn more about the MSC Meraviglia and her itineraries, contact The Cruise Web's expert consultants today at 1-800-377-9383.


The Cruise Web, Inc.
reply@cruiseweb.com
1-800-377-9383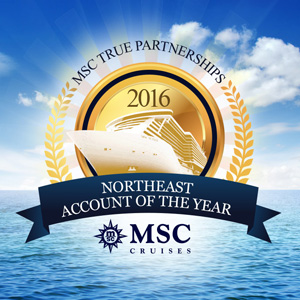 The Cruise Web was recently honored as MSC Cruises' Northeast Account of the Year as part of the line's 4th Annual MSC True Partnerships' Awards.
The 2016 MSC True Partnerships Awards were presented to MSC Cruises' top performing North American travel partners for the year based on overall business growth, as well as continuous partnership support and innovative marketing efforts driving increased consumer awareness.
Roberto Fusaro, president of MSC Cruises USA, stated, "We are thrilled to recognize our leading travel partners who have gone above and beyond in their efforts in selling and raising awareness about MSC Cruises and congratulate all of them on their hard work."
The Cruise Web is proud to celebrate this honor with MSC Cruises, and looks forward to our continued success.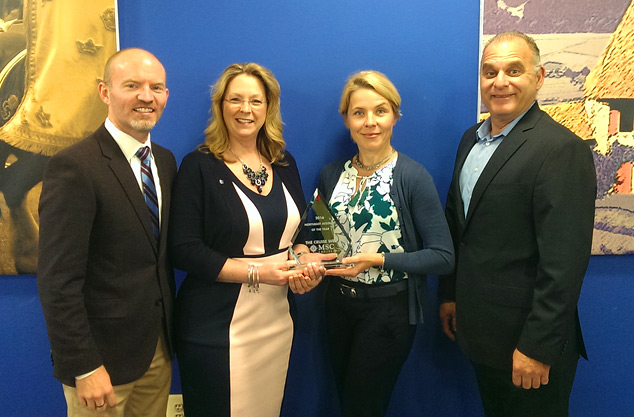 To learn more about MSC Cruises, contact the our friendly cruise experts today at 1-800-377-9383.

The Cruise Web, Inc.
reply@cruiseweb.com
1-800-377-9383

As we approach the end of the year, many cruise lovers are still looking for that perfect escape to the tropical islands in the Caribbean for a well-deserved vacation. If you happen to be one, you're in luck! MSC Cruises continues to provide extraordinary onboard experiences aboard its ultra-modern ships, and its holiday sailings are no exception.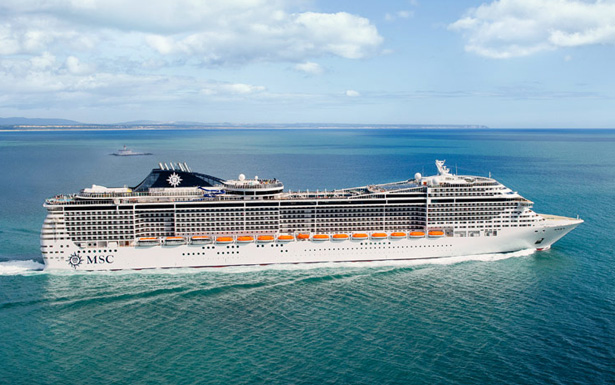 Get ready to pack all your favorite holiday traditions as you head down to Jamaica, the Cayman Islands, Mexico and the Bahamas. Depart November 19, 2016 aboard MSC Divina and spend Thanksgiving Day with family and friends at sea as you engage in festive activities like the Thanksgiving Day costume parade and show, a very traditional Turkey dinner, and all-day Thanksgiving football displayed in the sports bar. Kids onboard will also participate in a special Turkey Day cooking class and a Thanksgiving scavenger hunt.
Kids-friendly activities have always been a part of the core guest offerings on MSC Cruises; the world's largest privately-owned cruise line in Europe, South America and South Africa. As a result of this, the introduction of a kids-dedicated cooking class designed with Michelin-starred chef, Carlo Cracco, and a sports program designed in collaboration with King's Active, are welcomed additions to the extensive family-friendly activities across the company's fleet.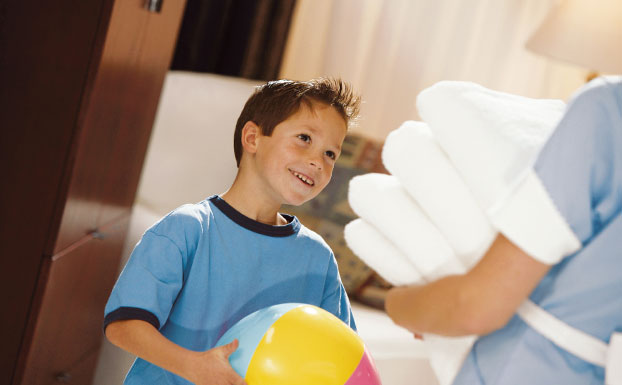 This innovative sports program known as DOREBRO is open to children and teens from ages 3-17 with an immense love for sports. DOREBRO is now available on MSC Cruises in the Mediterranean and the Caribbean. Also starting this summer is the interactive cooking class named after the official mascot of MSC Cruises, Doremi. DOREMI Chef was introduced by Carlo Cracco and it's meant to teach the art of pasta making from scratch. The homemade recipe will be taught among others, and upon completion of the course, an official mini-chef certificate will be awarded to each child.
Guests sailing on MSC Fantasia starting in December 2016 can look forward to exploring Sir Bani Yas Island- a stunning tropical paradise off the southwest coast of Abu Dhabi, exclusively owned by MSC Cruises. This 1.5 mile stretch of land filled with exotic seaside views, hundreds of swaying palm trees, shaded cabanas, and 387,500 square feet of fine golden beaches is the perfect way to experience the unique beauty of the natural surroundings in the Emirates.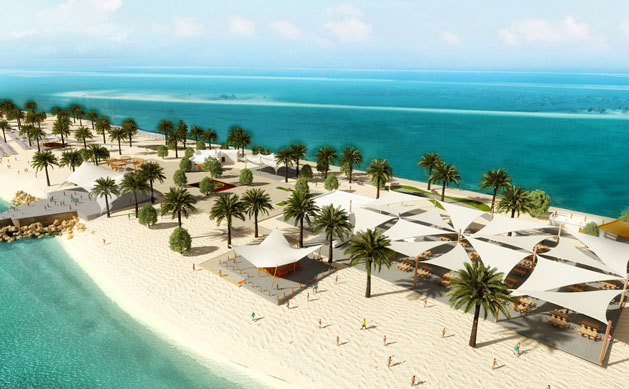 Sir Bani Yas Island is an exclusive tropical beach oasis with natural sunbathing spots, sun-drenched walking trails, a large wildlife reserve and ongoing archaeological excavation sites meant to enrich the cultural discoveries of guests sailing on MSC Fantasia. As you curiously tour the ruins of an early Christian monastery site from 6th century AD, explore the biodiversity of the Arabian Wildlife Park, and mountain bike your way to expedition sites, you will understand why this island is a unique destination experience for anyone who embarks on a cruise getaway in the Persian Gulf with MSC Cruises.