Norwegian Cruise Line to Deliver Second Breakaway Plus Ship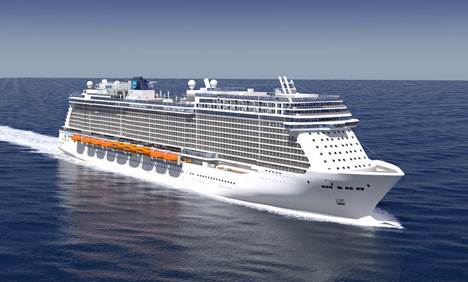 Norwegian Cruise Line has just released some more great news for the Norwegian faithful: there will be a second Breakaway Plus cruise ship joining the fleet in the future. This news comes after the success of the brand new Norwegian Breakaway cruise ship, which just embarked on her maiden voyage to Bermuda from New York City in May.
The second Breakaway Plus ship will be yet another cruise ship built by Papenburg, Germany-based MEYER WERFT for Norwegian Cruise Line. They have previously built Norwegian's four Jewel-class vessels – Norwegian Jewel ('05), Norwegian Jade and Norwegian Pearl ('06), and the Norwegian Gem ('07) – in addition to successful completion of the Norwegian Breakaway, launched in May 2013, and the soon-to-be-completed Norwegian Getaway, which will debut in January 2014. MEYER WERFT is already contracted to build a Breakaway Plus ship, which is scheduled for completion in October 2015.
What to Expect From the Second Ship in the Breakaway Plus-Class
Delivery: Spring 2017
Size: Approximately 163,000 gross tons
Capacity: 4,200 passengers
Why move on to a new class of ships after just creating the Breakaway-class? Kevin Sheehan, Norwegian's CEO, had the following to say, "The incredible response we've received from guests, travel agents, and media regarding [the] Norwegian Breakaway only reinforced our decision to add a second Breakaway Plus vessel to our fleet."
He went on to hint that there are plenty of unannounced "groundbreaking elements" as well as an additional deck to incorporate "further innovations."  What does that mean? More excitement, more creativity, and more one-of-a-kind experiences to come from Norwegian Cruise Line and their Breakaway Plus-class of ships! If you'd like to read about The Cruise Web's experiences onboard the Norwegian Breakaway, check out our review of the Ocean Blue restaurant, review of Le Bistro, or our "tips and tricks" blog.
Thanks for reading, cruise enthusiasts.
What cool innovations or dining venues would you like to see aboard the second Norwegian Breakaway Plus cruise ship? We'll feature the best answer in a future blog!

The Cruise Web, Inc.
reply@cruiseweb.com
1-800-377-9383