By Erica Kritt, Social Media Coordinator, The Cruise Web, Inc.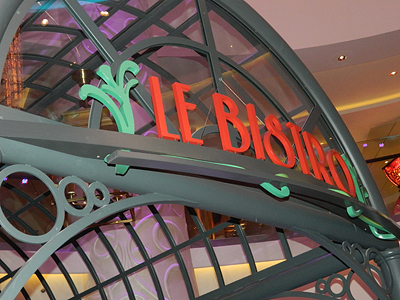 The Norwegian Breakaway is quite a ship, and there are  28 dining venues to choose from, so I was delighted when one of our cruise consultants made a dinner reservation for a few of us at Le Bistro on our last night on the ship. I have to say, living in the suburbs, it's not often you find a french restaurant, so it was exciting to get to experience the food from a country famous for its beautiful landscapes and decadent cuisine.
Le Bistro is one of Norwegian's signature specialty restaurants appearing on all of their ships except for Pride of America, which has her own french cuisine restaurant called Jefferson's Bistro. Not only was the food delicious, the restaurant evoked a Parisian bistro. On the Breakaway, the entrance to Le Bistro looks and feels like a cobblestone street and there is "outdoor" seating where you can get a great view of 678 Ocean Place, the heart of the ship. Inside the restaurant the lights are low, making for a wonderfully intimate atmosphere. The plush seats and clean white tablecloths evoke a simple elegance.
The service is subtle too, but in a good way. One member of our party was wearing dark pants, so the hostess switched out her white napkin for a black one. Another co-worker requested a beer that was not on the menu, and our server was happy to find it for her, along with some beautifully sliced oranges to punctuate the flavor.
As I stated before, all of this understated elegance served as the best backdrop for some sumptuous and delightful foods. Here is what two of us had.
First Course (Appetizers)
Coquilles St. Jacques Provencal
This was a set of three beautifully seared sea scallops flavored with eggplant, tomato, pine nuts and olive oil. The texture was perfect with just the right amount of chewiness. I simply adored this, it was light and perfect, a few more scallops and I could have had this as my entrée.
Aspergees Grillees
Generally, I hate asparagus. But it had already been a heavy day on food, and I was in need of veggies. When I cut the first piece, I could already tell that it was perfectly cooked. I am so glad that I tried this healthy appetizer because the asparagus, punctuated by mushrooms, was so flavorful. Cooked with the right amount of butter and seasoning, I needed to add nothing but a piece of bread to soak up the rest of the light sauce.
Main Course:
Homard Rotis Aux Beurre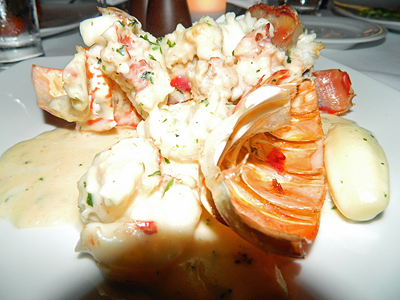 This was a whole lot of lobster, too much for me to finish, though I should have pushed through the pain because it was unbelievably delicious. The sauce was creamy, but it wasn't overpowering. Along side the lobster were tender artichokes and potatoes that needed no butter or sour cream.  I'll be dreaming of this dish.
Filet de Porc Au Romarin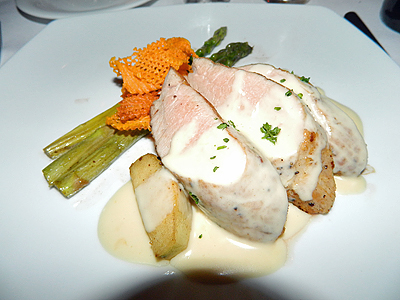 It was pretty difficult to choose between the pork and the red meat on this menu, but this item had the "chef's choice" icon next to it, so I knew it would be a hit. This pork tenderloin was blasted in flavor – and not only in the sauce, but the sweet, crispy apples laying next to the slices of pork. Luckily, this dish came with asparagus and small sweet potato baked waffle fries that were just fun to eat! This dish may look like a small portion, but it's surprisingly filling and had very complimentary flavors all throughout the plate.
Dessert:
Chocolate Fondue for Two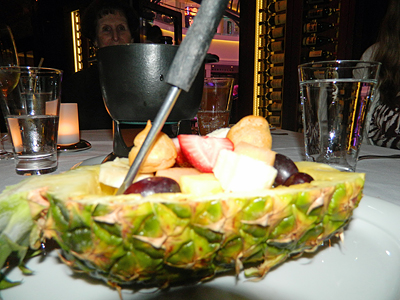 How could I pass up a chance at chocolate fondue? I was so pleased to see this dish arrive with a variety of fruits and even brioche to dip into the melted chocolate, but I have to say the presentation was key. All the bits and pieces rested in a bowl made out of a carved-out pineapple, a whimsical way to delight both the eyes and the stomach.
Chocolate Napoleon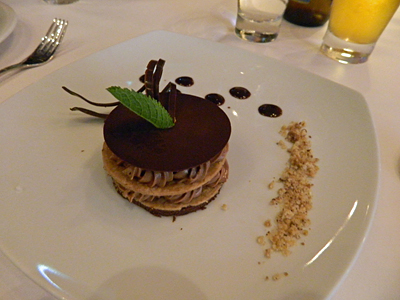 I think this dessert wins over all of the other desserts on the menu. This is a decadent chocolate dessert and it will leave you wanting more when your plate is empty. The thin pieces of chocolate on top of the cookie-like cake with chocolate syrup and granola is a great blend of sweets for a chocolate lover like me. Pairing this with a nice, cold scoop of vanilla ice cream also made the flavors really stand out.
Experience:
Le Bistro turned dinner into a celebration. It settled us into a comfortable state allowing for conversations to flow. We each took turns trying the others dishes because they all looked and tasted so delightful. While we were enjoying our company at the end of our meal, a gentleman at another table got up and took our picture without any prompting. He was quite a character and made the experience that much more fun. To me, no matter which Norwegian ship you choose, give yourself the pleasure of an evening at Le Bistro, you won't regret it.
Let us know your review of Le Bistro or any other Norwegian Cruise Line restaurant in the comment section below.



The Cruise Web, Inc.
reply@cruiseweb.com
1-800-377-9383