The 5 Best Gardens to Visit on a Cruise
Spring time is the best time for nature lovers to get out of their gardens and explore some of the world's best gardens. We've listed the top five gardens with the cruises that will take you there. So put down those pruning shears and pick up your camera.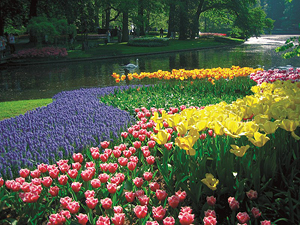 1. Keukenhof Gardens – A trip to the Netherlands is not complete without a trip to this 79-acre jewel. With over 7 million bulbs planted each year, the experience dazzles. This is the place to see tulips in all their glory, but the garden is only open from March until May.
Suggested Cruise to Visit: Tulip Time river cruise from Zürich to Vienna with Avalon Waterways
2. Singapore Botanic Gardens – This tropical garden offers visitors a lush and welcoming environment with some stunning flowers, like the more than 1,000 species of orchids. The grounds also feature a healing garden with a collection of plants that have been used as medicine. In the morning it's not uncommon to spot a yoga or tai chi class.
Suggested Cruise to Visit: Singapore to Vietnam and Hong Kong with Azamara Club Cruises
3. Kew Gardens (a.k.a. The Royal Botanic Gardens) – Once a summer getaway for King Henry VII, the garden is nearly 300 acres and has the largest living plant collection in the world. This spring, over 500,ooo,ooo bulbs will be blooming and the staff will be putting on special tours of the spring flowers.
Suggested Cruise to Visit: Transatlantic cruise on Cunard from New York to Southampton in England
4. Seychelles National Botanical Garden – This island, located off the eastern coast of Africa in the Indian Ocean, has flora and fauna everywhere, but in this garden you can find Coco de Mer trees which produce a fruit used in Cantonese cooking. The garden also features giant sea turtles and fruit bats.
Suggested Cruise to Visit: Capetown to Singapore with Oceania Cruises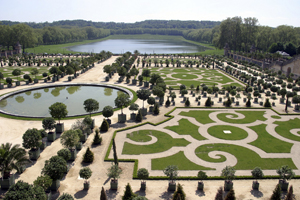 5. Versailles – Outside the decadently designed Versailles palace in France is a garden to match. The garden is large and well manicured to this day. The lawn is molded into intricate shapes and the topiaries have no leaf out of place. The garden even features a canal King Louis used for gondola rides.
Suggested Cruise to Visit: Paris to Nuremberg with Uniworld Cruises


The Cruise Web, Inc.
reply@cruiseweb.com
1-800-377-9383