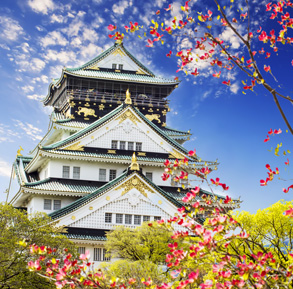 To many of the most seasoned travelers, Japan remains a stunning mystery. Perhaps Japan's beautiful landscapes, stunning temples and futuristic cities always seemed just a little too hard to reach – but not any longer! As cruising expands its presence in Asia, Japan has grabbed the attention of many cruise lines, making this mystery more accessible than ever.
Of course, it's not just the accessibility and convenience of cruising that makes Japan a popular destination – it's the remarkable juxtaposition between new and old, from bustling cities to natural beauty. It's also the culture, and the history that shaped it. And, surely, it's the tastes as much as the sights.
On a cruise to Japan you can visit the 17th-century temples of Tokyo, celebrate Japan's unique folk heritage in Okinawa, reflect at the WWII memorials in Hiroshima, meet the locals in the gardens of Kagoshima or enjoy a spa day in Kobe. Plus, when cruising to Japan, you'll only unpack once and avoid the hassle of having to arrange and coordinate your own extensive – and sometimes costly – transportation around the island nation.


Departing for Japan:
Popular Japanese departure ports include Tokyo, Kobe, Yokohama, Osaka and Otaru. Many other itineraries start outside of Japan from Hong Kong, Shanghai, Singapore or Sydney. Plus, cruisers interested in longer itineraries have even more departure ports to choose from, including some in Europe and North America.
When to Go:
Cruises to Japan are available throughout the year, so you can experience the beauty of all four seasons in the Land of the Rising Sun! Like most temperate climates, Japan has four distinct seasons with hot summers and cold winters, and each season offers advantages depending on your interests. For January and February departures, it's more common for Japanese cities to be featured as ports of call on longer World Cruise Segments, but as we move into spring, there are more itineraries focusing specifically on Japan. Most cruises to Japan depart between June and October, and the range of available itineraries is continuing to grow each year.
Featured Ports of Call:
Cruises to Japan offer an escape into a beautiful nation of contrast, where serene parks and enchanting temples are as much of an attraction as the modern cities stretching towards the sky. Highlighted below are just a few of the most incredible destinations in Japan:

Tokyo, Japan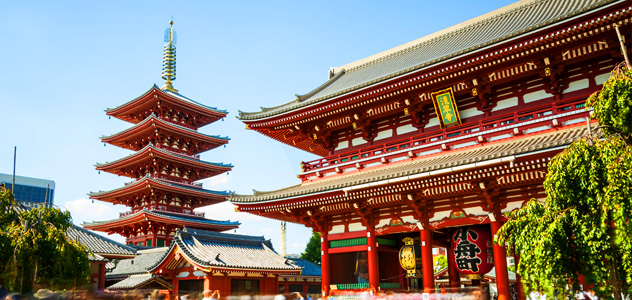 Enjoy the bustling Tokyo of today – which might look more like the city of tomorrow – before exploring the Tokyo of yesteryear at ancient sites in and around the city. Head to the former Imperial Palace ruins to wander the well-manicured gardens, learn about the region's history at the Tokyo National Museum or the 17th-century Senso-Ji Buddhist Shrine, the oldest temple in Tokyo. Travelers can also enjoy the organized chaos of the Tsukiji Fish Market – the largest in the world – to see how over 450 different types of seafood are auctioned off, and perhaps some will make its way onto your sushi plate! If time permits, head to the Ginza district or trendy Harajuku neighborhood for some unique shopping and dining opportunities.
CLICK HERE to view cruises to Tokyo, Japan

Okinawa (Naha), Japan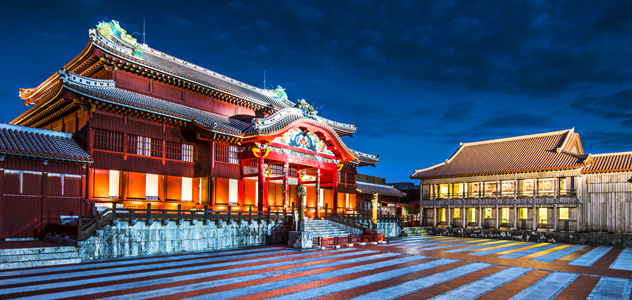 Since Okinawa is separate from mainland Japan, the people here have retained many of their own unique customs, making this an altogether different experience for visitors. Okinawa's special traditions come to life at the folk village of Ryukyu Mara, a worthwhile visit for any cruiser. You can also tour Shuri Castle, meander throughout the Shikina-en Gardens, pay tribute to the lives lost in the Battle of Okinawa at Peace Memorial Park, explore the limestone caves, go diving in waters rich with sea life and coral, or discover the history of karate, which traces its roots to Okinawa.
CLICK HERE to view cruise to Okinawa (Naha), Japan

Nagasaki, Japan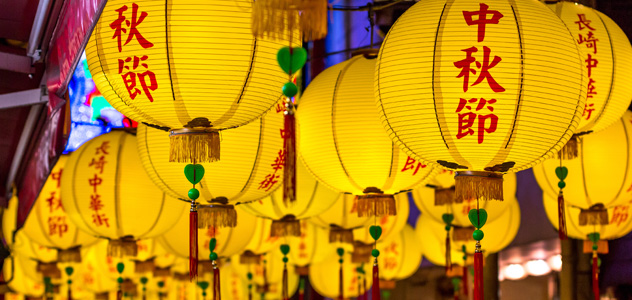 Nagasaki is a prime example of the blending of old and new, as the city was originally one of the first to open up to international influences, but all the while focused on preserving its proud local cultures and traditions. The city's most popular attraction is the Nagasaki Atomic Bomb Museum, which presents a vivid and emotional picture of the history, destruction and rebuilding of Nagasaki. Near the museum you'll also find Nagasaki Peace Park, full of beautiful memorials and a monument marking the epicenter of the devastating atomic explosion. Also worthwhile is a visit to Glover Garden, which features gorgeous landscaped gardens in addition to a great view of downtown Nagasaki.
CLICK HERE to view cruise to Nagasaki, Japan

Kagoshima, Japan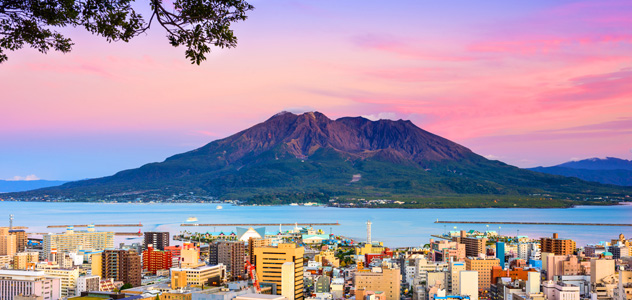 Known as the "Naples of the Eastern World" for its beautiful weather and layout, the true star of Kagoshima has to be the gigantic Mount Sakurajima volcano. It's impossible to miss this impressive 3,665-foot behemoth as you venture to the picturesque Iso-Teien Garden or the Senganen Gardens, full of tranquil streams and ponds dating back to the 1600s. Enjoy a slice of samurai history at the Museum of the Meiji Restoration, featuring several artifacts tracing Japan's modernization after the restoration of imperial rule in 1868.
CLICK HERE to view cruise to Kagoshima, Japan

Hiroshima, Japan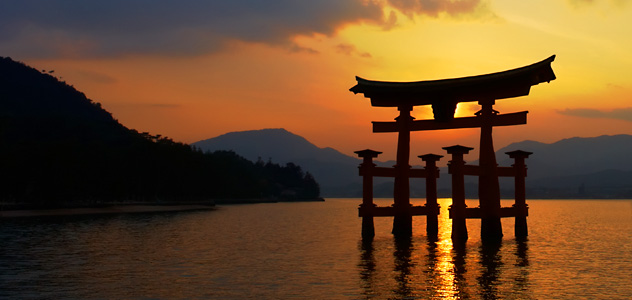 The dropping of the first atomic bomb forever changed Hiroshima, and much of the city's parks and museums are dedicated to the lives lost in the destruction. The Peace Memorial Park and Museum are popular, yet poignant, sites, as is the A-Bomb Dome, and we highly recommend visiting all three. Cruisers can also tour the many landmarks and temples at the Itsukushima Shrine, stroll the impressive Hiroshima Gardens, relax on a riverboat ride down the Motoyasu River, or visit Hiroshima Castle, which is now a museum surrounded by a moat. And since we haven't talked about food in a while, now would be a good time to mention the Hiroshima-style "Okonomiyaki" available in town, a savory crepe-like dish that has to be tried!
CLICK HERE to view cruise to Hiroshima, Japan

Kobe, Japan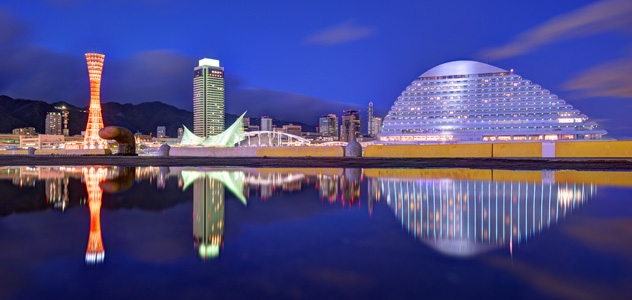 Treat your palate in Kobe, home to the delicious Kobe beef enjoyed around the world, as well as the Hakutsuru Sake Brewery Museum, which offers tastings and showcases the sake brewing process. We also encourage cruisers to visit Himeji Castle, a marvelous and towering UNESCO World Heritage Site built in the 1300s. The potential highlight of Kobe, especially after any adventure-filled itinerary, might be the relaxing Arima Onsen hot springs and spa. Another popular and unique attraction is the Nunobiki Herb Garden located high above the city and accessible via a cable car – the ride alone would be worth your while!
CLICK HERE to view cruise to Kobe, Japan

The cities listed above are just a sample of the ports available on a cruise to Japan. To learn about additional Japanese cruise ports, such as Osaka (Kyoto and Nara), Kushiro, Aomori, Shimizu, Kochi, Yokohama and Fukuoka, contact our cruise experts today. Also, since many cruises to Japan begin and end in other Asian countries, we recommend viewing our Asian cruise deals for a more complete picture of what's available for the vacations to the Far East.
For stress-free cruise planning, contact the experts at The Cruise Web today at 1-800-377-9383. Our cruise consultants consider each traveler's unique needs and preferences to plan unforgettable cruises to Japan, or anywhere else in the world! Contact us today to start for your free cruise consultation.




The Cruise Web, Inc.
reply@cruiseweb.com
1-800-377-9383