Introducing Fathom Impact Travel
The Cruise Web is proud to introduce Fathom, our newest preferred cruising partner. Fathom specializes in cruise vacations where guests not only see the world, but also make a lasting impact on destinations visited. Fathom is travel with a purpose, and the line uses a unique blend of cultural exchange programs and social impact activities to craft one-of-a-kind journeys to Cuba and the Dominican Republic.
When traveling with Fathom, expect to learn all about the people, cultures and histories of Cuba and the Dominican Republic while working with teams of like-minded travelers. In Cuba, for instance, you'll participate in various humanitarian and cultural exchange activities with a special focus on education, art and health. If you choose the Dominican Republic itinerary, your impact activities will focus on the nation's economic development, education and environment.

FATHOM'S IMPACT TRAVEL EXPERIENCE:
New cruise line for people who want to make a difference
Experience in-depth cultural immersion in Cuba
Make a lasting social impact in the Dominican Republic
Bond with like-minded travelers aboard the 704-passenger Adonia
Fares starting from $874 per person*
Continue below to learn more about Fathom's two itineraries, both available now for reservations:

CUBA
Fathom's Cuba cruise experience is unlike anything else in the Caribbean. For starters, travel to Cuba has only recently begun to take off, so you'll be exploring a destination that few have ever visited. In Cuba, your Fathom guides will help introduce you to every aspect of Cuban life, from music and art to education and history. Enjoy personal interaction with Cuban students, teachers, artists, musicians and business owners to get an authentic – and thorough – Cuban cultural experience.
Explore Havana, Cienfuegos, Trinidad and Santiago de Cuba
Engage with Cuban communities to discover a new culture and history
Compliment land-based experiences with cultural immersion activities at sea, including guest speakers, team workshops and more
7-night Cuba Itinerary (roundtrip Miami)
Departing May 1 – Nov 13, 2016
Starting from $1,800 per person* – Includes All Impact Activities
Taxes, fees & port expenses are an additional $500 per person*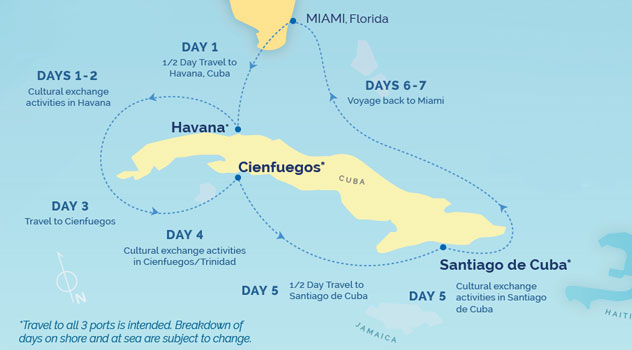 DOMINICAN REPUBLIC
Fathom also provides a rewarding travel opportunity to visit the Dominican Republic and simultaneously give back to the local community. Fathom's Dominican Republic itineraries are NOT like typical cruise vacations. You will have plenty of time to enjoy the beauty and culture of the Dominican Republic, but you will also spend a lot of your time working hands-on with other guests to make a sustainable impact in the region. Fathom has coordinated a variety of on-ground impact activities that focus on key aspects of Dominican culture, including education, creative arts, economic development, clean water access and the environment.
Transform the future of families and communities
Participate in a variety of on-ground impact activities, including:

Work with students to improve English proficiency skills
Create and deliver water filters to local families
Craft recycled paper or help cacao famers make chocolate

On-board programming with education workshops and activity training
Cultural immersion through shared experiences with locals or time spent exploring the Dominican Republic
7-night Dominican Republic Itinerary (roundtrip Miami)
Departing Apr 10 – Nov 6, 2016
Starting from $874 per person* – Includes All Impact Activities
Taxes, fees & port expenses are an additional $200 per person*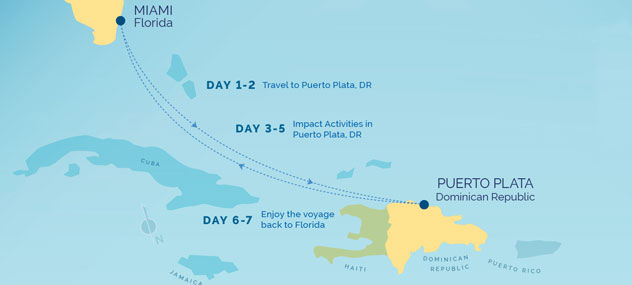 For more information about Fathom and travel to Cuba or the Dominican Republic, contact our cruise experts at 1-800-377-9383.


The Cruise Web, Inc.
reply@cruiseweb.com
1-800-377-9383

* All fares listed are in U.S. dollars, per person, based on double occupancy, for new bookings only and may be withdrawn at any time. Fares are subject to availability and may increase at any time. Taxes, fees and port expenses are additional per guest.