The 10 Most Unique Dining Experiences at Sea
Dining has been and always will be an important element of cruising. Every cruise line and their fleet offer a different dining atmosphere with a trademark spin on several styles of cuisine, but some cruise dining experiences go way above and beyond to provide a completely unique dining event. These are dining experiences you have to see (or taste) to believe; the kind that tempt you to squeeze in an extra meal just so you can go back for more.
The Ten Most Unique Dining Experiences at Sea:
Norwegian Cruise Line's Cirque Dreams & Dinner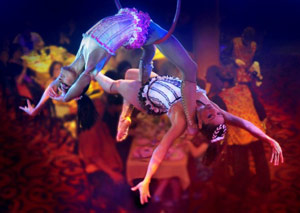 Norwegian Cruise Line combines the amazing acrobatics of Cirque du Soleil with mouthwatering cuisine for the uniquely entertaining Cirque Dreams & Dinner. Cirque Dreams debuted aboard the Norwegian Epic and was taken to a whole new level with Norwegian Breakaway's Cirque Dreams & Dinner Jungle Fantasy. This jungle-themed dinner show takes guests on an exotic journey from inside the ship's Spiegel Tent. You'll dig into outstanding cuisine while marveling at the talented acrobats, aerialists and musicians during this family-friendly dining experience. When Cirque du Soleil's talented cast of performers blend with Norwegian Cruise Line's skilled chefs, the result is nothing short of fantastic – and certainly unique. Norwegian's Cirque Dreams dinners range from $29 to $40 per person.

Cunard Line's Afternoon Tea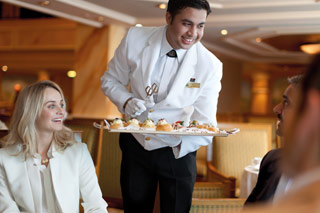 Cunard isn't the only line to offer an Afternoon Tea, but there's something especially dignified about Cunard's take on the traditional British treat. During Cunard's signature Afternoon Tea, which is best enjoyed in the Queens Room, guests receive formal white-gloved service while musicians and an elegant décor help set the mood. Casual attire, however, is perfectly acceptable for guests. And don't be fooled into thinking that this is just tea; Cunard's Afternoon Tea also includes a seemingly endless supply of tasty treats, including scones, cakes and pastries. When it's all said and done, there's just nothing that compares to enjoying this British tradition aboard one of Cunard's famous ocean liners, especially when sailing on a classic Transatlantic crossing to or from England.
Holland America Line's Master Chef's Room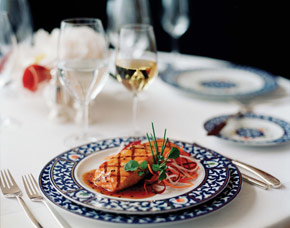 Holland America's Master Chef's Room is an exclusive culinary experience available only aboard the ms Nieuw Amsterdam. Holland America's Master Chef Rudi Sodamin is the architect behind this unbelievable seven course meal, and he utilizes all of his culinary experiences and instincts to create an inspired culinary event with courses like potato-mustard seed crusted black cod with salmon caviar and veal with black truffle and artichoke puree. This exclusive dinner is served on Versace china and expertly paired with award-winning wines. And the wines aren't the only thing winning awards; the Master Chef's Table experience recently received the Editor-in-Chief Award for Best Dining Experience from Porthole Cruise Magazine. Holland America's Master Chef's Room serves up to 18 guests and the experience costs $89 per person, including the wine pairings.
Celebrity Cruises' Lawn Club Grill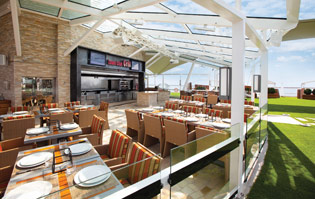 Celebrity Cruises' Lawn Club Grill is an open-air dining venue that features an interactive format for a fun, outdoor dining experience. The first unique thing that you'll notice about Celebrity Cruises' casual Lawn Club Grill is the fact that it's surrounded by a half-acre of real grass. This creates a backyard barbeque atmosphere, only Celebrity's yard has a 360-degree oceanview. Another unique feature is the option to nominate a "Grill Master" from among your guests. Under the careful guidance of Celebrity Cruises' skilled chefs, these guest Grill Masters will prepare your table's meals while learning a few new tricks and grilling techniques. Celebrity's Lawn Club Grill is only available aboard the Celebrity Silhouette and Celebrity Reflection, and this unique experience is $40 per person.
Uniworld's Epicurean Adventure Program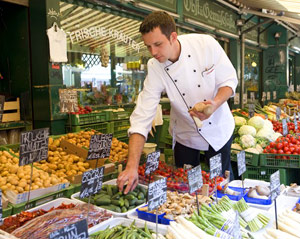 Uniworld Boutique River Cruise Collection offers a unique Epicurean Adventure Program which is unparalleled in terms of culinary immersion in a given destination. The Epicurean Adventure Program highlights the culture of food and wine in various regions, featuring culinary demonstrations to further emphasize the connection between country and cuisine. This unique program includes wine tastings, expert pairings and exclusive shore excursions to vineyards, bakeries and more. Plus, with Uniworld, you'll always be enjoying the freshest ingredients obtained from local markets and farms practicing sustainable agriculture. The Epicurean Adventure Program varies based on the itinerary, but activities could include a Black Forest cake baking demonstration (and tasting) in Germany or pastry making exhibitions and wine tastings in the historic vineyards of France.
Royal Caribbean's Café @ Two70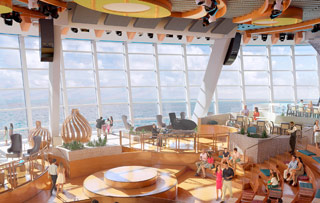 Royal Caribbean's Café @ Two70, which will debut on the upcoming Quantum of the Seas and Anthem of the Seas, is a casual dining experience that's made entirely unique through its picnic-style approach and one-of-a-kind venue, called Two70. Named for its 270-degree panoramic views, Two70 is a multi-story great room with terraced seating surrounded by floor-to-ceiling glass walls. The menu will include a mix of fresh salads, soups and sandwiches, all served in picnic-style bundles that you can take wherever you want for a different view with each meal. Stay downstairs and enjoy the panoramic views, or head upstairs for art activities, guest lectures and more. Café @ Two70 is complimentary and serves breakfast, lunch and dinner. In the evening, Two70 transforms into an energetic entertainment space with dazzling light shows and videos projected upon the 270-degree glass wall. At least part of the focus shifts to the three-story bar (featuring Royal Caribbean's first ice bar at sea) while the rest is shared by the electronic theatrics and live performers.
Oceania Cruises' Bon Appétit Culinary Center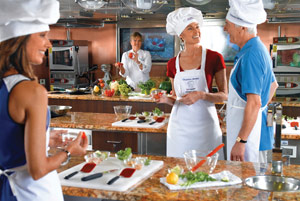 Oceania Cruises has always made cuisine a central element of their cruise experience, so it made perfect sense when they introduced their gourmet Bon Appétit Culinary Center, the only hand-on culinary studio at sea. This uniquely immersive and instructional program is perfect for couples and aspiring chefs, and instills a greater appreciation for regional cuisine. The classes are taught by Master Chefs in professional kitchens featuring 12 two-person cooking stations. Of course, the Bon Appétit program wouldn't be nearly as fun if you didn't also get to taste your creations, so come prepared to eat! Oceania's Bon Appétit Culinary classes are $69 per person and there are several options, including Healthy Greek, Magical Morocco, Beyond Ratatouille, Worldly Crepes, Paris Bistro by Candlelight and many more. For an even more in-depth experience, sign up for a Culinary Discovery Tour where you can visit a local market to pick up the fresh ingredients you'll later use in the classroom.
Celebrity Cruises' Qsine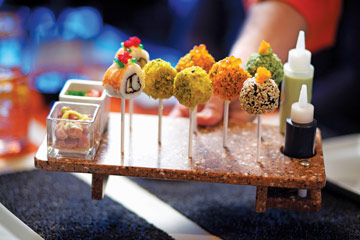 Celebrity Cruises' Qsine is a specialty restaurant that's more accurately described as a culinary "journey" than a meal. Each dish is a surprising twist on a classic, and every course introduces new colors and textures in unique presentations that challenge everything you thought you knew about cuisine. Celebrity's chefs really let their creativity shine with dishes like sushi lollipops, lobster escargot, popcorn fish 'n' chips, disco shrimp and much more – each designed as a treat for all five of your senses. As if the food wasn't unique enough, Celebrity Cruises also introduced iPad menus to make the experience even more interactive and distinct. The Qsine's one-of-a-kind dining experience costs $45 per person.
Princess Cruises' Chocolate Journeys Experience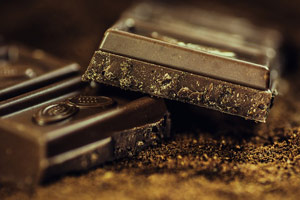 It's quite possible that there will never be a better experience for chocolate lovers than Princess Cruises' upcoming Chocolate Journeys onboard experience. This new program will feature various chocolate-themed events and creations, all masterminded by chocolate expert Norman Love. Culinary highlights include new decadent desserts, chocolate "Love Pops" at the Captain's Cocktail Reception and premium chocolate cocktails. The experience also features several chocolate-themed services and activities, like chocolate and wine pairings, chocolate cooking demonstrations and even chocolate spa treatments. Princess Cruises' Chocolate Journeys experience will debut in November 2014 aboard the Regal Princess and will eventually make its way to every Princess ship by the end of the year. You can learn even more about Princess' Chocolate Journeys in our recent blog, An All New Premium Chocolate Experience Aboard Princess Cruises.
Seabourn's Caviar in the Surf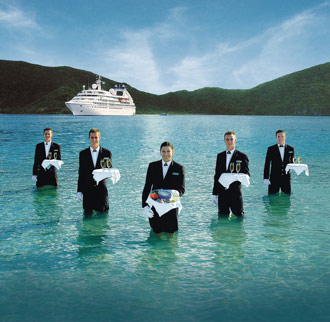 Seabourn's Signature "Caviar in the Surf" beach barbecue is one of those dining experiences that, once enjoyed, will never be forgotten. During this experience, Seabourn's fully uniformed crew wade into the water to deliver champagne and caviar to guests. Guests also enjoy a gourmet beach barbecue lunch with everything from lobster to steak. The day is made complete with the additions of live music and watersports, all set to the serene backdrops of the Caribbean or Southeast Asia. Seabourn's Caviar in the Surf might be the most unique dining experience you'll ever enjoy, and it's a perfect example of how the luxury cruise line consistently goes over the top to provide its guests with the best service imaginable.
To experience one of these unique dining options for yourself, contact one of our expert cruise consultants at 1-800-377-9383 or complete an online request form.
What was your most unique dining experience at sea? Sound off in the comments below!


The Cruise Web, Inc.
reply@cruiseweb.com
1-800-377-9383