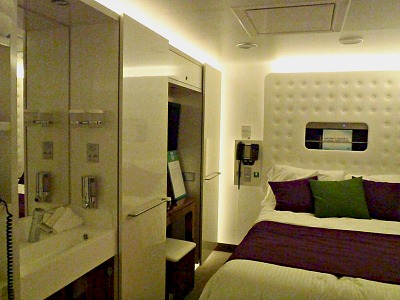 Travelers are no longer being tied down by the need to have a travel companion.There are many reasons why a person may not have a travel partner, least of which is the fact that sometimes traveling on your own is the easiest and best experience. Just think, you've got no one to argue with about where to go and no one slowing you down or rushing you on to the next attraction.
For those who travel on their own, cruising may seem unfair or like a bad option at first. Many are turned off by the single supplement fare where they have to be booked into a room meant for two and pay a fee for their non-existent guest.
So here is a list of cruise lines that have cabins specifically designed for solo travelers, meaning no supplement is charged.
Norwegian Cruise Line
Back in 2010, Norwegian debuted the Epic, which featured 100 cabins designed for solo cruisers. These 100 square foot staterooms caught on. Not only were they a hit with passengers, the cruise industry took note and a few more cruise lines have added them to their newest ships.
Norwegian Ships with Solo Cabins: Norwegian Epic (100 rooms), Norwegian Breakaway (59 rooms), Norwegian Getaway (59 rooms), Pride of America (4 rooms) and the Norwegian Escape, which debuts in 2015, will have 82 solo studios.
Royal Caribbean International
Royal Caribbean has added solo cabins to select ships that have been refurbished recently, but they are really debuting this feature on their two upcoming ships: the Quantum of the Seas and her sister Anthem of the Seas. While the majority of these rooms will be interior, they will feature Virtual Balconies, which is a new feature where one wall of the stateroom is an 80-inch LED screen showing views of the ship's surroundings. There will also be 12 solo cabins both ships with actual balconies.
Royal Caribbean Ships with Solo Cabins: Radiance of the Seas (3), Serenade of the Seas (3), Brilliance of the Seas (3), Quantum of the Seas (28) and Anthem of the Seas (28).
Cunard Line
Cunard is the latest cruise line to get in on the solo cabin trend.  Nine solo cabins will make their debut on the December 16, 2014 sailing of the Queen Elizabeth. Eight of these staterooms are outside cabins with large windows and one is an inside cabin. These cabins are located mid-ship.
Cunard Ships with Solo Cabins: Queen Elizabeth (9) starting in December 2014.
Have you ever sailed in a solo/studio cabin? Do you think the inclusion of solo cabins will continue?




The Cruise Web, Inc.
reply@cruiseweb.com
1-800-377-9383