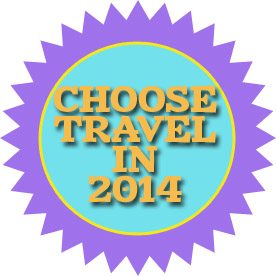 Do you ever feel like you can't coordinate your schedule with those of your friends or family? Or are you single, and find yourself constantly putting off incredible vacations, just waiting for that special someone to come along? It's an unfortunate truth that sometimes the thought of traveling alone leads to vacations getting pushed off or cancelled.
Well we are here to encourage you to break from your fears, or from the need to satisfy everyone, and we challenge you to resolve that:
In 2014 I will travel solo!

Cruising is actually one of the best options for solo travelers. The ship acts as a home base where you can meet lots of people and make some long-lasting friendships. The concept of solo cabins has also been a very popular trend. On all of Norwegian Cruise Line's ships since the Epic, there have been a set of solo cabins where you have a room to yourself and don't have to pay an extra fee for taking up a double occupancy space. Solo cabins are also making their way onto Royal Caribbean's newest ship, the Quantum of the Seas.
So let's address those fears you might have.
1. "People will think I am a loser and  have no friends."
False. Most people will think you are brave for taking the step to travel alone. On the ship, be sure to arrange to have traditional dining time and be seated at a table with many people. This way you can make friends with those at your table and you'll always have a great conversation over a tasty meal.
2. "I don't have anyone to go on excursions with and it can be dangerous to be in a foreign country all alone."
That's the beauty of cruise ship excursions. You venture out into each port with a group of your fellow passengers. You could even join in on an excursion with some of your table mates. These excursions are also great places to make friends. It's hard not to bond when you are zip lining through the jungle or enjoying an intimate wine tasting.
3. "Who will I share my awesome memories with?"
You can share them with your new friends, or make your friends and family jealous when you get home. Soak in the experience and savor it as your personal experience.
Do any of you out there who have traveled solo want to weigh in on why you decided to do it and what it was like?



The Cruise Web, Inc.
reply@cruiseweb.com
1-800-377-9383