By Jennifer Crivelli, Senior Cruise Consultant, The Cruise Web.
What happens when you can't find a friend or family member to share a stateroom with you on your cruise vacation? Consider taking the cruise by yourself.
This past December, I was in this exact situation. I held a reservation on a 12-night Caribbean cruise on Azamara Club Cruises' Azamara Journey and found myself without anyone to travel with me. I needed a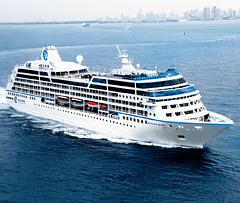 vacation, so instead of canceling my trip, I decided to go on the cruise by myself. Having never cruised alone before, I had some concerns that I know many cruisers have when it comes to sailing by yourself. Who will I eat dinner with? Will I have fun?  Is it safe to explore the ports of call by myself? 
The good news is, I did have fun. I had more people to eat with than the number of nights on the cruise.  And, I joined my dinner companions to explore the ports of call so that I was never by myself. When I disembarked the Azamara Journey after sailing the Caribbean, I had a whole group of new friends that I made aboard.
When cruising solo, choose a cruise line that has an open seating option for dinner. When arriving to the dining room, tell the Maitre'd that you are a party of one and would like to be seated with other passengers at a large table. This will give you the opportunity to enjoy dinner with a different group of passengers every night. And, most of the time, the rest of the passengers at the table will not know each other either; so you do not have to worry about not being part of the conversation.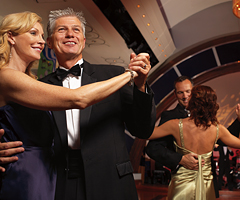 When planning your days on shore, choose a cruise line shore excursion for the first port of call. This way, you will be with a group of passengers from your ship, not touring alone. Another benefit of the shore excursion: you will meet a group of passengers from the ship that share your similar interests.  After all, they selected the same shore excursion. After a full day of exploring your port-of-call together, make plans to meet for cocktails or dinner; or plan to explore the next port of call together.  Better yet, make plans for both!
Many of the cruise lines also have special events and accommodations on board specifically designed for solo cruisers. Most cruise ships host a solo cruiser meet & greet cocktail party on the first or second night of the cruise. This is a wonderful way to meet other passengers who are traveling solo. Other cruise lines, such as Cunard Line Ltd, have dance hosts on board in the evening – so you never have to dance alone. And the newest addition to the cruise industry, several new ships have stateroom accommodations designed (and priced) for single passengers, such as the Studios on the Norwegian Epic.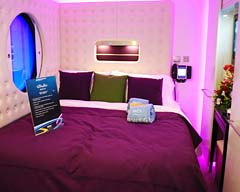 For one of the best benefits of cruising solo, remember this: at the end of every day, when you are tired from exploring, eating, and all the events on board your cruise ship, you can return to the peace and quiet of your own stateroom. A stateroom that you do not have to share with anyone. Where no one else's clothes are all over the floor, no one else is in the bathroom when you need it, and you can watch what you want on TV while drifting off to sleep.  What could be more relaxing than that?!?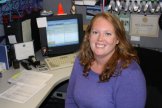 Jennifer Crivelli
Senior Cruise Consultant
The Cruise Web, Inc.
1-800-377-9383  ext. 234
jenniferc@cruiseweb.com