The Official Guide to New Cruise Ships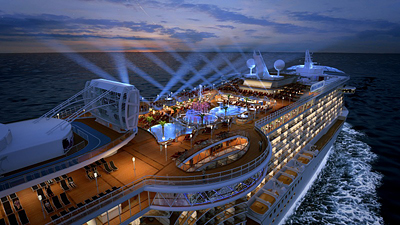 If you're a die-hard cruiser, you are probably well aware of all the growth in the industry and all the new ships that are rolling out. If you are a casual cruiser, you are in for a shock because cruise lines are now adding many more ships to their fleets, and these ships are jam-packed with interesting and innovative features.
We've compiled a handy overview of all the newest ships, including their key features and an exciting itinerary.
Royal Princess
Christening Date: June 13, 2013
Godmother: Her Royal Highness The Duchess of Cambridge (a.k.a. Kate Middleton)
It's been five years since Princess  introduced a new ship. With such a long wait, they are making sure to get every detail right on the Royal Princess, which is their largest ship to date with 1,780 passenger cabins and room for 3,600 passengers. The Regal Princess, the Royal Princess' future sister ship, will have many of the same features and will debut in June 2014.
Key Features:
SeaWalk, a glass bottom walkway where you will hover 128 feet above the ocean
Four water and music shows with dancing fountains, movie screens and live performers
A tea tower and tea sommelier to help you make your own personal blend of tea
Featured Itinerary: Grand Mediterranean – Barcelona to Venice (12 days)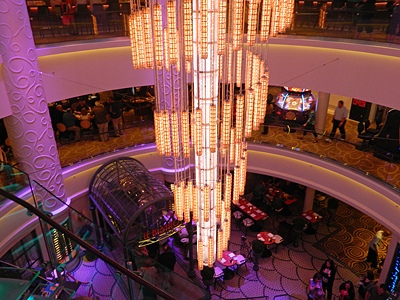 Norwegian Breakaway
Christening Date: May 8, 2013
Godmother: The Rockettes
The Norwegian Breakaway takes the cruise line's concept of Freestyle Cruising to another level with 27 different dining options, more than 10 different entertainment options and a variety of cabins, from The Studios for solo passengers to suites for larger families. The ship has 2,014 passenger cabins and can hold 4,000 passengers.
Key Features:
Aqua Park: the top deck is dominated by five water slides, a kiddie pool where SpongeBob SquarePants stands at watch and plenty of deck chairs for those looking to lounge
Rock of Ages: this Broadway hit is produced in all its unadulterated glory on the ship, offering several performances per cruise
The Waterfront: an outdoor walkway that resembles a boardwalk where you can have a nice al fresco meal, listen to the music from Fat Cats Jazz & Blues Club and get a great view of the sea
Featured Itinerary: Bahamas and Florida – Roundtrip New York City (7 days)
Royal Caribbean's Quantum of the Seas
Christening Date: November 2014
Godmother: Kristin Chenoweth
Royal Caribbean hopes to break the mold with Quantum of the Seas. Both the Quantum of the Seas and her sister ship, Anthem of the Seas, will have features never before seen at sea. However, since the ships are still months away from their debuts, not all the details have been revealed. Expect Quantum to fit up to 4,180 passengers onboard in the 2,090 passenger cabins.
Key Features:
The North Star: a mechanical arm with a jewel-shaped capsule where passengers will be taken over the side of the ship for amazing views of the sea
SeaPlex: a multi-use area on the ship where passengers can go head-to-head in bumper cars or strap on a pair of roller skates and take a spin around the rink
Virtual Balconies: 80-inch TV screens mounted on the walls of interior staterooms to provide passengers with a view of the ocean via live feeds of the ship's surroundings
Featured Itinerary: Caribbean and Bahamas – Roundtrip Cape Liberty (7 to 12 days) – Official itinerary to be announced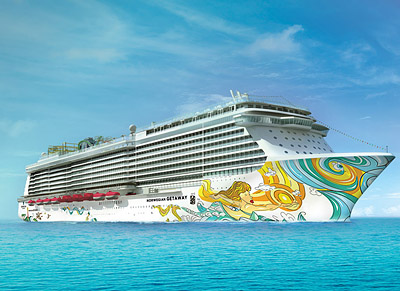 Norwegian Getaway
Christening Date: January 2014
Godmother: To Be Announced
The Getaway will share a lot of the same features with the Breakaway (her sister ship), but will also have many of her own unique features. While the Breakaway, which is based in New York, has hull artwork featuring NYC buildings and the Statue of Liberty, the Getaway's hull has a big bright sun representing the summer heat of Miami, where this ship will homeport.
Key Features:
A GRAMMY showcase: an area onboard where you can find memorabilia from musicians and catch a live performance from a GRAMMY nominated artist
The Illusionarium: a theatre where magic shows will take place. This space features a 30-foot in diameter video screen on the ceiling
Featured Itinerary: Eastern Caribbean – Roundtrip Miami (7 days)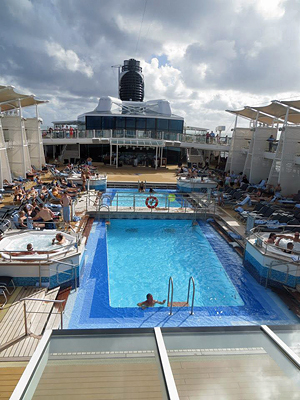 Celebrity Reflection
Christening Date: December 1, 2012
Godmothers: Four women affected by breast cancer: Jovanka Goronjic (AquaSpa manager on Celebrity Constellation), Megan Mathie (glassblower on Celebrity Solstice), Helen O'Connell (manager of Celebrity's community relations) and Rosey Rodriguez (RCCL employee)
The Celebrity Reflection is the last in Celebrity Cruises' Solstice Class. She offers many of the same features of these sleek modern ships, such as Qsine, the innovative specialty restaurant, and the cabana-style alcoves for complete relaxation, but she also retains her own character.
Key Features:
Lawn Club: where you can feel the grass under your feet while sailing on the ocean, perfect for picnics and croquet
Enhanced AquaSpa: On the Reflection, the spa also includes an Infrared Sauna, Aromatic Steam Room, Cold Room and Sensory Showers
Cantilevered Shower: In the Reflection Suite, Celebrity built a state-of-the art shower that juts out over the ship with glass windows and a glass bottom for amazing views
Featured Itinerary: Eastern Caribbean – Roundtrip Miami (7 days)
MSC Preziosa
Christening Date: March 23, 2013
Godmother: Sophia Loren
This Italian cruise company takes their country's culture and puts it into their ships, using local resources and featuring Italy's most acclaimed features (we're talking food) on all their ships. The Preziosa is no different. This ship boasts 1,751 cabins with room for up to 3,502 passengers.
Key Features:
Vertigo: an exciting waterslide that takes passengers through twists and turns with a see-through section that extends over the side of the ship for a thrilling view of the ocean
Eataly: a minimalist restaurant that serves Italian dishes, sells Italian products and even gives information about the Italian cuisine
Sports & Bowling Diner: an American-style space on the ship to grab a burger and play a game of 10-pin
Featured Itinerary: Mediterranean – Roundtrip Barcelona (7 days)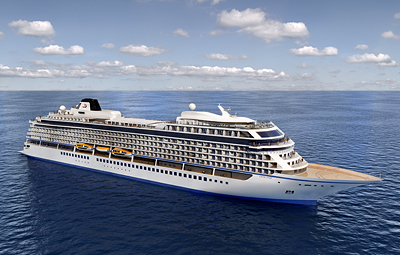 Viking Star
Christening Date: May 2015
Godmother: To Be Announced
Viking Cruises is venturing into the oceans and building upon their established river cruising brand. This will be the cruise line's very first ocean ship and she is being custom built to include only veranda staterooms for 928 passengers. This ship will also have a sister ship, but she has yet to be named.
Key Features:
A pool with a retractable roof.
A Nordic-inspired spa with a snow grotto and sauna
Larger than average staterooms, the smallest being 270 square feet
Featured Itinerary: Beginning in 2015, the Viking Star will cruise in Europe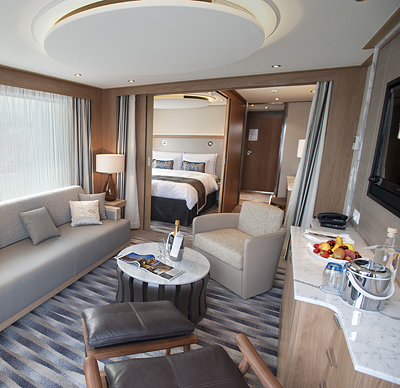 Viking Longships
Christening Dates: Various throughout 2013 and 2014
Godmothers: Various
Viking took a bold step this year christening 10 ships in one day. The cruise line also plans to christen 12 more Longships in 2014. These Longships are all very similar and are being added to meet the tremendous demand of travelers who are catching on to the beauty of a river cruise in Europe.
Key Features:
Two Explorer Suites on all ships that have private wraparound verandas
The Aquavit Terrace which features an indoor area that can be arranged to be an outdoor space if the weather is nice
Organic herb gardens on the ships' sun decks
Featured Itinerary: Rhine Getaway – Basel to Amsterdam (8 days)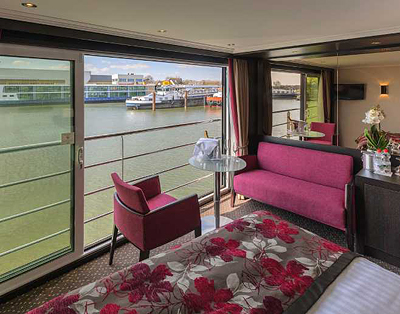 Avalon Suite Ships
Christening Dates: Various
Godmothers: Various
Starting in 2011, Avalon Waterways started rolling out their eight Suite Ships. It started with the Avalon Panorama in 2011, this year they have christened the Avalon Expression and the Avalon Artistry II and there are three more ships set to join the fleet in 2014. The ships are 80 percent suites, most of them with 52 suites and 12 staterooms, making for intimate experiences on the beautiful rivers of Europe.
Key Features:
Floor-to-ceiling Panorama windows in each suite that open up to bring your balcony into your stateroom
Suites are 30 percent larger than the average river ship stateroom
Avalon brings local entertainers, chefs and artisans onboard to entertain while sailing
Featured Itinerary: Romantic Rhine – Southbound from Amsterdam to Basel (8 days)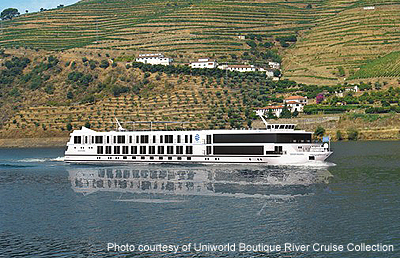 Uniworld's Queen Isabel
Christening Date: March 22, 2013
Godmother: Andie MacDowell
Uniworld has added one more gem to its fleet of elegant and ornate boutique ships: the Queen Isabel, which will sail the Douro River in Portugal. This ship can hold up to 118 passengers and is designed with blue, cream and gold shades and a heavy use of Toile fabric.
Key Features:
Heated swimming pool
Sun deck featuring solar panels for sustainable energy
This ship has eighteen 215 sq. ft. junior suites and two 323 sq. ft. suites on the top deck with full balconies
Featured Itinerary: Portugal, Spain and the Douro River Valley – Lisbon to Porto (11 days)
You have lots to look forward to with all these new ships to experience. Which ship entices you the most?



The Cruise Web, Inc.
reply@cruiseweb.com
1-800-377-9383