Picking a Cruise is Like Picking a Shoe
By Rosalind Smith, Director of Business Development & Quality Performance, The Cruise Web, Inc.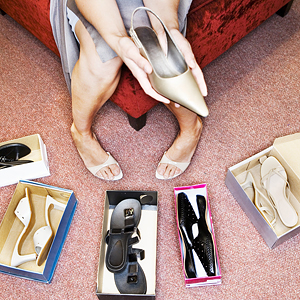 Variety is the name of the game in the cruise industry. Cruise ships come with many different amenities, features and specialized accommodations. While each ship has its own unique features, the dozens of ships out there usually fall into one of four categories: contemporary, premium, luxury and specialty.
Now, I've stated before that every cruise is the perfect cruise for me because everything is conditional. So, let's break down these four types and I'll give you an example of when I like to cruise in this fashion and why. Also, because I am a lover of shoes, I figured the best way to give you a visual idea of these types is to compare each cruise line type to a type of shoe.
Ladies and gentlemen, you know that you have shoes you wear to the gym, shoes you wear to the beach, shoes you wear to dance and so on. Each shoe serves at least one purpose, but could work in a number of occasions. The same can be said of the purpose of certain cruise line types. Read on to see my comparisons.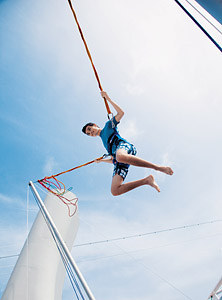 Cruise Type: Contemporary
Contemporary cruising is the type that is most familiar to everyone. This encompasses cruise lines like Carnival, Royal Caribbean, MSC Cruises and Norwegian Cruise Line. Ships that are contemporary seem to be floating cities. They range from large ships with several dining facilities and theaters to mega ships with exciting features such as water slides and ice rinks. These ships are filled with activities to do around the clock. Price-wise, these ships are generally the most affordable and families LOVE them.
For me, contemporary has proved to be the best option when I travel with groups of people. For example, we celebrated a milestone birthday for my BFF (best friend forever) with her family and our friends last fall. Everyone was equally entertained, from the grandparents to our then three-year-old princess. By the way, she is proudly four years old and still talks about her first cruise to "the beach." On the cruise, my "niece" would go from room to room to see if our towel animals were as cool as hers.
Shoe: Your go-to everyday shoe. Think of your favorite loafer and that classic mid-heeled pump. It's the shoe you wish you'd had bought in every color when you discovered its value! You can wear this loafer or classic mid-heel pump forever. It's comfortable, it's low maintenance and it works for a myriad of occasions. Gentlemen, your sandal by day and classic oxford by night fits!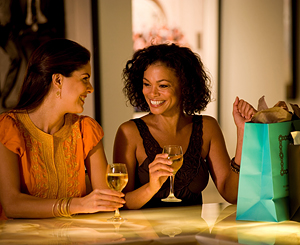 Cruise Type: Premium
Premium cruising offers a step up in sophistication from the contemporary lines. In lieu of the water slides and ice rinks, you'll find an emphasis on the nice subtleties in life often enjoyed at a more relaxed pace. Innovative cuisine and refreshing spa experiences are generally the focus on these mid-sized to large ships. Premium cruise lines include Celebrity, Princess and Holland America. Each of these lines offers significant sailings varying in length, thus catering to adults and multi-generational families, often with older children.
Premium cruising often rises to the occasion when I'm traveling with my family. Just last month I sailed on a wine themed cruise aboard a premium ship. This was absolutely perfect for our all-adult party of the spa-goers and foodies. As we indulged in delicious cuisine and delightful wine, our 93-year-old grandmother spent each evening deciding between dessert or a glass of sherry as she continues to watch her "girlish" figure.
Shoe: Ladies, this is your cool shoe. It's your fabulous peep-toe or wedge. You don't wear it everyday but when you slip it on you know you are in for an adventure. Gentleman, your favorite wing tips will do. When your lady is wearing her peep-toe pumps, that's your cue to lose the sneakers and break out the cap toes to make a perfect pairing.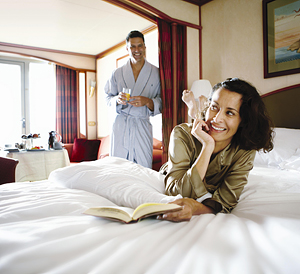 Cruise Type: Luxury
A luxury cruise is an experience all its own. Every touch is sumptuous and every need is met, often before you recognized it was a need. This is truly "all-inclusive" cruising. A luxury cruise is an intimate experience where you receive the most attentive service. Perhaps you like having a butler unpack and pack your belongings or serve a romantic meal on your private veranda. Most luxury cruises include outstanding service, food and beverage and often your excursions in port or round trip airfare. Luxury lines include Regent Seven Seas, Seabourn, Crystal, Cunard Line and Silversea.
As I write this, I've discovered luxury cruising takes the reigns for my most romantic voyages, as well as those journeys designed to reunite with girlfriends on a well-deserved escape from our busy lives.
Shoe: Although you won't be in your high heels or dress shoes at every moment, you could if you so desired. It's difficult to determine which shoes get the privilege of joining you on this journey. I refer to this class of shoes as my VPO's (Valet Parking Only). You will not walk for miles in these strappy sandals, stilettos or d'Orsay pumps. They have a stacked heel or perhaps a covered heel and will travel with you in their dust covers. You just may include them in your carry-on! These are your "I feel amazing" shoes and they are the reason you have a cobbler. Gentlemen, you know the right shoe for the right occasion. Perhaps your dress boots or monk-straps have a special place in your heart!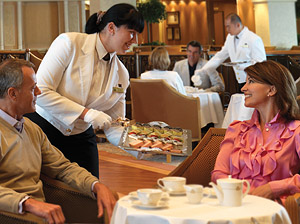 Cruise Type: Specialty
A specialty cruise mimics a premium or luxury experience, but usually offers one itinerary or one aspect of cruising with focus and attention. Think of the Cunard Line, which specializes in transatlantic crossings between America and Europe for which their vessels are purpose-built as cruise liners rather than cruise ships. MSC Cruises prides itself on its uniquely European experience. Paul Gauguin specializes in unique destinations, like Tahiti and the South Pacific. River cruise lines such as Avalon Waterways, Viking River Cruises and Uniworld offer a boutique experience cruising rivers around the world. Windstar is the only line offering motorized sails and is small enough to visit the ports tucked away in nooks and crannies around the world. Azamara Club Cruises and Oceania Cruises are our port intensive lines offering smaller ships and a deluxe experience that falls somewhere between the Premium and Luxury segments. Where you go is just as important as how you get there.
For me, specialty cruising is absolutely perfect for… its specialty! Coming home after a cruise on a specialty vessel means indulging in a purposeful adventure gaining experience and knowledge of a certain part of the world, a new interest or an enhanced skill. The experience is rewarding, refreshing, inspiring and enlightening.
Shoe: Your golf shoes are meant just for golfing. They are worn on the course and changed before going into the clubhouse. Your favorite athletic shoes may take you to run errands, but they were originally designed to protect your feet while participating in a specific sport. Although last winter's style trend would beg to differ, riding boots were designed for horseback riding. Alternatively, I cannot think of a single occasion, other than hiking, where hiking boots are an appropriate choice!
As you can see, when I cruise, there isn't a "go to" cruise line or ship. Nearly each time I cruise, I have a different goal for that vacation and perhaps a different set of companions, which means a brand new set of criteria to meet with each sailing. This perfectly illustrates the beauty of using a qualified travel company that specializes in cruises. Our expert cruise consultants here at The Cruise Web are the best!
They take into consideration you, your traveling companions, your desires and criteria to find you the perfect ship on the perfect cruise line visiting the perfect destination.  At The Cruise Web, we call that custom cruising.
 So how many cruise line types have you experienced? Let us know in the comments and feel free to tell us what you think of our breakdown.

Rosalind Smith
Director of Business Development & Quality Performance
The Cruise Web, Inc.
1.888.250.7803
rosalinds@cruiseweb.com