Seabourn Begins Sailing to Antarctica in 2013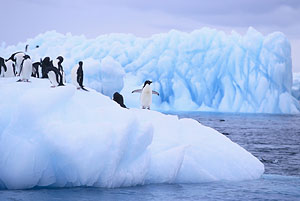 After 20 years at sea, Seabourn  is still finding new places to discover with their passengers and staff. In August the luxury cruise line announced that they will offer four sailings to Antarctica in 2013.
The Seabourn Quest, which is the company's newest ship, will play host to the four separate sailings that will travel around Cape Horn allowing for five days spent off the coast of Antarctica. While the ship can not dock on the frozen continent, smaller inflatable boats will be used to make landings on many available sites.
These cruises will also include speakers with backgrounds in science and nature to inform passengers about the region. These experts will also be leading passengers on their adventures on shore.
The sailings will last from 21 to 24 days and each will give you an extensive and immersive look into South America and Antarctica with stops in ports like Puerto Montt, Chile;  Ushuaia, Argentina and Port Stanley in the Falkland Islands. Along with wonderful ports, these sailings will also take you through  amazing waterways and land formations like the Chilean Fjords and the Gerlache Strait.
This sailings include:
21-day sailing leaving on Nov. 20, 2013 from Buenos Aires, Argentina
24-day holiday sailing leaving on Dec. 11, 2013 from Valparaiso, Chile
21-day sailing leaving on Jan. 4, 2014 from Buenos Aires, Argentina
21-day sailing leaving on Jan. 25, 2014 from Valparaiso, Chile
The 24-day holiday sailing will also include a stop near South Georgia Island, which is renowned for its beauty and the abundant king penguins, seabirds and elephant seals that make the island their home.
With the addition of these sailings, Seabourn will now offer itineraries that touch on all seven of the world's continents. Is a trip to Antarctica on your bucket list?


The Cruise Web, Inc.
reply@cruiseweb.com
1-800-377-9383