Inspiration for Adventure
A compilation by The Cruise Web employees.
One of the best aspects of cruising is that you'll never run out of opportunities to do something new and adventurous (unless you've done it all – in which case, stop bragging). Aim to do something that makes your friends back home jealous! Need inspiration? Take a walk on the wild side and explore our favorite adventures!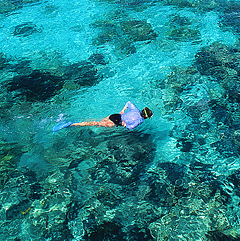 Heather W.
"I have had many wonderful adventures while cruising. Some of my top memories include snorkeling in the Great Barrier Reef in Australia, caving with glowworms in Dunedin, New Zealand, zip lining in Cabo San Lucas, Mexico and skydiving in San Juan, Puerto Rico. Ice-skating in the middle of the Caribbean is always a fun adventure too!"

Mike H.
"In Belize City, Belize my wife and I zip lined from tree to tree through the jungle canopy. Luckily it was before lunch."

Adam W.
"One of my favorite adventures was drift snorkeling off the island of Bonaire in the Southern Caribbean… so easy to flow with the current without effort.  And wow, what an incredible coral reef!"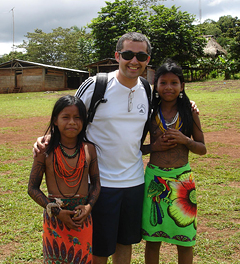 Arthur B.
"My most memorable adventure was during our expedition cruise to Central America.  We visited the Embera Tribe in the Darien Jungle of Panama. Real tribe, real jungle – how cool is that?! Visiting the Embera opened my eyes on how people lived in other less developed parts of the world and how diverse our planet is."
Yossi M.
"Let me preface this story by telling you that I am insanely afraid of heights and speed and have endured many a name-calling from friends throughout the years when I refused to go on thrill rides at amusement parks. I am proud to say that I did conquer my fear one time. While docked in Nassau during a 3-day Bahamas cruise, my friends and I decided to visit the Atlantis resort, which has a water slide that is a nearly straight drop of 60 feet and levels out by taking you in a tube through a shark tank. I would almost never be dragged into doing this, but I was having so much fun that I was the first one to go up and do it. It was exhilarating! I'll probably never do it again, but I'm glad I was adventurous enough to do it that one time."
John T.
"A favorite adventure of mine is avoiding the stampede at the midnight buffet. It's kind of like the running of the bulls without the horns!"
Jarren M.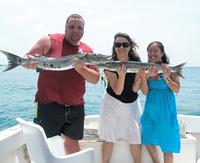 "During my third trip to Cozumel we wanted to spice it up a bit with a perfect expedition and something exciting.  We were able to find a great priced four-hour deep sea fishing trip with food and beverages included. Afterwards we were dropped off at a dock in Cozumel where they cleaned and cooked our catch for the day and then served it to us!  This was one of the best excursions we were able to have and I'm looking to doing it again this December when I stop back!"
Caroline T.
"A favorite adventure of mine is searching for the best local bar, restaurant and hangout spot. It helps experience the culture and local flavors of each destination."
Seth W.
"A few of my favorite adventures were the wild cab and bus rides around the various islands in the Caribbean. The people watching is great, the drivers are hilarious and the views are unforgettable. Just grab a window seat and hold on tight."

Chris R.
"When my wife and I went to Bermuda we rented a scooter and went off on our own self-guided adventure.  We got to visit incredible, pink sand beaches that ran alongside huge cliffs.  We saw ruins of old fortresses and visited small Bermudan towns and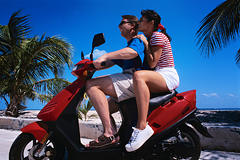 villages that we otherwise would have missed.  The adventure-part of the trip came when we returned the scooter during rush hour in Hamilton and our tiny little scooter was running alongside 18-wheelers.  That was something I'll never forget."
Rashell O.
"My favorite adventure was going to the island of St. Thomas and taking the ferry over to St. Johns and enjoying the beauty of the island with a tour and visiting Trunk Bay, one of the top 10 beaches in the world."
Craig J.

"A favorite adventure of mine was hiking through the rainforest in Dominica to the Emerald Pool, a small grotto that looks like it belongs in a science fiction movie. The water is literally emerald color, with giant leaves and vines hanging overhead, and bright green moss growing on the rocks. It took some courage jumping into the icy water, but it was well worth it."


Steven R.
"Personally, on my cruises the most enjoyable adventure is the cruise itself – picking and planning each day on the ship and the tours at each of the ports of call. Going through the options and picking how to personalize each trip I have been on has been my favorite adventure."
Jacques B.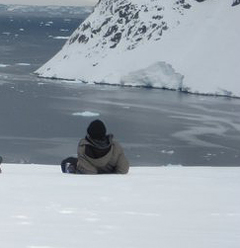 "While on an exploration cruise in Antarctica we were promised unforgettable and indescribable views at the top of a mountain in Neko Harbor. I summoned my inner adventurer and made the exhausting hike through snow and ice to the top of the mountain where I saw egg-bearing penguins. If only this beauty could be described in words… let me just say that it was well worth the effort!"
Ed C.
"Is there a more romantic way to get engaged than on a cruise?  I arranged with the cruise staff to have the cabin filled with flowers while we were at our Assigned Dinner Seating.  Included was a card that acknowledged the upcoming nuptials, all of which was to be found after we went back to the cabin after I proposed on one knee… in the moonlight… on a sultry night… on the stern of the ship.  And all of which was scotched when my bride-to-be insisted on going back to cabin first.  The surprise blown, I simply proposed right there after she saw the flowers and read the card."
Kevin S.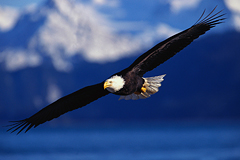 "My favorite cruise adventure was whale watching on Auke Bay in Juneau, Alaska. Seeing whales and bald eagles with snow-capped mountains as the backdrop was absolutely amazing! I also enjoyed watching the sea lions compete for a sunbathing spot on the base of the markers in the bay."
Brandon B.
"One of my better memories was my first trip to Amsterdam. If you have ever been, you know how the city is a system of streets and alleys that don't exactly intersect in a grid! I was alone, wandered around the streets, and really enjoyed people-watching and what the next corner had in store. Like an explorer, I didn't know where I was going, but I never felt lost. In my opinion, that's a great way to travel!"
Sherry J.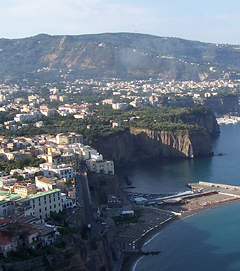 "My favorite adventure to date was in Santorini from the Old Port in Fira where the only ways up and down to the town are the donkeys,  the cable car or the 250-step walk – although I don't recommend walking. For someone who doesn't like heights, it was quite the adventure, but the view on the way up was worth it. Traversing the Amalfi Coast on narrow roads with hairpin turns also ranks up there as exciting, especially if you have a window seat and all you see is down."
Gloria H.
"I have so many adventures, it's hard to just pick one or two to talk about, but I think a few of my favorites and most daring involve soaring to high heights. You see, I am afraid of heights, so traveling up to the top of Table Mountain in Cape Town, South Africa in a glass bubble, hanging on a cable, with a rotating floor, about 367 feet up into the clouds, while over water (I can't swim either!) has got to be one of my biggest. I kept my eyes closed almost the whole 10 minutes (which seemed liked an hour). However, once up top the views are spectacular. What looks like fog surrounding you are actually clouds and you can see as far south as the Cape of Good Hope. Amazing!!!!
The other great adventure is walking the complete rope bridge in Kakum National Park in Ghana, West Africa (yes, cruises do stop in Ghana). After a 45-minute climb about 600 feet up the side of a small mountain, you find a canopy walk suspended about 110 feet above the rain forest. It consists of a narrow plank of board held together by rope and netting. With a really deep breath and a strong determination not to look down, I held the rope and started to walk the plank towards the first wooden platform, a circular tree house that serves as one of seven stop points on the 1,000 foot-long walkway. I was astonished that by the third walkway, I had mastered the fear and was even able to enjoy the small monkeys at the tops of the trees above me and the other small creatures that abide in the rainforest."
NOTE: The views and opinions expressed herein are those of the contributors, and do not necessarily reflect the position of The Cruise Web.


The Cruise Web, Inc.
reply@cruiseweb.com
1-800-377-9383