Infographic: Seabourn Encore Redefines Ultra-Luxury Cruising
Seabourn Encore was christened by Sarah Brightman, the ship's godmother, on January 7, 2017 in Singapore. With this much-anticipated debut of the 600-passenger Seabourn Encore, ultra-luxury cruising was once again redefined. To showcase the luxurious touches that set Seabourn Encore apart from other luxury ships, we created an infographic highlighting her best features.
Explore Seabourn Cruise Line's newest ship in our latest infographic (click to expand):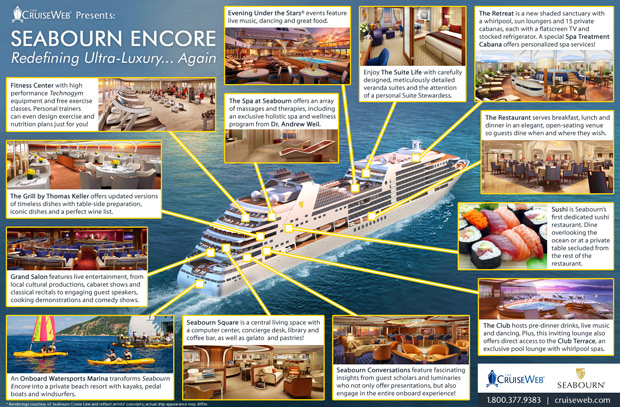 Embed this image on your site! Simply copy and paste the code below into your website:
Seabourn Encore debuted earlier this month and is quickly selling out. She is currently sailing a variety of voyages in Australia, Asia and the Middle East, and in April 2017 she will reposition to the Mediterranean for the summer.
To experience the Seabourn Encore – or the rest of Seabourn Cruise Line's ultra-luxury fleet – contact The Cruise Web's expert consultants today at 1-800-377-9383.


The Cruise Web, Inc.
reply@cruiseweb.com
1-800-377-9383