Cruising to Iceland: Land of Fire and Ice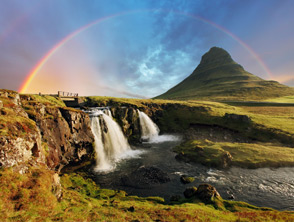 Who would have guessed that one of the hottest cruise destinations in the world would feature "ice" in its name?!? But don't let the name fool you, Iceland is also full of hot springs, geothermal geysers, lava fields and volcanoes – not to mention a stunning midnight sun that sets the landscape afire.
To be certain, Iceland does feature a healthy dose of snow-covered terrain and icy glaciers, but the cruising season occurs during a summer which brings plenty of sun and temperatures in the 60s and higher. This is the perfect weather to explore Iceland's biggest draw – the scenery! Hike along jaw-dropping fjords, journey behind the veil of a towering waterfall, walk the rim of a volcano crater, trek through otherworldly lava fields and, when your muscles are sore from a day of exploration, soak in a soothing geothermal lagoon while enjoying a local beer.
While cruising around Iceland you'll also have opportunities to experience this island nation's charming culture and cherished lore at museums and local festivals, or by simply walking the streets of quaint villages. The city of Reykjavik, for instance, is famous for its joyous nightlife and fresh seafood. You might come for the scenery, but you'll stay for the culture and cuisine!

Departing for Iceland:
Cruises to Iceland come in all lengths, with a few special itineraries circling the entire island and others visiting on the way to/from other destinations in North America and Europe. Some Iceland cruises depart from Reykjavik – Iceland's capital and most populous city – but most leave from Northern European cities like London, Copenhagen, Amsterdam and Rotterdam.
When to Go:
Iceland cruises typically depart between May and September when the country experiences its warmest weather and longest days. In June, for example, you'll have over 20 hours of sunlight each day for the entire month! Just keep in mind that while the extended daylight hours are great for sightseeing and photography, your chances of viewing the Northern Lights are slimmer with fewer nighttime hours. However, since this is Iceland's beautiful summer season, you'll never run out of ways to enjoy the lush green scenery!
Featured Ports of Call:
Highlighted below are Iceland's three most frequented ports of call. While select itineraries will visit even more of Iceland, these are the three cities most likely to be included on your cruise to Iceland:
Reykjavik, Iceland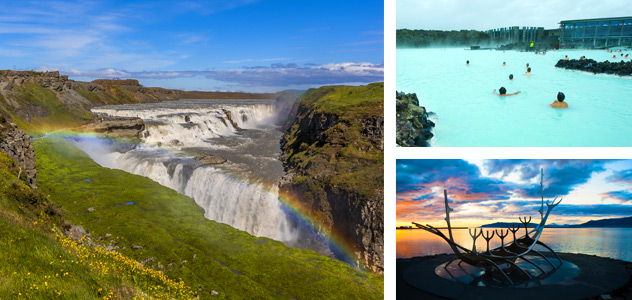 Reykjavik is the perfect launching point for a number of interesting day trips to enjoy Iceland's history and natural beauty. Three of the most popular sites are part of what's known as the Golden Circle, including Thingvellir National Park, Gullfoss Waterfall and Strokkur geyser. Thingvellir is a UNESCO World Heritage site located at the meeting point of the North American and Eurasian continental plates. Along with a striking landscape where guests can walk within the mid-Atlantic ridge, Thingvellir is also the site of the world's oldest existing parliament. Gullfoss is a series of thundering falls crashing into a deep gorge, the beauty of which can be enjoyed from a variety of vantage points. Lastly, the Golden Circle trilogy isn't complete without a trip to the Strokkur geyser which erupts regularly at 10-minute intervals.
If you've worked up an appetite, now would be a good time to head to Fridheimar Farm for a unique dining experience within their greenhouse. This family-run farm also breeds Iceland horses (don't call them ponies!) and loves to share this adorable breed's history in Iceland.
For guests that prefer to remain within the city, it's impossible to miss the Hallgrimskirkja Church rising high above downtown Reykjavik. The church's unique design draws inspiration from Iceland's rock formations and guests are permitted free entrance into the sanctuary (you can also ascend the bell tower for a small fee). Located just outside of Reykjavik is the famous Blue Lagoon, a geothermal spa retreat where you can soak in the milky, mineral-rich water to soothe your body and mind.
CLICK HERE to view cruises to Reykjavik, Iceland
Akureyri, Iceland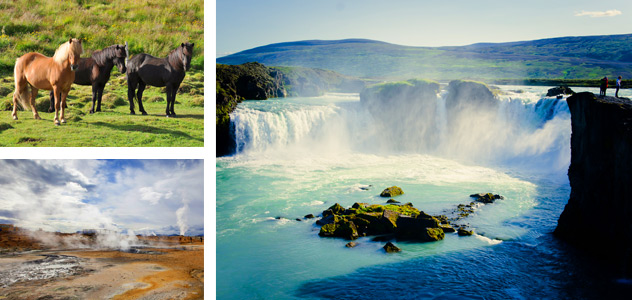 The city of Akureyri is located within a fjord along Iceland's northern coast and hosts a wealth of Icelandic culture within its museums, theaters, cafes and shops. Although Akureyri is located only 62 miles below the Arctic Circle, the climate is actually warm enough for thousands of plant and flower species to flourish at the city's popular outdoor Botanical Garden.
Journey outside of the city on a whale watching expedition in nearby Skjalfandi Bay and keep your eyes peeled for blue whales, humpbacks, finbacks and more. A short drive will take you to the Husavik Whale Center where you can learn even more about the gentle mammals you just observed! For a uniquely Icelandic experience, join a horseback tour where you'll ride upon one of Iceland's famous horses which are popular for their smooth gait and gentle ride.
To experience more of the "fire" aspect of Iceland, travel to the nearby Lake Myvatn geothermal region. This active geothermal area features the popular Myvatn Nature Baths – a welcome alternative for travelers looking to avoid the tourist masses at the Blue Lagoon. Dip into the relaxing mineral waters for a refreshing break before continuing onwards, perhaps to the oddly shaped lava fields of Dimmuborgir. Continue your journey to the Namaskard volcanic area where you can walk amongst volcanic craters, mud pools and steam vents. On your way back to Akureyri from Lake Myvatn, be sure to stop at the Godafoss waterfall to capture this picturesque cascade.
CLICK HERE to view cruises to Akureyri, Iceland
Isafjordur, Iceland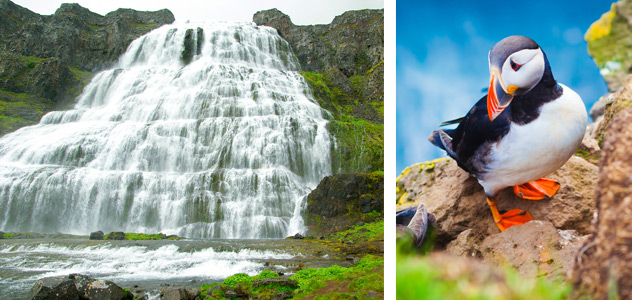 Isafjordur is a small town located within the scenic Westfjords region of northwestern Iceland. As the name suggests, this charming town is surrounded by breathtaking mountains and fjords, each feeding the valleys below with countless streams of waterfalls. The town of Isafjordur is a charming city fit for a summertime stroll, and the locals take pride in their storied maritime heritage. Be sure to visit the Maritime Museum before sampling the fresh catch of the day at one of the waterfront restaurants.
Feel small while getting a big picture of the fjords on a guided kayak tour from within the scenic shelter of the surrounding fjords. You could also take a glacier fjord cruise around Hornstrandir Nature Reserve to Hesteyri where you can swing by the Old Doctors House café to enjoy a bite and panoramic views.
The port of Isafjordur is also your convenient gateway to several smaller cities and natural landmarks in northwestern Iceland. For instance, you can take a short cruise to Vigor Island to visit Europe's smallest post office – and hopefully catch a glimpse of the thousands of puffins that nest on the tiny island. A scenic drive could take you to a number of mesmerizing sites, including the Dynjandi Waterfalls and walking trails. Just in case you haven't yet had your fill of Icelandic wildlife, also located nearby is the tiny village of Sudavik, home to the Arctic Fox Center!
CLICK HERE to view cruises to Isafjordur, Iceland

Featured Itineraries:
Featured below are just a few of the Iceland cruise itineraries available through The Cruise Web. For additional sailings featuring Icelandic ports, please contact our experts:
Princess Cruises: 15-night Iceland & British Isles Explorer
Departing September 2, 2017 from Southampton (London) to New York City
Holland America Line: 14-night Northern Isles & Iceland
Departing June 24, 2017 roundtrip Rotterdam
Cunard Line: 14-night Iceland & the Fjords
Departing July 30, 2017 roundtrip Rotterdam
Windstar Cruises: 7-night Around Iceland
Departing July – August 2017 roundtrip Reykjavik
Celebrity Cruises: 14- to 19-night Iceland Northern Lights Expeditions
For help planning a stress-free cruise vacation, contact the experienced consultants at The Cruise Web at 1-800-377-9383. Our cruise experts will help you find the perfect cruise for your specific travel plans and vacation style. Whether you're cruising to Iceland or anywhere else in the world, our experts are here to offer A World of Choices Made Easy.


The Cruise Web, Inc.
reply@cruiseweb.com
1-800-377-9383