First Impressions of the BRAND NEW Norwegian Escape
The Norwegian Escape debuted in Miami last week, and The Cruise Web was on hand to capture the moment and experience this stunning new cruise ship during an exclusive 2-night inaugural cruise. Continue below for some of our team's first impressions about the brand new Norwegian Escape:
Molly G:
The Norwegian Escape is a fantastic option for multi-generation travelers. You can truly do as little or as much as you want, and make the vacation your own. The entertainment was fun and exciting; the talent onboard is truly amazing, especially the rock band performing at the 5 O'Clock Somewhere Bar. This, along with Jimmy Buffett's Margaritaville at Sea, are two welcome additions with great food and drinks. The highlight for me, as far as entertainment goes, was the dueling rock piano of Howl at the Moon.
It was fun to feel like a kid again and play on some of the most amazing waterslides and ropes courses I have ever seen. The food was plentiful and a great variety was offered. The staff was friendly and enthusiastic. I would highly recommend the Escape, and I am looking forward to my next cruise with Norwegian!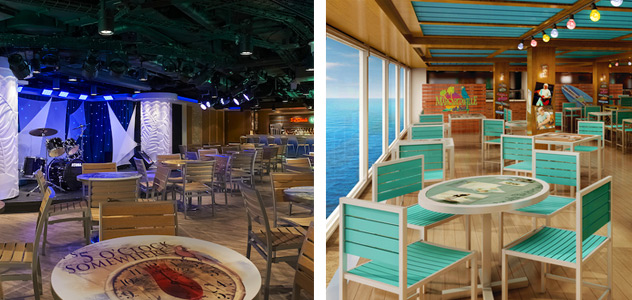 Julia L:
I felt like a kid all over again – the Escape's two different water slides have nice variation. There's one where you ride along with an inner tube and colorful patterns and lights are projected along the slide's inside walls as you rush down – it was super fun! The comedy show at Headliner's Comedy Club was great – I walked in feeling like it was an authentic improv comedy club setup, and then they converted it into the fun Howl at the Moon dueling piano bar later on in the evening.
I also paid the $20 fee to take their spinning class in the morning – they call it MyZone. Best workout I have ever had, plus you wear heart rate monitors so you can really track your progress in the class using the screen located behind the instructor. It was a great touch that the staff came in halfway through with cold wet towels to cool us off.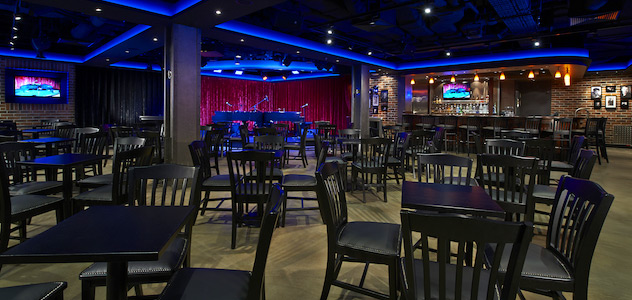 Sherry J:
The ship is beautiful, décor is tasteful and sophisticated. If you haven't been aboard any of Norwegian Cruise Line's newer ships, their current aesthetic is modern, yet elegant – a far cry from the bright purples and pinks that you may have seen in the past.
I loved the entertainment choices onboard, especially Howl at the Moon and After Midnight. The Broadway production After Midnight combines electrifying dancing with outstanding jazz music to take the audience back to Harlem's Cotton Club night club of the Roaring Twenties. Norwegian always does a great job including a wide variety of musically-themed entertainment choices to please all musical tastes.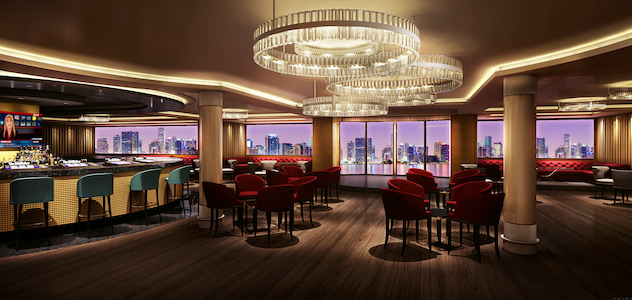 Kris S:
I was most impressed by the food quality for such a large scale operation and the amount of things offered on board to keep you occupied. I was always seeing something new, and the onboard entertainment was awesome. One of my highlights was the District Brew House, a new craft beer and cocktail bar with several draft options. This new ale house had a cool industrial design accompanied by live music. I had a great time.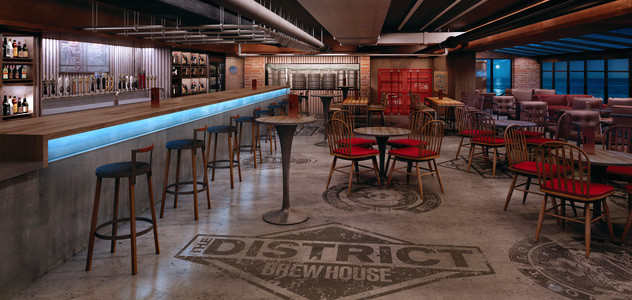 Rashell O:
There is so much to do aboard the Norwegian Escape that you will not run out of options. However, for such a huge ship, the Escape never really felt big or overwhelming, thanks in large part to an easy-to-navigate layout that grouped related activities in similar areas. I absolutely loved the waterpark with the multiple waterslides. I'm not even a big pool or waterslide person, but I just HAD to try these fun slides! The casino is super fun and I like the locations of all the bars, especially the ones located on the Waterfront where you can have an adult beverage and enjoy the cool ocean breeze. The ship is designed so that each restaurant, bar, entertainment venue or activity area flows smoothly into the next. And since each offers a unique experience influenced by different time periods and musical styles, the ship really appeals to diverse audiences.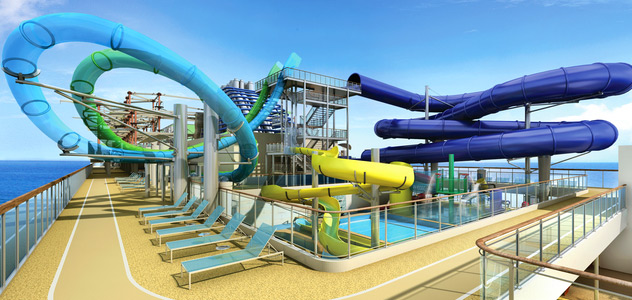 Arthur B:
I was very excited to dine at Food Republic – tapas Asian Fusion restaurant by Miami's Pub Belly group. The dishes we tried were fantastic, but what surprised me the most were the desserts. Next time I will start my dinner with the desserts to make sure I try all of them.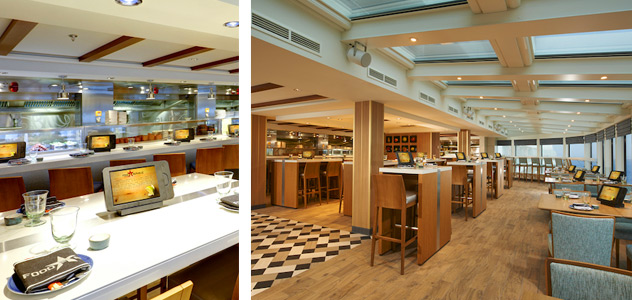 Heather W:
I thought the water slides were a blast, and the Headliner's Comedy Club was really funny – just be sure you make reservations in advance to guarantee lots of laughs on board. There were plenty of great activities throughout the ship, and we had an especially good time playing the various deck games like mini-golf and bocce.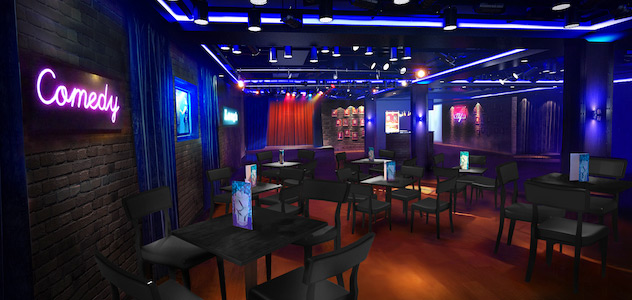 Lisa K:
This Norwegian Escape is gorgeous inside and out and easy to navigate; the clever carpet design includes little fish that swim towards the front of the ship. The decor is amazing, service exceptional and food delicious! Plus, the ship was full of great entertainment, from the theatrical productions to the live bands that play in various public spaces. I even braved the ropes course and walked the plank extending 8 feet beyond the side of the ship!
The inside cabins are cozy and beautifully decorated. Studio cabins for solo cruisers are cute and cozy as well, and they have access to their own private areas… these guests could leave single and come back with the love bug! For luxury clients, The Haven (a ship within a ship) provides the ultimate intimate cruise experience with 24-hour butler service from the moment you arrive at the pier, plus access to private areas. Norwegian Cruise Line also allows Haven guests to invite up to four non-Haven passengers into the Haven to experience the Haven Restaurant or Haven Lounge with friends and family.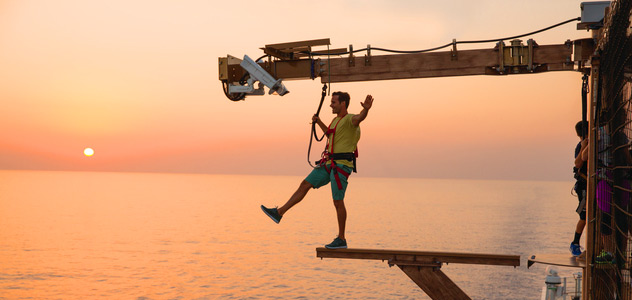 Beth T:
The Haven suites were absolutely amazing! They are so luxurious, and it is like being in your own private sanctuary. Only guests that are booked in the Haven have exclusive key card access, and it includes a restaurant with outdoor terrace, lounge area and a courtyard area with a pool and hot tub. If you are looking for luxury within a large ship, this is the way to go!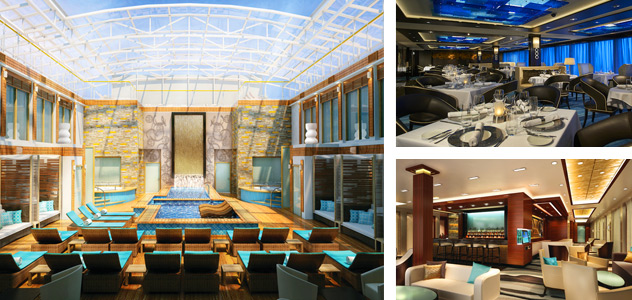 Gloria H:
If you want a FANTASTIC cruise experience on a big ship, but in an area with that small ship feel, then you need one of the Norwegian Escape's Haven Suites. You have your own personal space (shared with just a few other suite guests) and your own deck area with retractable glass roof, plus your own Jacuzzi, sauna, bar, restaurant, concierge and butler service. If they had a slot machine or two in there, you really would not have to leave the Haven area, LOL!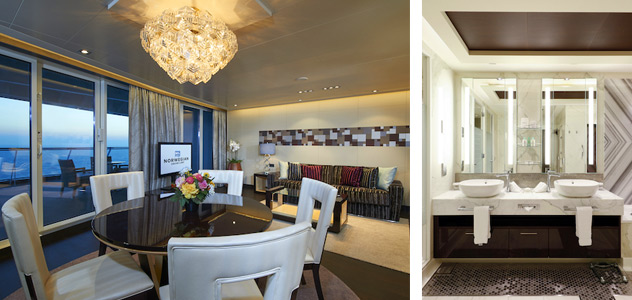 The Norwegian Escape is currently sailing a series of Caribbean itineraries out of Miami, Florida. For help planning your cruise aboard the Norwegian Escape, please call 1-800-377-9383 or request more information online.
Which feature/venue aboard the Norwegian Escape are you most excited to experience?


The Cruise Web, Inc.
reply@cruiseweb.com
1-800-377-9383