Norwegian Getaway Will Head to Brazil for the 2016 Summer Olympics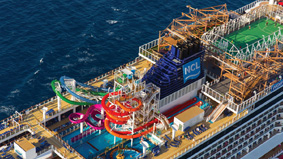 Norwegian Cruise Line is excited to announce that they will be sending the Norwegian Getaway, one of the most state-of-the-art ships in their fleet, to Brazil in 2016 to house athletes of the 2016 Summer Olympic Games. Availability on the Getaway shows a gap between July and September of 2016, allowing her to remain free for her special honor in Rio. This type of honor is nothing new for this amazing ship – she also proudly served as the Bud Light Hotel during 2014's Super Bowl in New York.
To learn more about Norwegian Cruise Line, call one of our experts today at 1-800-377-9383.


The Cruise Web, Inc.
reply@cruiseweb.com
1-800-377-9383