The Cruise Web Teams with Celebrity Cruises for Charity
By Rosalind Smith, Director of Business Development, The Cruise Web, Inc.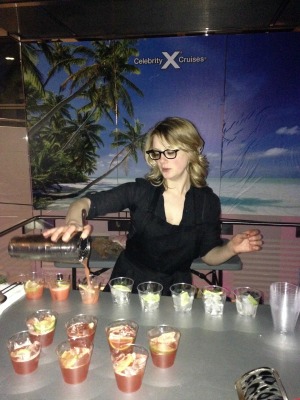 In the heart of winter (and it's been a long one) celebrated chefs, individual volunteers and corporate sponsors joined forces to host the 5th annual Sips & Suppers weekend. Sips & Suppers is an organization founded by Chef Alice Waters to raise awareness and funds to support the programs of Martha's Table & DC Central Kitchen. These organizations work diligently to feed the homeless within the DC community. They rely on the support of individual and business community donations and volunteer efforts.
The event took place at the Newseum on Pennsylvania Avenue in Washington, DC. I was there to represent The Cruise Web and one of our preferred cruising partners, Celebrity Cruises, a corporate sponsor. Celebrity Cruises hosted the VIP reception on the sixth floor and recreated the cruise line's Sky Lounge experience for all guests. In order to get to this lounge you had to cruise via one of three "Partyvators", otherwise known as elevators.
I attend and plan events all over the world, and let me tell you, these were not your typical glass elevators. Each was equipped with a bar featuring a specialty cocktail to enjoy for the ride. On the way up I was in Venice, Italy. Upon arrival, the Sky Lounge featured an array of appetizers that are only found on Celebrity's cruise ships. After engaging in the Celebrity Cruise experience (on land), I "boarded" the St. Lucia "Partyvator" complete with its own specialty cocktail. The only ride I missed was the Alaska "Partyvator." Given the frigid temperatures in DC, we already felt as if we were in Alaska.
What a fun way to help those in need and learn about the thrills of cruising. Are you a Celebrity cruiser? If so, what is your favorite spot on board?
Rosalind Smith
Director of Business Development
The Cruise Web, Inc.
1.888.250.7803
rosalinds@cruiseweb.com