Cunard Line Celebrates Its Past with Anniversary Sailings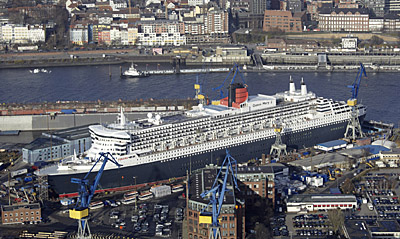 The next two years mark major milestones for Cunard Line, one of the most legendary cruise lines sailing across the oceans and seas. 2014 marks the 10th birthday of the Queen Mary 2. Then in 2015 Cunard celebrates its 175th anniversary as a company. To celebrate these anniversaries the cruise line is offering two special sailings.
The Queen Mary 2 will have a very special singer wishing her a happy birthday. Acclaimed GRAMMY award-winning singer and songwriter James Taylor will be performing two concerts on the Transatlantic sailing on August 27, 2014. Taylor is best known for his soft, gentle voice and songs like "Fire and Rain" and "You've Got A Friend."
Taylor performed on the Queen Mary 2 back in 2009 when he took the ship over to Europe where he went on tour. "I've always wanted to take an ocean liner back to Europe, and in June 2009 we got the chance to do that.  It's such a civilized way to go, and Queen Mary 2 is the last word in first-class travel," Taylor said.
The Queen Mary 2 will also commemorate the company's 175th year by sailing the same route of Cunard's very first sailing of their very first ship, the Britannia. The 10-day sailing will leave from Liverpool on July 4, 2015 sailing across the pond to Halifax and then continuing on to Boston.
This was the original route the Britannia sailed on July 4, 1840. Since then cruising Cunard has become synonymous with Atlantic crossings.
If you'd like to learn more about Cunard's historic past check out our blog, 10 Facts About Cunard's History. To book one of these celebratory cruises be sure to call your Cruise Web consultant today, as these are expected to sell out quickly.




The Cruise Web, Inc.
reply@cruiseweb.com
1-800-377-9383