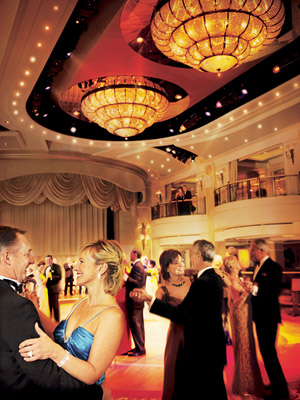 With its beginnings as a mail carrier for the British Royal Mail, Cunard Line has evolved since its founding in 1839. It has produced some of the world's most beloved and renowned ships, like the Mauretania, Aquitania and the Queen Mary. However, this specialty cruise line is also special for the sheer fact that it has such an enormous history. Sailing for more than 170 years, Cunard Line is a bridge to the golden age of cruises and even further back than that, to a time when an Atlantic crossing took more than two weeks.
We've decided to revel in Cunard's past while presenting you with some of the more colorful facts about its grand history:
Between 1909 and 1929, Cunard's Mauretania held the record for the fastest eastbound Atlantic crossing.
When the Mauretania was built in 1907, the builders used carrier pigeons to communicate testing results to maintain secrecy in case the much-anticipated liner had a problem.
The first Cunard liner, the Britannia, made her first voyage in 1840 from Liverpool to Boston. Onboard were 63 passengers, 93 crew and one cow to provide fresh milk.
Cunard's earlier ocean liners had sails, but not for propulsion. They were actually used to help stabilize the ship in rough weather.
Charles Dickens described his 1842 journey to America on the Britannia in the second chapter of his book American Notes.
Cunard's vessels were used as hospitals during the Crimean War.
The Lucania was the first ship to offer suites, consisting of two cabins with a sitting room in between.
The Mauretania was praised by Franklin Roosevelt who said that the ship had a "soul that you could talk to."
It is believed that Cunard's original Queen Mary was actually intended to be named the Queen Victoria. When they proposed the name to King George V, Cunard asked to name the ship after "England's greatest queen" (which they understood to be King George V's grandmother, Queen Victoria). However, King George V took this differently, declaring that his wife, Queen Mary, would be delighted to know the ship was to be named after her.
The Queen Mary is now a floating hotel in Southern California. The attraction and restaurant venue offers tours and artifacts from her sailing days.


The Cruise Web, Inc.
reply@cruiseweb.com
1-800-377-9383