Princess Cruises' Linguine Al Pesto Alla Moda Ligure
By Rosalind Smith, Director of Business Development, The Cruise Web, Inc.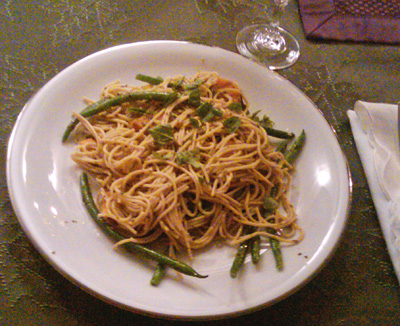 Princess Cruises has had great success serving this pesto pasta dish on their Panama Canal cruises. The fancy dinner is served in one of the ship's main dining rooms. With fresh clean flavors, it's the perfect complement to a day in the sun spent on an excursion or learning about the intense history of the canal's construction.
When you get back from your cruise, this is a meal you'll want to replicate — and you're in luck because this recipe is incredibly easy. Using only the freshest ingredients, I made two versions: one with red bliss potatoes as directed and one with sweet potatoes, a personal favorite. Both were simply delicious!
The fresh pesto worked overtime. I decided to serve lightly toasted fresh sliced bread, but didn't have any butter. Just before reaching for the olive oil, I brushed the slices with pesto, toasted in the oven at 400 and served immediately. It was a huge hit!
This recipe serves six as an entrée. With only four guests, I decided to combine portions for four at the sauté pan stage, and stored the remaining pesto, green beans, potatoes and pesto separately until needed. It worked perfectly for leftovers, as no one had room for second helpings!
Ingredients
1 lb. red bliss potatoes
.5 lb. fresh green beans
1.5 lbs. dried linguine
3 cups fresh basil leaves
4 large garlic cloves
.5 cup pine nuts
1.5 cups extra virgin olive oil
1.25 cups grated Parmesan cheese
salt
pepper
fresh basil
.5 cup pine nuts
Instructions
In a blender, puree the basil, garlic, pine nuts and olive oil into a smooth paste.
In a bowl, mix the blended paste with the Parmesan cheese and season to taste with salt and pepper.
Place the potatoes in 2 quarts of cold, salted water and bring to a boil.  Remove the potatoes when they are tender, but not falling apart.
Slice the potatoes and season to taste with salt and pepper.
Blanche the green beans in 2 quarts of salted boiling water for approximately 6 minutes, until the beans are slightly tender, but still have a crisp to them.
Chill the beans in ice water until they are ready to be served.
Bring 6 quarts of water to a boil, then put the linguine in the boiling water for roughly 8 minutes for an al dente pasta.
When the pasta is done, transfer all ingredients (pesto, potatoes, green beans and pasta)  into a saute pan and stir the mixture together.
Preheat the oven to 400-degrees, and when heated place the pine nuts inside to brown up for a few minutes.
Garnish with the pine nuts and fresh basil.
What are your favorite herbs? Do you grow any to use in your recipes?

Rosalind Smith
Director of Business Development
The Cruise Web, Inc.
1.888.250.7803
rosalinds@cruiseweb.com