By The Cruise Web, Inc.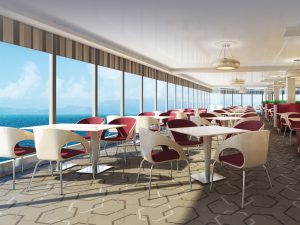 There's been plenty of discussion about the specialty dining onboard the Norwegian Breakaway (see our Ocean Blue review, Teppanyaki review, or Le Bistro review), but what about complimentary dining on this new cruise ship? Complimentary dining options include Taste Restaurant, The Manhattan Room, Savor Restaurant, O'Sheehan's Pub, the Uptown Bar & Grill, Spice H20, and the topic of this blog, the Norwegian Cruise Line's staple Garden Café.
Coined as the 'quintessential café,' this buffet-style restaurant is present onboard almost every Norwegian Cruise Lines ship in the fleet. The Garden Café offers a variety of breakfast items, lunch food, and dinner entrees, as well as an impressive spread of desserts.
The buffet had a wide range of stations and meals, here is a list of some of the more popular and unexpected items:
smoked salmon station
curried chicken with toasted tortilla
freshly carved beef
pulled pork topped-burger
samosas
a variety of pizzas
white chocolate and mandarine mousse
ice cream bar with jimmies
The Garden Café was not only impressive with its variety of food, but also in its size, set-up, and view.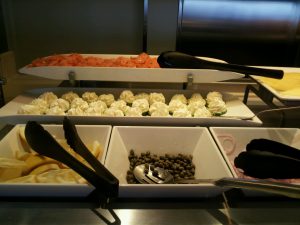 More Seating and More Space
The Garden Café on the Norwegian Breakaway minimizes the stuffy booths in favor of a higher volume of surprisingly comfortable tables with chairs. More seating means more room and more comfortable seating during peak hours, even when the café is packed. This was the case during my meal at noon.
Mirrored Food Presentation
On each side of the large buffet-style restaurant, there are mirrored selections the food. This way, there's no need to walk all the way around and make sure you didn't miss that beef brisket, each side has the same main items. Efficient and easy!
Convenient Sinks
In close proximity to each side of the buffet, you can use an easy-to-find sink to wash your hands before and after your meal, meaning no unnecessary bathroom trips. This is especially great if you have little kids. However, the buffet does still have hand sanitizer dispensers at the entrances.
The View
Each Norwegian cruise ship has this restaurant located in a different area, but no matter the ship location, the view should always be a priority. One of the things I most enjoyed about my Garden Café experience was the gorgeous panoramic floor to ceiling windows that allow you to gaze upon the ocean and warm sun as you enjoy your cuisine.
It's great to experience a cruise line stepping up their game in the places that come complimentary with your cruise fare, such as the Garden Café. As you can see, they really aimed to bring the passengers a better overall experience, and it showed. Have you eaten at the Garden Café onboard the Norwegian Breakaway? Tell me if you agree or disagree with this assessment in the comments below.



The Cruise Web, Inc.
reply@cruiseweb.com
1-800-377-9383