Holland America Announces New Onboard Activities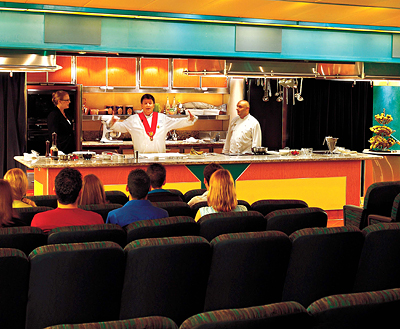 Holland America Line invites  you to experience the local flavors, pastimes and cultures of your cruise destinations before you even venture ashore. Holland America has announced a new initiative called On Location that will give passengers a chance to connect with the world by bringing destination-based activities and performers onboard throughout the sailing. This new program will be available on all of Holland's  ships and sailings by the end of 2013.
This program is manifested in many ways during the cruise.
You will see a lot more local delicacies served onboard throughout the sailing. For instance, if you were cruising to Alaska you would get great salmon and if you were on a Mexican cruise you might find tacos or tamales. This focus on local cuisine doesn't stop at the dining room; it's also at the lounges and bars where you can order sake while cruising in Japan or ouzo while sailing in the Eastern Mediterranean.
Hear some local languages as ship staff may greet you with a friendly "ciao" while on a sailing to Italy or "hola" while you're in Spain, Mexico or Central America. Some sailings will also feature language lessons.
You'll be able to participate in activities that are strongly tied to your destination.  For example, if you were on a Holland America cruise to the splendid islands that make up Hawaii you might get the chance to shake your hips as you learn to hula, or give your fingers a test with a ukulele lesson. In the Mediterranean you can put on a mask as you celebrate Carnival the Venetian way at a masquerade party.
Spice up your dinner routine by learning how to cook a regional favorite at the ship's culinary arts center.  Local chefs may be onboard to demonstrate how to make sushi while in Japan or tapas while in Spain. You'll also get to hear about wine pairings in the Mediterranean.
While onboard you can also learn how to operate the latest in technology as all Digital Workshops on Holland America ships have been upgraded with 20-inch touch screen computers with the new Windows 8 operating system. These new computers are used during classes that range from how to find the right computer for you, to photo editing.
What local activity would you like to participate in or learn how to do? How about the tango in Argentina or lei making in Hawaii?

1-800-377-9383