Viking Cruises' Three-Alarm Firecracker Chicken
By Rosalind Smith, Director of Business Development, The Cruise Web, Inc.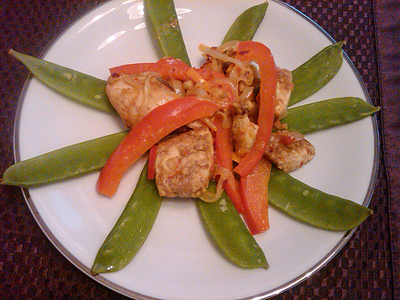 New ships are often brighter, bolder and pack a bigger punch, so we picked Viking's Three-Alarm Firecracker Chicken, a delicious dish that definitely has a kick to it. This recipe is courtesy of Viking Cruises, which is debuting new  vessels from rivers to oceans to rivers again. The cruise line known for its river cruises christened 10 Viking Longships to sail the rivers of Europe this year. Next year they have plans to roll out another 12 Longships and they have also announced the introduction of two ocean sailing ships, the first of which, the Viking Star, will make its debut in 2015.
Having made this recipe for lunch the other day, a word to the wise  – don't enhance the heat. This dish is deceptive, at first it has a sweet flavor and then bam, that fire ignites somewhere deep inside! I happen to love a spicy dish,  so I would make this recipe again in a heartbeat. Not only did it have a great flavor, but it was quick to make. By the time I finished chopping the peppers, the 10 minutes of marinade time had nearly elapsed.
This recipe serves 4 people.
Ingredients
Marinade
2 tsp. soy sauce
1 tsp. dark soy sauce
1 tsp. cornstarch
1 lb. boneless, skinless chicken breasts
Sauce
1/3  cup ketchup
1/4  cup chicken broth
1 tbsp.  chili garlic sauce
1 tsp.sugar
1 tbsp. vegetable oil
1 fresh jalapeño chili, cut into thin strips
8 small dried red chilies
1 red bell pepper, julienned
Half a medium onion, thinly sliced
Instructions
Combine marinade ingredients in a bowl.
Rinse chicken and pat dry then cut crosswise into half-inch wide strips.
Place in marinade, and stir to coat. Let stand for 10 minutes.
Combine sauce ingredients in a small bowl; mix well.
Place a stir-fry pan over high heat until hot. Add oil, swirling to coat sides.
Add fresh and dried chilies; cook, stirring, until dried chilies begin to brown, about 15 seconds.
Add chicken, bell pepper and onion; stir-fry until chicken is cooked through and no longer pink in center, about 2 to 3 minutes.
Add sauce and bring to a boil. Stir to evenly coat chicken and serve.
If you make this dish please let us know what you thought in the comments section. Did it give you a kick?

Rosalind Smith
Director of Business Development
The Cruise Web, Inc.
1.888.250.7803
rosalinds@cruiseweb.com