Defining Luxury Cruising
A compilation by The Cruise Web employees.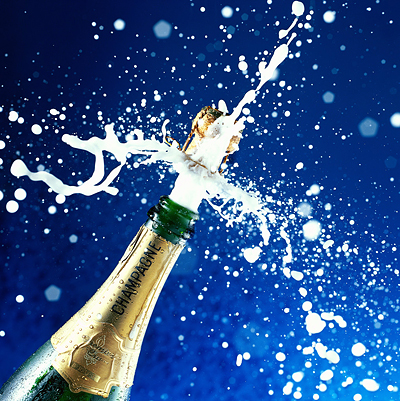 Luxury is hard to define; it's not a tangible thing. It's  sometimes seen as extra special care and attention, or a high quality product made with precious materials. It can be defined by some as a feeling of being treated like royalty and knowing you are in good hands. There is no singular definition, but it's something you know when you see or experience it. To help us define what luxury cruising is, a few of our Cruise Web cruise consultants and staff share stories of the luxury experiences they and their clients have had.
We've also added a few facts in the article about what kind of services are offered on a luxury cruise. These are the passages in italics.
Julie A.
"The most luxurious moment for me was popping open a bottle of champagne at midnight with my family on the pool deck celebrating New Year's Eve!!"
In fact, on many luxury cruise lines, drinks from the bar are included in the price, making a celebration that much more enjoyable.
Sherry J.
"While sailing on Silversea, we were at dinner in one of the very nice dining venues. It was dimly lit and I left my reading glasses in my cabin so I could not see the menu. Right away the waiter noticed my difficulty and brought a tray of reading glasses (all strengths) for me to choose from so I could make my selection."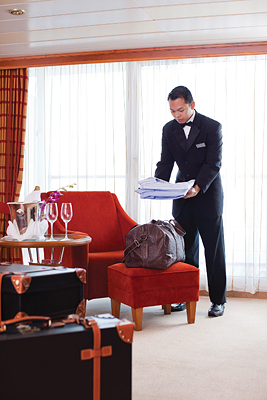 Gloria H.
"Sailing luxury is the way to go. For me it's all about the boarding process. Upon checking in there are no lines. You actually do your check-in aboard the ship. At the pier you are greeted with a glass of champagne and someone to handle your carry-on luggage. After checking your credentials, you are escorted on board where they leisurely take your picture and complete the process.

Then you are escorted to your suite where your butler takes over. Your favorite beer, wine or spirits are already stocked in your cabin and the butler then gives you an overview of the ship's amenities. He/she offers to unpack for you and you can sit back and begin the start of a wonderful cruise experience."
A fully stocked bar with your personal preferences is one of the special perks of a luxury cruise.  And don't worry, you aren't charged extra for the drinks and snacks in the minibar.
Beth K.
"I know of a Seabourn passenger that used one of the onboard treadmills for 30 minutes every day at 9:00 am and halfway through wanted fresh squeezed orange juice, so every day at 9:15 someone brought him a glass.

I also had a client on Silversea who ordered a bottle of wine at dinner. That night when they returned to their room there was a bottle of wine with a note telling them that the staff noticed the wine they ordered earlier and thought they would enjoy this bottle too."
Caroline T.
"One of my cabin stewards offered to unpack my luggage for me so I could get to the pool quicker and lay in the sun. Not only did he make me feel like royalty, he also did such a great job organizing all of my stuff."
Silversea Cruises has partnered with the Guild of Professional English Butlers who train their students for service in Britain's palaces.
Frans H.
"A few hours into my very first luxury cruise, I was walking down the hallway from my stateroom and asked a random cabin stewardess if she could kindly point me in the direction of a certain restaurant aboard. I was pleasantly surprised as the stewardess instantly, graciously, and enthusiastically said, "Of course. Right this way, sir." I thought it was very special of her to personally lead me to the dining room which must be just around the corner. To my even greater amazement, this wonderful woman ended up personally escorting me all the way to the other side of the ship, up a flight of stairs, and around another corner, where she then pleasantly handed me over to the dining room maître d'hôtel. The ship hardware, design, and décor were beautiful, but I knew from that moment on that it is the uniquely attentive crew that makes luxury cruising so special!"
This personal attention to detail is common on a luxury cruise because the intimate size of the ships allow for a better guest-to-staff ratio.
Heather W.
"My mom is very particular about her meals and wanted to make her own breakfast smoothies. The courteous staff actually brought us a blender! They also offered to make the smoothie for her, but she wanted to do it herself."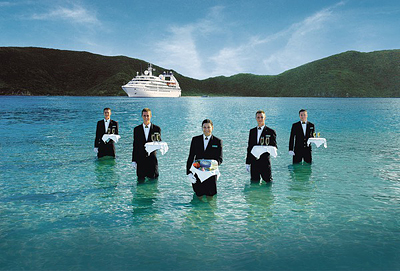 Rosalind S.
"Once, I had the unexpected and extraordinary pleasure of being served champagne while in the surf (at Prickly Pear Island) by a fully dressed crew member. It was truly one of those rare moments that left me absolutely spoiled and speechless!"
Arthur B.
"On one of my luxury cruises, I asked the bartender for a Red Bull. He apologized and said they do not serve it on the ship. Two days later we were filling out a mid-cruise survey and I made a comment that it would be nice to be able to order Red Bull. The next day my fridge was stocked with enough Red Bull to last me the whole cruise.

Another time, my wife was feeling seasick in the main dining room. The crew was very attentive to her during dinner, but the "luxury moment" was the ginger ale and ginger candy in our suite when we returned from dinner."
Mike H.
"One of my favorite luxury perks is the complimentary limo service from the airport to the ship for some suites!"
Many luxury cruise lines also offer a one-night hotel stay included the cruise fare, along with roundtrip flights to get from your home to the embarkation port and then back home again after the cruise.
Now that we've shared our "luxury" moments, we'd love to hear yours. Have you ever gotten that extraordinary service that made you speechless? We want to hear all your experiences and your definitions of luxury.


The Cruise Web, Inc.
reply@cruiseweb.com
1-800-377-9383