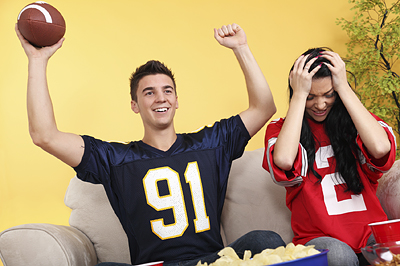 The Super Bowl calls for a big spread of delicious foods that satisfy everyone from the cheerleader to the middle linebacker. For many people this means pizza, chicken wings and seven-layer dip, but if you are looking for a meal with real grit that will surely fill you up, check out these two options inspired by the port cities that are home to this year's formidable teams.
This year's AFC  Champions come from Baltimore, a city with its very own special charm. In Maryland there is one food that rises above them all – the blue crab. And in Baltimore you'll find restaurants and families with closely guarded crab cake recipes at almost every turn. Baltimore is also known for Domino Sugar, Berger Cookies, National Bohemian beer, pit beef sandwiches and lake trout.
The NFC Champions are the San Francisco 49ers, another city by the bay. Seafood is an important part of their diet as well and it was here that cioppino, a seafood stew, originated.  The city's two most prominent food products have to be sourdough bread and Ghirardelli chocolate, both with roots to the California Gold Rush.  Sourdough was nearly the only bread being made during the times of the gold rush, and so it caught on. The 49ers' mascot is even named Sourdough Sam.  Ghirardelli himself moved to San Francisco to take advantage of all the people moving there for the gold rush. He started by opening a general store and soon started making his smooth and sweet chocolate treat.
To take advantage of these great flavors, we've developed a meal for game day that is sure to please. These recipes are courtesy of Oceania Cruises, which takes culinary influences from all over the world to provide spectacular dining experiences for their guests.
For a main dish, you have to go with the crab cake. This recipe will serve six.
Dish: Crab Cakes
Ingredients:
18 ounces of lump and jumbo lump crabmeat
1 cup bread crumbs
1/2 cup finely chopped fresh parsley
1/2 cup mayonnaise
1 large egg yolk
1 and 1/2 tbsp. Worcestershire sauce
2 and 1/2 tbsp. fresh squeezed lemon juice
1 and 1/2 tbsp. unsalted butter
1 and 1/2 tsp. Dijon mustard
cayenne pepper
kosher salt
ground black pepper
Canola oil
Instructions:
Squeeze the crabmeat to remove excess moisture.
In a bowl, mix the crabmeat with breadcrumbs and parsley.
In a separate bowl, mix the mayonnaise, egg yolk, Worcestershire sauce, lemon juice, butter and a pinch each of salt, cayenne and black pepper.
Mix the mayonnaise mixture into the crab mixture gently.
Divide the mixture into six 4-inch round portions. They should be about 3/4 inch thick.
On a griddle, spray Canola and cook the crab cakes on the hot griddle for 12-minutes turning them once. This should result in a golden brown crust.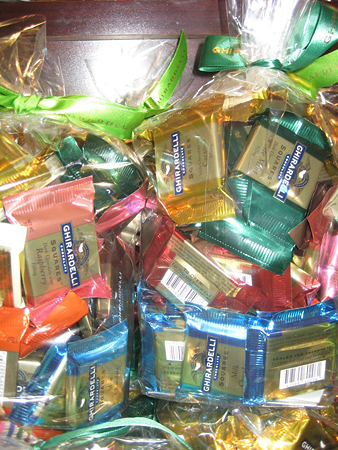 To please your sweet tooth, here is a bread pudding recipe featuring San Francisco's famed Ghirardelli chocolate that is sure to please a crowd of six to eight.
Dish: Bread Pudding
Ingredients:
1 and 1/2 cups heavy cream
1 and 1/2 cups whole milk
1/2 vanilla bean or 1 tsp. pure vanilla extract
5 large eggs
1/2 cup plus 2 tbsp. granulated sugar
1 loaf of  Brioche bread
1 tbsp. unsalted butter
3/4 cup Ghirardelli semisweet chocolate chips
Instructions:
In a medium saucepan, combine the cream, milk and vanilla bean over medium heat (If using vanilla extract, see step 5). Heat it until it's just below a simmer.
In a large bowl, whisk together the eggs and sugar until blended.
Pour the cream mixture from the saucepan into the egg mixture while whisking. Whisk until fully combined. Take the vanilla bean and scrape the seeds into the bowl.
Pour the mixture back into a saucepan. Put this over medium heat and stir constantly with a wooden spoon until the custard is thick enough to coat the back of the spoon, most likely 3 minutes.
Pour the custard over a strainer into a bowl and place that bowl into an ice bath, to cool the mixture (If using vanilla extract, add that to the mixture now).
Butter a 9-by-13 inch pan and cut the brioche into 1/2 inch cubes.
Place 1/3 of the bread cubes in the pan along with 1/3 of the chocolate chips. Repeat this layering two more times.
Pour the custard evenly over the three layers of bread and chocolate.
Leave the pan out for the custard to soak in for one hour and then cover and refrigerate overnight.
Preheat the oven to 325 degrees.
Place the pan with the bread pudding into a larger pan. Place these pans on the oven rack and fill the outer pan 2/3 of the way full with hot tap water.
Bake for one hour or until no liquid is expelled when you press on the center of the bread pudding.
Allow the dish to cool for 30 minutes, still inside the larger pan with the water, then serve and enjoy!
Now that you've got some delicious food for the game, who are you rooting for?



The Cruise Web, Inc.
reply@cruiseweb.com
1-800-377-9383