New Cruise Ships for 2013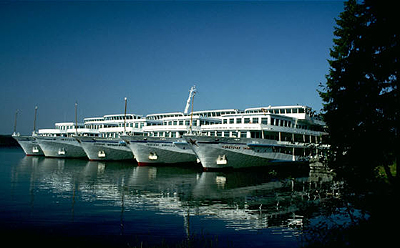 2013 marks the maiden voyages of a few highly anticipated ships with innovative features and a few river ships that are traveling to exciting and diverse ports. These ships are sure to become favorites amongst cruisers, and many of their special features will be replicated in ships that will debut for years to come. Here is a rundown of the ships that are debuting this year. If you haven't already considered cruising on a new ship, consider one of these ships to try out that intoxicating  new ship smell.
First up in 2013, and setting sail in a matter of days, is the River Orchid, the latest ship from Uniworld Boutique River Cruise Collection. This ship will sail the Mekong river visiting Cambodia and Vietnam in 2013 and 2014. This ship only accommodates 60 passengers, allowing for a very involved and intimate sailing, where the wonders of Southeast Asia will inspire you. These ships are decorated in French Colonial style, which reflects the buildings and styles seen in this region, with french doors and beautiful fans.
Next up in 2013 is the MSC Preziosa, which will be the flagship of MSC Cruises, which is based in Italy. With 18 decks and 1,751 cabins, this ship is  lucky number 13 for the cruise line. The ship is set to make its debut at the end of March and beckons families with its water park. Kids and kids at heart can get a shock playing in the water park where there are sprays, fountains and even a bucket that collects water drop by drop until it splashes down on one unsuspecting cruiser. The gem of the water park is Vertigo, a nearly 400 foot long water slide, where a 30-foot section hangs over the edge of the ship and is completely transparent, giving adventurers the ultimate thrill of floating above the water.
Next up is perhaps the most buzzed about ship in the industry, Norwegian Cruise Line's Breakaway. This ship will home port in New York and will have the Rockette's of Radio City Musical Hall as Godmothers. In fact, these leggy dancers will also be sailing on the ship, sporadically, offering dance classes and putting on special performances. The Breakaway is also innovating the layout of cruise ships by introducing an area called The Waterfront, which is strip of specialty restaurants that all have open air seating along a boardwalk type feature.
Avalon Waterways is adding two more Suite ships to its fleet this year with the debut of the Avalon Artistry II and the Avalon Expression. These ships are the last in a long stretch of new ships that Avalon has built to meet the overwhelming demand of river cruisers. These ships give cruisers staterooms with wall to wall panoramic windows, which allows you to have a perfect view of the beautiful towns and cities of Europe from your bed. Along with the great views, these ships will offer complimentary wi-fi and the cruise line is implementing a new set of programs to get cruisers involved in the local cultures of the ports they are visiting.
Princess Cruises is debuting its first ship since 2008 this summer. The Royal Princess will be the first of two new ships for this classic cruise line. These ships will be 20 percent larger than the line's next biggest ships.  With all the extra space there will be plenty of room for the ships new gelateria, cocktail bar and seafood bar. There will also be a TV studio where intimate performances and trivia games will be held. At the spa, passengers can go to the  salt and scrub bar to get a personalized concoction to enjoy. After the spa, passengers can take a swing at the portable batting cage on the sports deck.
Viking River Cruises is launching ten extraordinary new river ships in 2013. All the ships will be the line's new Longships, which have a patent pending design. These ships are sleek and modern with a select few staterooms that include full verandas and two Explorer Suites, which have two rooms, a French balcony and a wraparound veranda for 270 degree views. The ships will also include Aquavit Terrace at the bow of the ship, which allows for al fresco dining. The ships are all named after Norse gods and goddesses like Viking Atla, a water goddess, and Viking Var, the goddess of contracts and marriage agreements.
So, which of these cruise ships are you most looking forward to in 2013? Do you want to get wild on the MSC Preziosa or have an intimate, yet culturally in-depth river cruise on Uniworld's River Orchid? We want to know your thoughts on these new ships, so share your comments below.


The Cruise Web, Inc.
reply@cruiseweb.com
1-800-377-9383