Pre-Vacation Prep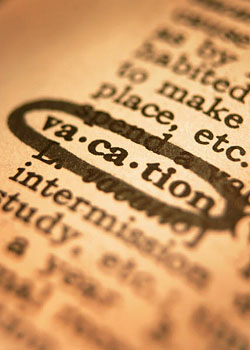 So it's crunch time now. Your cruise is setting sail in a week. The week before vacation can be wonderful with the excitement and anticipation of knowing your getaway is so close, but it can also be a hectic time for people who are not prepared.
If you are going away for a vacation, there are a lot of recommended things to get done in order to make sure you don't come back to double the stress of when you left.
Luckily, we've been in your position before, so we've come up with a handy checklist of all the things you should do one week before your vacation.
So read on for our tips and print out the checklist as a reminder of what you need to do before your vacation.
First things first, get your finances in check.
Credit Cards – Call your credit card companies to let them know you are going away. That way if you use your credit card in Australia, they will know it's you and not a thief. Credit card companies will stop service to cards if they suspect suspicious behavior.
Bills – Pay your bills. Trust us, you don't want to come back home to find that you owe late fees because you didn't pay your cable bill or your cell phone bill on time. And you don't want to come back to find your electricity has been turned off. We recommend paying all bills that are due anytime from a week before your cruise through a week after your cruise. That way you aren't rushing to get anything paid.  If you have automatic bill payments set up, make sure all your accounts are working properly and you have sufficient funds in your account.
Money – Make sure to change some of your money into the currency of the country you are traveling to. This way you won't be caught without cash when you get to the airport, so you can get a sandwich or pay for a cab ride to your hotel or the port.
Phone – If you haven't called your cell phone provider to let them know you are traveling abroad, pick up the phone and do it now. They will inform you of any actions required to maintain your service out of the country and can also clarify your billing plan so you aren't hit with unexpected roaming charges for non-domestic cell phone use.
Now let's take care of your house or apartment.
Mail and Newspapers – Get your mail and newspapers put on hold. A sure sign that a person is out of town is an overflowing mailbox or a stack of newspapers at the end of the driveway. The easiest thing to do is schedule a break in your delivery. For mail, it's as easy as filling out a form online – just follow this link to the USPS.  Alternately, you could have a neighbor collect your mail each day and hold on to it until you return.
Lights – Purchase a light switch timer. This handy little tool will let you schedule a time for certain lights in your house to turn on and turn off. This is one of the best crime deterrents out there.
Pets – If you have a pet, you will need to have a plan in place to make sure your pet is well taken care of when you are gone. If that plan includes having a pet sitter or a neighbor come over to check in on your furry one, then make sure to meet with that person to go over what it is you expect them to do and where they can find your pet food and other fundamentals. This will also remind you to purchase any pet food or supplies that your sitter might need. Make sure to go over a list of emergency contact numbers your sitter can use, including a way to reach you and your vet.
House Key – Give someone you trust a key to your house. They might not need to come to the house, but if there is an emergency situation, it's best to know someone can come over and fix the situation.
Lastly make sure you can cruise safe, sound and trouble-free.
Travel Documents – Make photocopies of your travel documents, including your passport, credit card information, driver's license and ticket confirmations. You can save these digital copies on a special thumb drive or on your computer's hard drive. You should also make physical copies and save them somewhere safe or with someone you trust, like your emergency contact. This is important in case these documents get stolen and you are overseas without any form of identification. Also, make sure you take a copy of your cruise consultant's phone number and email address.
Vacation Transportation – Make a plan for your first and last day of vacation. This includes making a timeline of when you need to leave your home to get to the airport or the dock on time. This is also when you should make sure you have a ride to the airport or the dock and a ride home after your trip. This is also a chance to make sure you know what you need to pack in your carry on for easy access on the first day of your trip.
Packing –Start packing your suitcase(s) early in case you discover that you still need something for your trip. This allows you time to purchase any necessary items before departing. Here are a few packing tips:

Lay out your vacation clothes and money on the bed. Take half the clothes and twice the money.
Always split your clothes half and half with your travel companion, so half of your clothes are in their bag and half of your clothes are in your bag, this way if the airline loses one bag, you'll both still have clothes.
If you are traveling with your spouse, each of you should carry a different credit card, that way in case of theft, you will still have your other credit card to use.

Airline Policies – If you are flying, check your airline's baggage policies to make sure you won't encounter any unexpected fees or restrictions.
Now that you have all this information, your trip prep should be a breeze. We also recommend that one day before you leave, you go through your house, take out the trash and clear your refrigerator of anything that will spoil while you're away. This way you'll come back to a clean home without worrying about chores. You might also want to unplug any major appliances to save some money on your electricity bill.
Do you have any additional tips or pre-vacation must-dos? Let us know if this is a helpful checklist in our comments section.


The Cruise Web, Inc.
reply@cruiseweb.com
1-800-377-9383