NCL Breakaway Will Feature Waterpark, Sports Center
Courtesy of Norwegian Cruise Lines.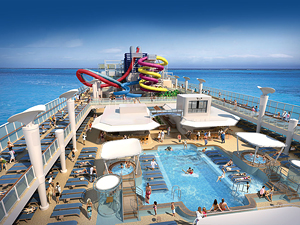 Norwegian Cruise Lines is constructing an extensive water park to be featured on the Norwegian Breakaway. This water park will include five giant slides, a designated kids play area, two pools, four hot tubs and a bar and grill. The water park is in addition to a three-story sports complex that will feature a ropes course, full basketball court and miniature golf course.
The Norwegian Breakaway is currently being built in Germany and is expected to make its debut in May 2013. The Breakaway, which can accommodate 4,000 passengers, will have its home port in Manhattan where it will sail to Bermuda and the Caribbean.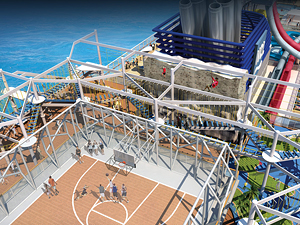 The water park is made for passengers of all ages, from those who wish to lounge in the hot tub, to the daring cruisers who will enjoy the two slides where passengers enter through a trap door that gives them an extra thrill. Norwegian's partnership with Nickelodeon will also be showcased  in a kid's area that will feature SpongeBob SquarePants.
The three-story sports complex will have a rock wall and a ropes course that will include 40 different challenges. There will also be a ropes course specifically for children. The highlight of the sports complex is an eight foot plank that will extend over the edge of the ship. Those daring enough to walk the plank will get a commemorative picture of the event.
The ship will also feature two adult-only outdoor areas. Spice H20 will be a lounge by day and dance floor by night. The space will feature two hot tubs and a large video screen. Vibe Beach Club will be another area on the ship restricted to guests 18 and older. This feature will have a full service bar, water spritzers and chilled towels. Passengers will have to purchase an access pass to gain admittance to Vibe Beach Club.
Look for a post later this week highlighting some of the ships renderings.
Are you planning to take a cruise on the Breakaway next year?


The Cruise Web, Inc.
reply@cruiseweb.com
1-800-377-9383