April Showers Bring Cruise Now-ers
April has been a busy month for The Cruise Web employees, both inside and outside the office, as a large amount of staff went off on their own vacations – or, as we at The Cruise Web like to call it, freshening up on our cruise skills. Here is a glimpse into some of the April vacations taken by members of The Cruise Web family:
Jaime F.
My husband and I went on a 7-day Western Caribbean cruise aboard Holland America Lines newest ship, Nieuw Amsterdam. We sailed out of Ft. Lauderdale, Florida and made stops in Half Moon Cay, Bahamas; Grand Turk, Turks and Caicos; Georgetown, Cayman Islands; and Costa Maya, Mexico. We really enjoyed the beach at Half Moon Cay and were able to experience the private hospitality cabana because the group with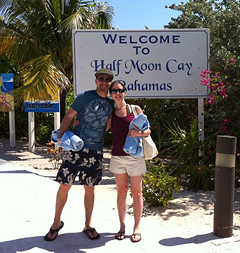 which we sailed had reserved it for the day. While in the different ports we were able to take part in various activities such as the FlowRider in Grand Turk, golfing at Jack Nicklaus' Brittania Golf Club in Georgetown and walking around the markets in Costa Maya. My favorite onboard dining venue was Tamarind, the sushi was fresh, the teas was very tasty, and my main course – Vegetable Saba Noodles – was just delicious.

Susan C.
I just recently arrived home from a wonderful 10-night Caribbean cruise aboard Celebrity Equinox. I had an absolutely fabulous time with wonderful food and the ship crew was amazing. I visited many ports and was able to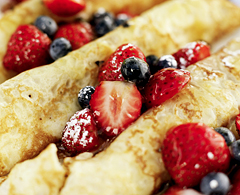 swim in the blue Caribbean waters of Megan's Bay, St. Thomas and Orient Beach, St. Maarten, I hiked the rainforest in St. Kitts and tasted rum in Barbados. On the ship I took line dancing classes, attended a cooking class inside the galley with a local chef, had afternoon tea and crepes, tried frog legs (they really do taste like chicken), went to a seminar about Chinese Herbs, tried all the Specialty restaurants (if you go to Murano, you must try the Goat Cheese Souffle) and won a trivia contest!
Julie A.
I will be leaving a few days early before my upcoming cruise to go to San Juan, Puerto Rico and tour the island. Then departing on a 7-day Southern Caribbean cruise aboard Royal Caribbean's Serenade of the Seas. I am looking forward to spending some quality time with my family from England and my 3-year-old daughter Erin. I am especially excited about having someone else cook and clean for me for a week, oh and some sunshine!
Kimberly G.
I went to Paris, France for a long weekend. Words can't describe how breathtaking the city really is, especially in the springtime. It has retained so much of its history, yet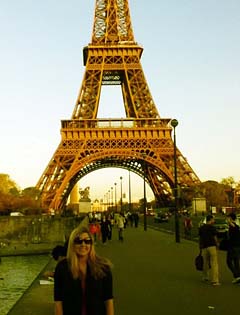 today the Parisians have this fresh, modern manner about them. The wine was amazing, especially the Bourgogne, the region where Pinot Noir and Chardonnay grapes come from. My favorite memories are sitting at Cafes having cafe au laits and people watching, seeing the Mona Lisa at the Louvre, original Monet and Degas art at the Musee D'Orsay, and of course, the Eiffel Tower and its sparkly nightshow.
Adam W.
I am getting ready for my upcoming Florida and Bahamas cruise vacation aboard the Norwegian Cruise Line's Norwegian Gem sailing from New York City at the end of April. Definitely looking forward to enjoying my mini-suite accommodations, trying a few specialty restaurants onboard, visiting one of the attractions in Orlando, chilling out on NCL's private island, and heading back to Sandals in Nassau!
Caroline T.
I am preparing to travel to St. Barths for a week with some family and friends where I will relax for a week. I am looking forward to reading a good book or two and taking many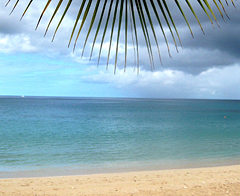 naps on the beach! Of course, I hope to squeeze some shopping into my busy beach schedule. But it's not all fun and games, I will be heading down to the port one morning to take exterior ship pictures of Silversea Cruises' Silver Whisper. Sun and relaxing, here I come!
Seth W.
I recently returned from a 7-night Southern Caribbean cruise aboard the Caribbean Princess, my first with Princess Cruises. Our itinerary was great because it featured five ports of call in as many days, including St. Thomas, Dominica, Grenada, Bonaire and Aruba. My personal highlight was our excursion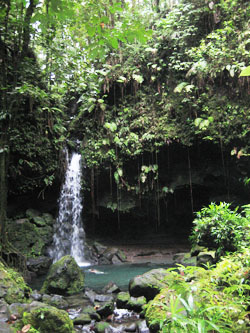 to the Emerald Pool on the island nation of Dominica. We spent over an hour at a black sand beach before taking a winding bus ride through forests and banana farms to reach the hiking trail to the pool. While we had a great time on every island, I think I enjoyed Dominica the most because it was the least touristy. The largely-undeveloped island has actually been dubbed the "nature island" and the locals say it's the only Caribbean island that Columbus would still be able to recognize.


The Cruise Web, Inc.
reply@cruiseweb.com
1-800-377-9383