Norwegian Sun Shines Brighter With Recent Ship Renovations
Courtesy of Norwegian Cruise Line.
Norwegian Sun re-entered service after undergoing a multi-million dollar 12-day dry dock during which the 1,936-passenger ship received extensive renovations focused on enhancing the guest experience. The Freestyle Cruising ship received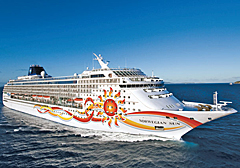 enhancements to its public areas, suites and restaurants. Following on the popularity of the Brazilian steakhouse that debuted on Norwegian Epic, the Moderno Churrascaria has been added as a new on-board restaurant. Guests can sample a variety of skewered meats presented by tableside passadors, as well as a salad bar. Additional updates and enhancements were made to some of the back-of-house areas of the ship to increase efficiencies.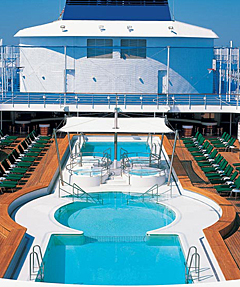 "We have a company-wide commitment to ensuring our ships are in excellent condition. Therefore, Norwegian Sun is the first of three ships this year that will enter dry dock for enhancements, along with several that will take place in 2012," said Kevin Sheehan, Norwegian Cruise Line's chief executive officer. "We will continue to enhance and refresh Freestyle Cruising for our guests and are pleased to now offer a new restaurant choice on Norwegian Sun."
Additional ships undergoing dry dock improvements this year are: Norwegian Dawn in May and Norwegian Spirit in September.
Norwegian Sun's refurbishment to guest areas includes:
Updated décor in all 33 of the ship's suites
Improvements to the Kids Crew area which offers complimentary children's programs
The addition of Moderno Churrascaria, the line's new and popular Brazilian steakhouse (in the space previously occupied by Pacific Heights)
Overall replacement of carpets and wall coverings in public areas
In addition, back-of-house enhancements include:
An energy conservation project focused on the ship's HVAC system to save an estimated six million kilowatts per year (when complete in May 2011)
Replacement of all potable water piping (continuing over the next 12-18 months)
Propeller and rudder modifications to decrease power consumption by six percent
Removal and replacement of all lifeboat davit hooks with new state-of-the-art hooks to further ensure guest safety
Norwegian Sun sails alternating Eastern and Western Caribbean itineraries from Port Canaveral, departing every Saturday through April 7, 2011. The ship's seven-day Eastern Caribbean cruise stops in Nassau, Bahamas; St. Thomas, U.S. Virgin Islands; and Philipsburg, St. Maarten. On the seven-day Western Caribbean cruise, the ship will call in Cozumel, Mexico; Santo Tomás de Castilla, Guatemala; Belize City, Belize and Key West, Florida. The two itineraries can be easily combined to create a port-rich 14-day Caribbean tour for guests looking for a longer cruise escape.
Beginning May 8 2011, Norwegian Sun will spend her summer in Europe sailing from Copenhagen, Denmark, for the first time in the company's history, embarking on 15 nine-day Baltic Capitals cruises. Ports of call include: Berlin (Warnemünde), Germany; Tallinn, Estonia; an overnight in St. Petersburg, Russia; Helsinki, Finland and Stockholm (Nynashamn), Sweden.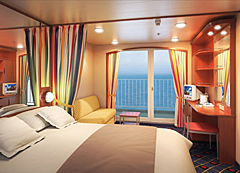 Norwegian Sun has a variety of stateroom options, a choice of 14 dining venues, 10 bars and lounges, multiple entertainment venues, a luxurious spa and salon, state-of-the-art fitness center, a complimentary kid's club and teen lounge, a sports deck and several spacious public rooms.


The Cruise Web, Inc.
reply@cruiseweb.com
1-800-377-9383