My Antarctic Adventure
By Jacques Botty, Senior Cruise Consultant, The Cruise Web.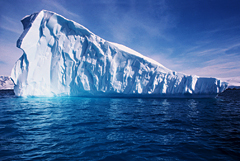 It had been a long-time dream of mine to visit Antarctica and I'm proud to say that I finally turned that dream into a reality this past November. Setting foot on the great white icy continent easily tops my life's greatest experiences. Plus, the trip bestowed upon me an even greater appreciation for the wildlife conservation and research efforts in the Antarctic – something I now strongly advocate and donate to.
My trip, like most Antarctica expeditions, started in Ushuaia, Argentina – a city that prides itself on being the world's southernmost city. Large mountains and the Tierra del Fuego National Park surround Ushuaia and Patagonia. After spending some time in the city, where popular activities include nature hikes, fishing and horseback riding, we headed out to sea and began our expedition.


During the first few days of the cruise we experienced the extremely harsh waters of Drake's Passage.  The waves were so large that these days could be quite uncomfortable. However, these are the best days to view seabirds, namely albatrosses and petrels. These amazing birds live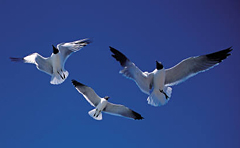 their lives at sea following ships and gliding upon the winds (rarely will you see as much as a single flap!). They are now conservation dependent as there have been significant population declines because of legal and illegal fishing of Patagonian/Antarctic toothfish (aka, Chilean sea bass). These diving birds often dive for food on baited fishing hooks and get hooked then drown. Save the albatross; it would be a crying shame to lose these birds!
We would make two landings a day, weather permitting: one in the morning and then one in the afternoon at several of the isles surrounding the Antarctic Peninsula. Our first landing was in the South Shetlands Islands which surround the northern tip of the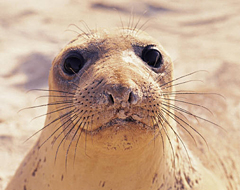 Antarctic Peninsula. These landings were made using large eight-person Zodiac rafts that took us all the way onto the beach! Once on the islands we encountered large vibrant seals, old whale bones, birds and penguins! Remarkably, even 110+ people do not scare any of these animals, as they've yet to know humans as dangerous. You could get within feet of a 2,000 pound sleeping elephant seal and it would simply pop its head up, look around, and then just tuck its head back down and resume its sleep! It was absolutely amazing to be so close to the wildlife!
The only actual continental landing, and my favorite, was Neko Harbor. I had finally stepped foot on the seventh continent! Out of all places on earth this is the driest, windiest
and coldest. The penguins like it and so do I. While in Neko Harbor we spent the first hour trekking to the top of a mountain to catch a scenic view – one that I'm sure will last me a lifetime. The exhausting trek up the entire mountain was optional but I'm glad to say that I made it to the top of the mountain and boy was the view ever worth it! I sat down surrounded by tumbling glaciers, penguins, an amazing view of icebergs and small icebergs (known as bergy bits). It was magical and pictures couldn't ever do it justice. To really soak it all in, I recommend getting your eyes out from behind your camera!
Deception Island and Whaler's Bay are other favorite ports-of-call for Antarctic cruises. This area is known as a volcanic caldera, which is a depression in the land formed by collapsed volcanoes.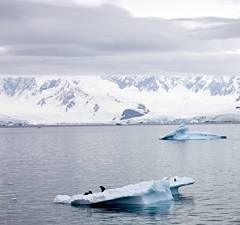 Deception Island is attractive because of the geothermal hot springs and the remains of a whaling station. We saw giant whale oil tanks, some bones, the remains of the Norwegian Hektor whaling station and other types of relics. Whaler's Bay was abandoned by the whalers around 1931 and then again by the British scientists using the base in 1969, but the remains have been preserved. We saw 100-year-old boats and barrels used to bring fresh water, all preserved as Antarctic artifacts. It's hard to control your imagination as you can almost see the whaling industry at work.
While we were told that we would likely not see whales so early in November, we were pleasantly surprised to view a humpback whale only a few feet away from our vessel expressing great curiosity for us and what we were doing. We also saw minke whale flukes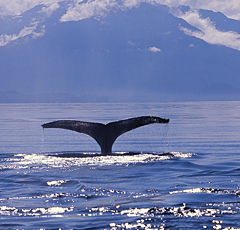 and killer whales! A pod of 10 – 12 orcas swam right at us and even under our boat. Our expedition staff said they've never seen a gathering like that, especially so early in Antarctica's spring season (November). The great whales usually don't come to the southern oceans until January or February when they feed on the krill after breeding. Another highlight was when we gathered about 50 persons in zodiacs and kayaks around a leopard seal and her young pup. This was an extremely rare sighting – even for some of the most seasoned Antarctic expedition staff. Even with all the commotion and photography the animals were not afraid of us!
While it's unfortunate that so few people ever experience this mysterious land for themselves, I'm excited to now have a firsthand experience to share with others. Though words and photographs can't adequately portray the magnificence of Antarctica (the wildlife and landscape are just too amazing!), I hope my excitement is contagious and ignites in you a passion for your own discovery!

Jacques Botty
Senior Cruise Consultant
The Cruise Web, Inc.
1-800-377-9383 ext. 289
jacquesb@cruiseweb.com