The Cruise Web is pleased to introduce Monograms, our new preferred pre- and post-cruise land tour provider!
One of the best perks of cruising is its combination of convenience and value, which allows guests to focus on enjoying incredible travel experiences without the stress. Now, imagine that same convenience, but extended on land! Plus, and most importantly, imagine a land tour that combines the freedom of independent travel with the expert assistance of local guides.
This perfect blend of freedom and guidance is what sets Monograms apart, and also what makes us confident to offer their pre- and post-cruise land tours as the ideal complement to your cruise vacation!
Enjoy rewarding, in-depth sightseeing in Europe's most popular cities, as well as in Africa, Asia, Australia/New Zealand, Central America, South America and the South Pacific.
Plus, each worry-free Monograms land package includes centrally-located hotels, daily breakfasts, convenient transportation and VIP sightseeing—all led by a Local Host, to help you experience your destination like a local.





Monograms: A Better Way to Travel



The Monograms Difference
Independent, but Not Alone: With Monograms, "independent" does not mean "fend for yourself", but rather gives you the freedom to lean on local experts as much or as little as you desire.
Easy Arrivals & Departures: You'll be met at the airport or cruise terminal by a friendly Monograms host, who will then escort you by minibus to your hotel.
The Right Hotel: Choose from a handful of centrally-located hotels, all hand-selected by travel experts to offer the perfect home away from home.
VIP Sightseeing: Half or full-day guided tours skip the lines and get you oriented to your new destination, the perfect precursor to a day of independent exploration.
Guided, Not Herded: Skip the queues and see the sights on a land tour where "guided" does not mean "see how many people we can we fit onto a bus!" Even the largest groups won't exceed 20 guests per minibus.
Local Hosts: Your personal Local Host is your on-site expert for everything from dining suggestions to must-see attractions and transportation schedules.
Family-friendly: Keep a stress-free cruise from turning into a stressful embarkation/disembarkation by leaning on the experts to arrange your hotel, transportation and sightseeing details, sometimes with discounts for kids!
Bundled Value: Save both time and money by bundling your cruise with a pre- or post-cruise land vacation.




Destinations
Pre- and post-cruise packages a great way to enjoy deeper discovery of fascinating cultures, ancient wonders, global cuisines and more—and are now available for the following cruise destinations:

 
Sample Pre-Cruise Tour: Rome (3 Nights)
DAY 1: Ciao! And welcome to Rome, where an airport host will escort you to your hotel.
DAY 2: Enjoy your included buffet breakfast before adventuring into Rome to see some of the top landmarks. Your guide will help you skip the lines to see highlights, such as The Sistine Chapel, Vatican City, Roman Forum and Colosseum.
DAY 3: Finish your time in Rome exploring on your own. If you need help, your Local Host is happy to point you in the direction of great dining or additional landmarks, such as the Trevi Fountain.
DAY 4: Your last day is capped off with another delicious breakfast before embarking on the next leg of your journey—a Mediterranean cruise!




Value Comparison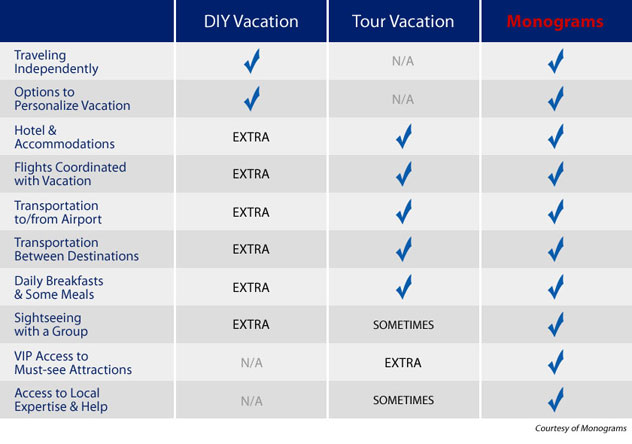 Extend your cruise vacation—whether already booked or still in the works—with a Monograms pre- and/or post-cruise land tour!
To learn more about Monograms and discover our available pre- and post-cruise land tours, call The Cruise Web today at 1-800-377-9383.




The Cruise Web, Inc.
reply@cruiseweb.com
1-800-377-9383