A group of The Cruise Web's Cruise Consultants recently toured Oceania Cruises' Marina cruise ship in New York City. They were able to explore this elegant, classic ship from top to bottom and see all the amenities she has to offer guests. They also enjoyed a delicious lunch – and Oceania is known for offering some of the best cuisine at sea! When they returned we asked them for their reviews of Marina, and they had nothing but great things to say: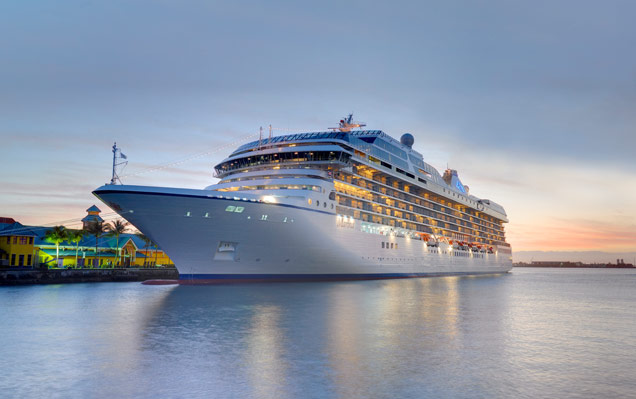 Allison S.:
"The entire ship was lovely with a simple, clean, and elegant design overall. Of course, the Jacques Pepin designed cuisine was excellent – as to be expected. I particularly enjoyed the pool deck with its teak chairs and tables, and how loungers were generously distanced from each other. An unexpected, but pleasant, surprise was how inviting the interior cabins are; they give the feeling of being in an interior room in an old manor house, and are given the same attention to detail as the higher priced rooms."
Ian H.:
"Oceania Marina exceeded all my expectations. At only 8 years old, she is in pristine condition. The two things that stood out to me the most were the incredible amount of wall-to-wall, floor-to-ceiling windows in almost every public area, and the million-dollar fine art collection decorating the walls of each hall and lounge."
Gloria H.:
"Marina is a great example of luxury at its best. The décor was modern and contemporary and very tastefully done. The colors chosen gave off a calming feel; for those who like subtle elegance – Marina is for you. The food was fantastic, everything is fresh and your plate is made to order. The chocolate lava cake was to die for, I watched two grown men almost cry when they tasted that cake. It was that good! I also liked the Theater set up, even though the seats were in long rows, there was plenty of space for people to walk through, and the seats were wide enough that you did not feel packed in. Marina also had a culinary center where you could work one-on-one with the chef and learn how to prepare a few of their signature dishes. For anyone who likes the finer things in life but don't want to mortgage your house to get it – Oceania might be a good fit for you!"
Sherry J.:
"I was very impressed by the entire look of the Marina and its décor. Everything was elegant and tastefully done from the furniture to the flooring. I had the best beef tenderloin I have ever had preceded by an appetizer of tasty pasta purses filled with provolone in a butternut squash cream sauce."
Juliana C.:
"When walking aboard Oceania Marina, it was as though I had walked into a luxury hotel with very intricate details. The staff was very courteous and amicable. Oceania take pride in using the freshest ingredients at sea and it is reflected in their cuisine."
Ben S.:
"What impressed me the most were the different dining options. There is a reason Oceania takes pride in calling themselves 'the finest cuisine at sea'. Marina has many specialty dining options that are elegantly and feature incredible menu items. We were treated to lunch in the Grand Dining Room and had some delicious options available: lobster & caviar, stuffed pasta shells, sea bass, beef tenderloin, and a unique dessert! Aside from the dining options, you can also try a themed cruise where Master Chef Jacques Pepin or Claudine Pepin will be onboard with a specially designed menu, culinary demonstrations, and more. If you want a luxury experience at a great price, I highly recommend Oceania Cruises!"
James M.:
"I thought the ship was very boutique and elegant, the staff beyond attentive, and the food amazing – especially the chocolate volcano dessert. The ship was easy to navigate and it was great to see all the fun activities available onboard."
Scott R.:
"The food was wonderful and the service impeccable. I found the lobby to be very impressive and thought the miniature golf course on deck 16 was in excellent shape."
If you're a 'foodie', looking for luxury at an affordable price, enjoy understated elegance, or want to see the world in your own way, then a cruise with Oceania Cruises is perfect for you! For more information about upcoming sailings aboard Oceania's Marina, and all other Oceania sailings, call The Cruise Web today at 1-800-377-9383 to speak with one of our expert cruise consultants.



The Cruise Web, Inc.
reply@cruiseweb.com
1-800-377-9383