Ultra-luxury cruise line Seabourn will introduce a new dining experience when its newest ship, Seabourn Ovation, makes her debut in May 2018. Earth & Ocean at The Patio is an a la carte dinner venue designed to delight Seabourn guests with candlelight seating, sweeping views of the sea, and a sophisticated menu that celebrates the flavors from around the world.
Earth & Ocean at The Patio is designed to be a culinary experience like never before at sea. Seabourn worked closely with consulting chef Anton Egger to develop the concept, and the result is an innovative dining experience. Guests can look forward to an array of fresh, innovative dishes from around the world served underneath the twinkling stars.
"Earth & Ocean at The Patio continues the evolution of dining experiences across the Seabourn fleet, offering guests a culinary voyage to far-flung regions of the world served in a remarkably welcoming and relaxing open-air space," said Richard Meadows, president of Seabourn. "The new concept, which has some really unique service elements, will be one of many highlights for guests to savor with the launch of Seabourn Ovation, and we look forward to expanding it to all of our ships in the year ahead."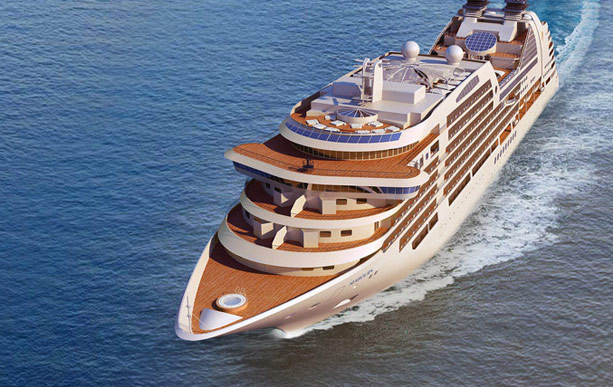 Guests may begin their meal at Earth & Ocean at The Patio with items like smoked bacon grissini and home-made artisanal bread. Other dishes may include quick-fired or grilled meat brochettes, slow-cooked or braised beef brisket, traditional Chinese-style filled bao buns, and more. The menu will change daily, and will also serve a shareable course every evening – for example, oven-baked camembert or brie with honey pommery mustard and toasted rustic bread, oven-baked peaches, slow-roasted pineapples with gelato, and more.
During lunchtime The Patio will continue to offer regular poolside lunch service, which includes salads, soups, grilled specialties, and a selection of gourmet pizzas.
Earth & Ocean at The Patio will be featured aboard Seabourn Ovation when she launches, and is expected to be fleet-wide beginning in 2019. For more information about upcoming sailings on Seabourn Ovation, and all other sailings with Seabourn, call the luxury cruise experts at The Cruise Web today at 1-800-377-9383.



The Cruise Web, Inc.
reply@cruiseweb.com
1-800-377-9383