Carnival Cruise Line Unveils New Shopping Experience on Carnival Horizon
The latest ship from Carnival Cruise Line, Carnival Horizon, will offer her guests fantastic retail therapy when they sail. The traditional approach to onboard shopping has been revamped on Carnival Horizon – where she will feature a two-deck high, mall-style space featuring some of the world's best known brands, including Victoria's Secret, Michael Kors, Kate Spade, LeVian, and more.
"We've significantly upgraded our retail choices and spaces in recent years and with Carnival Horizon we're raising the bar with our biggest and best shopping experience yet," said William Butler, vice president of retail services at Carnival Cruise Line.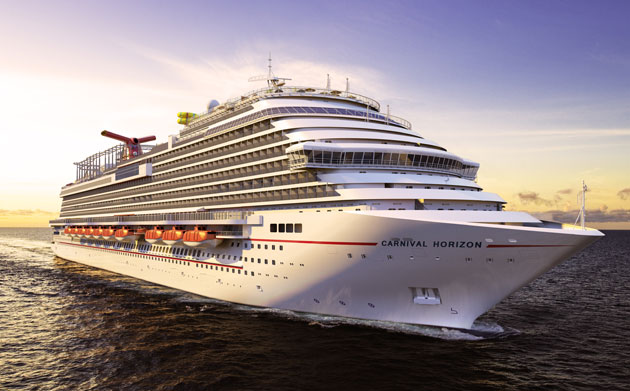 But Carnival Horizon's retail space isn't simply a mall at sea, it has been divided into separate areas with each dedicated to a unique shopping experience. The shopping areas include:
Hip Fish: Shoppers will find fashion jewelry, accessories, beauty products, and fragrances. Here you can create your own piece of jewelry made of Swarovski crystals.
Front Street: This is the area to go to for fine jewelry and timepieces.
Portside Liquor & Tobacco: Exactly what the name suggests! Shop here for popular duty-free items, which includes the most extensive spirits display at sea. Try the Spirits Tasting Bar to sample and purchase some of the world's finest liquors.
And of course fan favorites like Cherry on Top and the Carnival Store will be featured.
Carnival Horizon is taking the traditional at-sea shopping experience and ramping it up to a true "retail-tainment" experience including giveaways, in-store parties, entertainment, and more. Promotions will change daily with the flexible pop-up spaces that display new fashion and jewelry trends. Get ready to shop until you drop.
For more information about Carnival Horizon, and her upcoming sailings, please call The Cruise Web today at 1-800-377-9383 to speak with an expert cruise consultant.


The Cruise Web, Inc.
reply@cruiseweb.com
1-800-377-9383