Last month, as the 2018 Winter Olympics captivated the world, we found ourselves intensely drawn to the striking landscapes and fascinating cultures of South Korea – not to mention the jaw-dropping athletic feats. While it's tempting to just sit back and envy the globe-trotting exploits of the world's best athletes, it's much more rewarding to find inspiration in their actions, and to use this to embark on adventures of our own!
Inspired by the sights and sounds of PyeongChang, we decided to spotlight cruising to South Korea with special attention given to the ports of Busan, Seoul, Jeju and Yeosu. In addition to the remarkable mountainscapes and ski resorts you probably saw during TV coverage of the Olympics, South Korea is also home to vibrant cities dotted with ancient temples and stunning palaces. Just beyond the bustling district life, you'll discover breathtaking beaches, soothing hot springs, giant craters and towering volcanoes. In writing, the cityscapes and natural beauty come across like opposite worlds, one out of place near the other. In reality, however, you'll find that the blending of new and old, synthetic and natural, is essential in crafting the unique beauty and complex charm of South Korea.





Departing for South Korea:
The most popular departure ports for cruises to South Korea are in one of three countries: Japan (typically Tokyo, Yokohama or Kobe), China (usually Shanghai or Hong Kong), or the city-state of Singapore. It's also possible to cruise to South Korea as part of a longer itinerary departing from cities outside of Asia, including Los Angeles, Cape Town, Southampton and more.
 
When to Go:
Cruises to South Korea depart throughout the year, providing travelers with the opportunity to visit South Korea in nearly any month. Because of South Korea's temperate climate, travelers could experience each of the region's four distinct seasons. Summers (June through September) are hot and humid while winters (December through March) are cold and dry, making spring (April and May) and autumn (October and November) ideal for most cruisers – at least in terms of sunshine and temperature.
 
Featured Ports of Call:
Cruises to South Korea highlight all of the country's most interesting aspects, from peaceful Buddhist temples juxtaposing a war-torn history, to dramatic sunsets behind towering volcanoes. Featured below are the most popular South Korean destinations for a cruise through Asia:
 
Busan, South Korea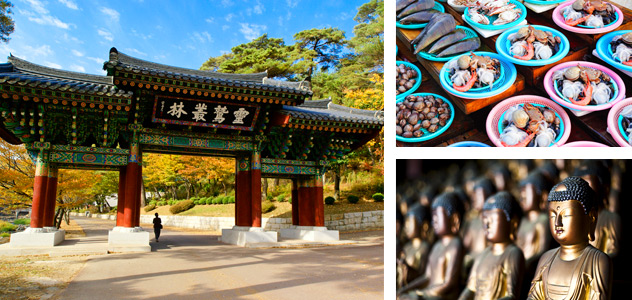 South Korea's second largest city, Busan (aka Pusan) invites travelers to explore the surrounding parks, beaches and hot springs. Taejongdae Park, for instance, features wonderful coastal vistas, and Hurshimchung Spa offers a unique strawberry milk bath! However, if it's the bustling city life that you seek, Busan delivers with towering skyscrapers, a buzzing harbor and endless shopping options. Because Busan is one of the world's busiest ports, its famous Jagalchi Fish Market is constantly humming – even guests that don't favor seafood will relish the atmosphere, which makes the market a show in its own right. Busan also offers fascinating history, including the Tongdosa Temple just north of Busan that contains significant Buddhist relics, and the United Nations Memorial Cemetery that honors those that gave their lives during the Korean War. Whether you call it Busan or Pusan, you're sure to enjoy your time spent in this marvelous city located at the southern tip of South Korea.
CLICK HERE to view cruises to Busan, South Korea
 
Seoul (Incheon), South Korea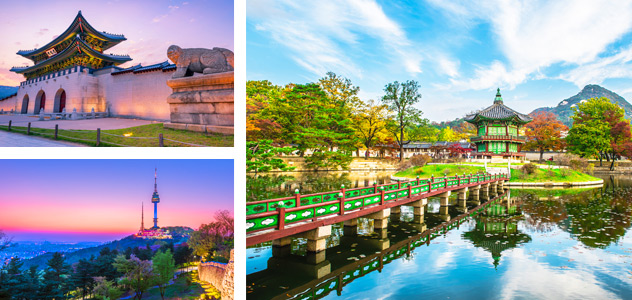 Located about 90 minutes inland of Incheon, Seoul is South Korea's impressive capital city. Like much of South Korea, Seoul is a beautiful juxtaposition of modern architecture and futuristic technology with serene gardens and ancient palaces. Discover an artistic treasure in Mary's Alley within Seoul's art district, marvel at Gyeongbok Palace's grandeur or reflect for a moment in the surrounding gardens. If you opt to stay in Incheon, take time to explore Wolmi Culture Street for a taste of authentic South Korean cuisine, take advantage of a mud-based spa treatment or hike the trails on Muuido Island to be rewarded with mesmerizing views of the harbor. However you choose to spend your time in Incheon or Seoul (or both), make sure you have plenty of space on your camera's memory card to capture all of South Korea's unique beauty.
CLICK HERE to view cruises to Seoul, South Korea
 
Jeju (Cheju), South Korea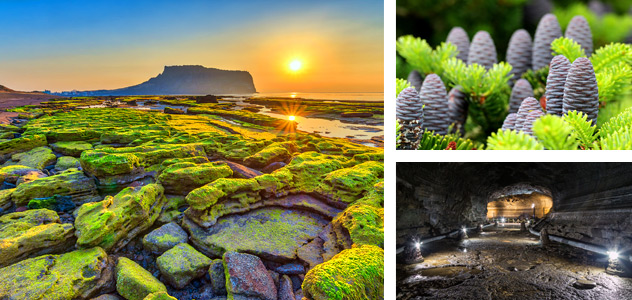 Jeju is South Korea's largest coastal island, located just off the southernmost point of the peninsula in the Korean Strait. This volcanic island, which is affectionately referred to as the "Island of the Gods," is a UNESCO World Heritage Site featuring an impressive lava tube system, lake-filled craters and the towering Seongsan Ilchulbong volcanic cone – rising out of the sea like an oversized sports arena. Catch a scenic sunrise over the Seongsan Ilchulbong crater, explore one of the longest lava tubes in the world via Manjanggul Cave or enjoy hiking around the dormant volcanos; visitors that reach altitudes above 1,000 meters will be rewarded with forests of Korean fir trees, recognizable by their signature purplish-blue cones. For a more family-friendly activity, head to Gimnyeong Maze Park to navigate the extensive labyrinth of cypress trees. Whether you enjoy actively exploring the outdoors, or just taking in their beauty from afar, Jeju island's unique geology and striking landscape are not to be missed!
CLICK HERE to view cruises to Jeju, South Korea

Yeosu, South Korea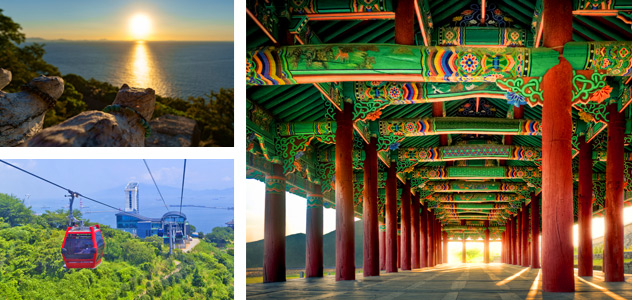 Situated on the southern tip of the Korean peninsula, Yeosu is a scenic harbor city with volcanic beaches, ancient temples, impressive architecture and a proud maritime history. Dolsan Park and the nearby black sand beaches are accessible via the Yeosu Maritime Cable Car, which provides incredible panoramic views of the entire harbor by day or night. If you're feeling brave, opt to take your ride in one of the glass-floored cable cars! If you're in the mood to explore on foot, head to Odongdo Island to wander the walkways cutting through the greenery, or chart your own course amongst the wildflowers. Of course, no trip to Yeosu is complete without time spent marveling at the ancient temples. Jinnamgwan is Korea's largest one-story wooden pavilion and Heung-guk Sa Temple offers another chance to discover Korean culture, but if you're only going to visit one temple, make it Hyangiram Hermitage. This cliff-side temple complex rewards visitors with jaw-dropping ocean views beyond a series of stone stairways and caves. When a full day of sight-seeing triggers your appetite, make your way to the local fish market for fresh seafood and authentic Korean cuisine to top off a wonderful day in Yeosu, South Korea.
CLICK HERE to view cruises to Yeosu, South Korea


The South Korean cruise ports listed above are each highlights of various Asia cruise itineraries ranging from 4 to 180 days in length. When choosing a cruise to Asia, you'll discover a nearly endless array of immersive itineraries focusing on the best of the Far East!
To learn more about cruising to South Korea or the rest of Asia, contact The Cruise Web's experienced cruise consultants at 1-800-377-9383.

If you've ever traveled to South Korea, what were your highlights and most memorable experiences?




The Cruise Web, Inc.
reply@cruiseweb.com
1-800-377-9383