Carnival Cruise Line to Debut New Entertainment Options on Carnival Horizon
Carnival Cruise Line recently announced the addition of brand new entertainment options aboard its newest ship, Carnival Horizon.  The in-house Carnival Cruise Line entertainment team partnered with creative directors from Broadway, Los Angeles, and London's West End to create three original shows that will raise the bar for cruise ship entertainment.
The shows are part of Carnival's Playlist Productions, and are designed to make maximum use of Carnival Horizon's sophisticated and interactive LED screens while showcasing the incredible talent of the performers to deliver unforgettable entertainment.
"Carnival Horizon promises to be a spectacular addition to the fleet and we've made the entertainment and activity options equally spectacular with such an array of fun choices, morning until night," said Sarah Beth Reno, Carnival's vice president of entertainment. "Whether you're enjoying an amazing Playlist Productions show, checking out the hilarious entertainers at the Punchliner Comedy Club or participating in our legendary deck parties, our team will make sure your Carnival Horizon vacation is one you'll never forget," she added.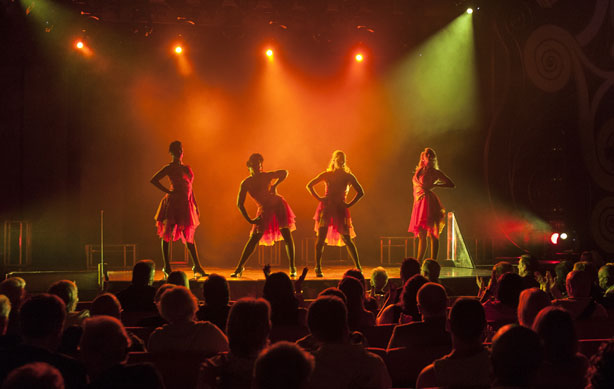 The three new Playlist Production shows on Carnival Horizon are:
Soulbound: This high-energy show takes guests on a journey through New Orleans with stops at well-known landmarks, such as a haunted paddlewheel ship, an apothecary shop, and a cemetery with levitating chairs and other spooky illusions. Watch as spirits are captured and brought back to life through dazzling special effects while cast members belt out R&B favorites.
Celestial Springs: This spectacular show blends the beauty of classical music with modern pop beats. It takes place in a stunning, elegant, and enchanted garden that moves from season to season – guaranteed to delight your senses with incredible visual imagery, 3D cast interactions, and aroma-infused sets.
Vintage Pop:  This show transports viewers back to the Great Gatsby and Cotton Club era with a special jazz interpretation of modern songs. A six-piece live band performs these spectacular songs in a modern-day speakeasy. Vintage Pop ends on a high note with a show-stopping burlesque performance and an after-party in the atrium, where guests can interact with cast members.
These new shows will be accompanied by a fourth show, Amor Cubano, which debuted to critical-acclaim aboard Carnival Vista last year:
Amor Cubano: A Caribbean Dance Romance: This show will get you – and keep you – on your feet dancing to its blend of classic Latin songs with today's hits, and has an authentic reproduction of the sizzling Havana bar on Carnival Horizon. The heart of the performance is a seven-piece Cuban-inspired band performing songs by Gloria Estefan, Celia Cruz, and others in front of a backdrop inspired by Cuba and Miami.
These new productions join an already impressive array of entertainment offerings, both family-friendly and adult-only, on Carnival Horizon. Carnival Horizon is scheduled to make her debut on April 2, 2018, with a 13-day Mediterranean cruise from Barcelona, the first of four roundtrip departures from Barcelona. She will then reposition to the USA with a 14-day transatlantic crossing from Barcelona to New York in May 2018 to begin her summer schedule of 4-day and 8-day Caribbean sailings from New York.
For more information about Carnival Horizon, and all other Carnival sailings, speak with the cruise experts at The Cruise Web today at 1-800-377-9383.


The Cruise Web, Inc.
reply@cruiseweb.com
1-800-377-9383