Carnival Cruise Line Announces New Japanese Restaurant
Carnival Cruise Line recently announced the addition of its first-ever teppanyaki dining venue aboard Carnival Horizon.
Teppanyaki, a traditional Japanese cooking method, combines ancient cooking techniques with modern performance art to create an experience pleasing to both the tongue and eyes. The restaurant is expected to debut in Spring 2018 when the Carnival Horizon debuts in Europe.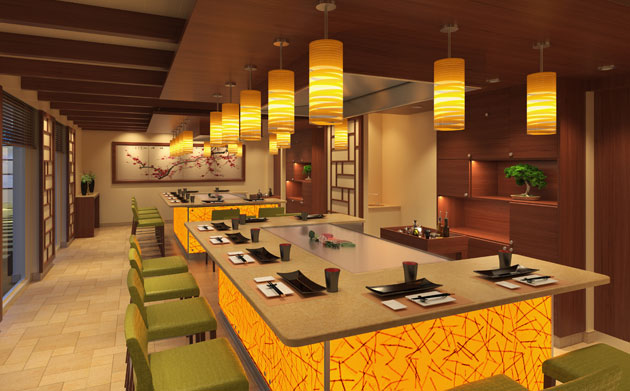 The restaurant, named Bonsai Teppanyaki, will offer a diverse menu featuring delicacies from the Far East prepared by top chefs. A meal at Bonsai Teppanyaki will be an unforgettable experience for diners, who will experience both delicious cuisine and a dazzling performance from the chefs.
"Carnival is all about providing our guests with a wide array of choices and that, of course, includes a seemingly endless array of delicious culinary options," said Christine Duffy, Carnival's president. "The new Bonsai Teppanyaki promises to be a wonderful addition to the Carnival Horizon, offering delectable cuisine from the Far East enhanced by show-stopping performances by our talented and engaging chefs," she added.
Guests will begin their meal with samplings of five appetizers, including miso soup, spicy tuna on the rocks with onion sesame sauce and den miso, kabuki salad with ginger dressing, and more. Then guests will choose from a variety of delectable entrees including filet mignon with truffle salt, black cod with soy reduction, grilled tofu with vegetables, and more. Finally, the meal ends on a sweet note with a chocolate bento box with green tea ice cream.
Reservations are recommended at Bonsai Teppanyaki, and prices include all appetizer selections, an entrée, and dessert.  The restaurant will be open every evening for dinner and will be open for lunch on sea days.
The new dining venue will be located within the stand-alone Bonsai Sushi restaurant aboard Carnival Horizon. The sushi restaurant will offer traditional sushi, sashimi, and more a la carte. It is one of dozens of dining venues onboard offering international cuisine.
Carnival Horizon will also feature a Dr. Seuss-themed waterpark, a bike-ride-in-the-sky attraction named SkyRide, an IMAX theatre, and much more. There is something fun for every member of the family – no matter the age!
Carnival Horizon is scheduled to make her maiden voyage on April 2, 2018 with a 13-day Mediterranean cruise out of Barcelona – the first of four round-trip departures from the port. Following these sailings, Carnival Horizon will reposition to the United States with a 14-day Transatlantic sailing from Barcelona to New York departing May 9, 2018.
For more information about Carnival Horizon, and all Carnival Cruise Line sailings, call The Cruise Web today at 1-800-377-9383 to speak with an expert cruise consultant!

The Cruise Web, Inc.
reply@cruiseweb.com
1-800-377-9383