Experience the 'Joy of Living' on a virtual tour of Uniworld's new S.S. Joie de Vivre river ship with The Cruise Web's latest infographic! Designed specifically for sailing France's Seine River, S.S. Joie de Vivre is the most luxurious river ship to sail directly into Paris – and actually dock within walking distance of the Eiffel Tower. Everything about this incredible new ship reflects the best of France – from the Parisian decor and L'Occitane bath and body products to the fresh French cuisine and local wines.
Preview The Cruise Web's S.S. Joie de Vivre infographic below, or CLICK HERE for full version: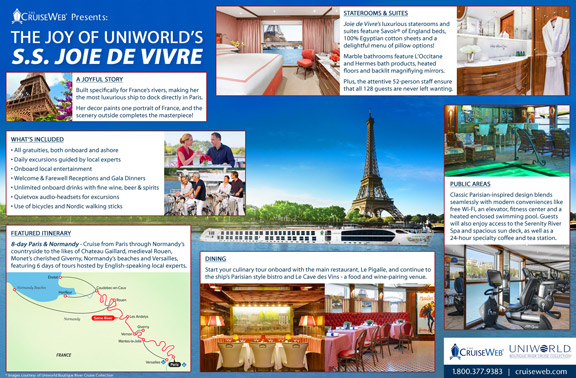 Embed this image on your site! Simply copy and paste the code below into your website:


Uniworld's S.S. Joie de Vivre will sail along the Seine River between Paris and Caudebec-en-Caux, highlighting the history, art, culture and flavors of France. The 8-day Paris & Normandy itinerary includes quaint cities, rustic villages and the striking beaches of Normandy, and the 8-day Parisian Royal Holiday offers a different perspective of the region against a backdrop of twinkling lights in celebration of the Christmas season. Plus, Uniworld's French immersion goes beyond the riverside scenery and daily tours, as the S.S. Joie de Vivre herself is designed to represent the beauty and rich history of France.

S.S. Joie de Vivre's French experience also comes through in the service received onboard. One of The Cruise Web's consultants, Sherry J., recently had the good fortune to experience Uniworld's impeccable service firsthand aboard S.S. Joie de Vivre, and the following story is a quintessential representation of the Uniworld difference:
"While enjoying ourselves aboard the S.S. Joie de Vivre after a day of touring in Caudebec-en-Caux, I quietly remarked to my friend that we neglected to try any French pastries. Leading up to this voyage, one of the things I was looking forward to most were the delicious treats that can be found in the streetside cafes and patisseries. Well, our ship's cruise manager overheard my comment and agreed that I just HAD to try some fresh local pastries. At the time, I didn't make much of it, but agreed with her, hoping that tomorrow I would have my chance. Fast forward a couple hours and I'm in my stateroom getting ready for dinner when I hear a knock at the door. I answer to discover the cruise manager standing at our door with an entire box full of the town's pastries. Apparently someone from the ship ran into town and grabbed these delicious treats prior to us leaving port for the evening. I was so touched, and even more amazed that Uniworld still finds ways to exceed my expectations!"
The best part of this example is that Sherry's experience is NOT an outlier – this is the Uniworld difference in practice! To see for yourself what sets Uniworld – and more specifically S.S. Joie de Vivre – apart from other travel options, contact The Cruise Web's expert consultants today at 1-800-377-9383.




The Cruise Web, Inc.
reply@cruiseweb.com
1-800-377-9383