Infographic: Viking Oceans Cruise Ships
Take a virtual ship tour of Viking Oceans' award-winning ocean cruise ships in The Cruise Web's latest infographic (click to expand):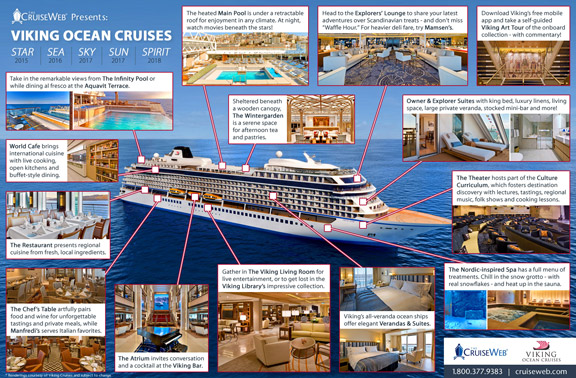 Embed this image on your site! Simply copy and paste the code below into your website:
Viking Oceans' stunning fleet of ocean vessels currently includes Viking Star, Viking Sea and Viking Sky. Plus, the award-winning line will welcome the addition of Viking Sun in late 2017 and Viking Spirit in 2018. Viking Ocean Cruises' itineraries sail around the world to the Caribbean, Europe, Asia, North America and more – bringing Viking's ever-popular cultural enrichment and destination-centric mentality to the Seven Seas.
To learn more about Viking Oceans' cruise ships, onboard experience and itineraries, contact The Cruise Web's expert consultants today at 1-800-377-9383.


The Cruise Web, Inc.
reply@cruiseweb.com
1-800-377-9383