Explore Carnival Cruise Line's next ship, Carnival Horizon, in our latest infographic (click to expand):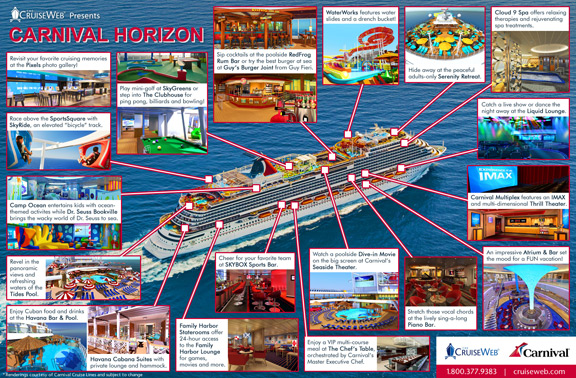 Embed this image on your site! Simply copy and paste the code below into your website:


Carnival Horizon went on sale Tuesday, January 24, 2017. In April of 2018, Carnival Horizon will embark on her inaugural cruise from Barcelona, Spain. In late May of 2018, after a few more European sailings, she'll cross the Atlantic to New York City – her home for the summer while sailing a season of 8-day Eastern Caribbean voyages. At the end of September, Carnival Horizon will move to Miami for year-round 6- and 8-day Caribbean cruises.
For more information regarding Carnival Horizon, contact The Cruise Web's expert consultants today at 1-800-377-9383.




The Cruise Web, Inc.
reply@cruiseweb.com
1-800-377-9383