Regent Seven Seas Cruises Introduces New Culinary Classes and Gourmet Tours for Seven Seas Explorer
Regent Seven Seas Cruises, the only cruise line to offer free unlimited shore excursions in every port-of-call, is developing new classes and tours in specific Caribbean destinations aboard the most luxurious ship ever built, Seven Seas Explorer. Beginning this winter and extending through spring of 2017, guests sailing select 10 and 14-night Caribbean cruises will delve deeper into the region's culture and history through highly personalized cooking instructions, hands-on training and local tours meant to highlight each destination's unique culinary charm.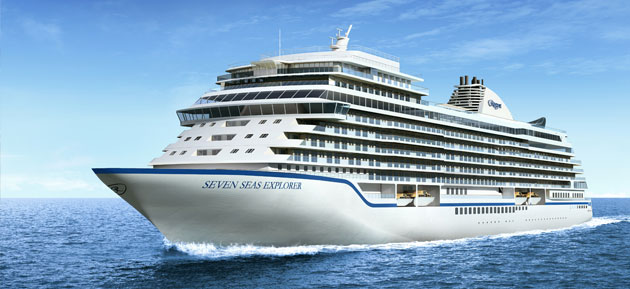 Known as the Culinary Arts Kitchen, this exciting onboard activity will feature cooking stations, top-of-the-line induction cooktops, essential cooking utensils and stainless steel sinks in the Culinary Arts Center on deck 11. The following will be offered in the cooking sessions:
Fiesta on the High Seas: Using a special recipe developed by the director of culinary enrichment, guests will learn to make delicious chocolate pepita shortbread. Master the art of grilling the perfect carne asada in addition to making tortillas from scratch. This is certainly a Mexican food lover's haven!
Caribe: Spice things up with the special flavors of the Caribbean using local specialties you can replicate anywhere in the world. Once you get home, making Bermudian ginger beer and grooving to the beats of the Caribbean will come naturally.
Who Doesn't Love Brunch?: Create trendy brunch cocktails with infused sugars as you learn new recipes to jazz up your afternoon meals.
Viva Espana: Add traditional Spanish tapas and authentic sangria to your list of culinary skills. You'll also receive a paella demonstration from the master instructor at the Culinary Arts Kitchen on how to make aioli from scratch.
Opa! Modern Healthy Greek: Explore a variety of Crete-inspired dishes for your healthy Mediterranean cuisine.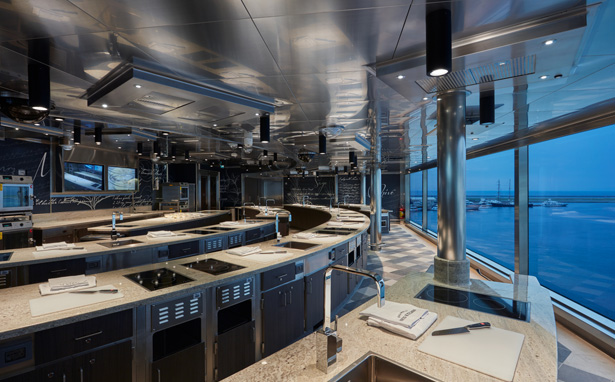 Seven Seas Explorer – Culinary Arts Kitchen
Once onshore, join the chef instructor and a local guide to explore the authentic wine, agriculture and cuisine of each destination. The excursion is known as the Gourmet Explorer Tour and features the following:
St. Lucia Spices Cooking Studio: Once you get a taste of St. Lucian cuisine, you will understand where this "spice island" derived its nickname. On this exclusive tour, guests will enjoy local dishes in the open air with spectacular views of the sea not too far away. Visit the bustling open-air Castries Market after lunch to purchase locally grown fruits, vegetables and spices.
Tortola Biodynamic Farm & Island Inspired Beach Lunch: Walk amongst seasonal crops of the biodynamic Good Moon Farm owned by local legend Aragorn to learn more about the island produce. Guests will then transfer to Trellis Bay for a delicious beachside lunch which includes Rasta-style fruit smoothies, fish and grilled vegetables, dessert dish of mango, guava berries and fig bananas.
St. John's Market Visit and Cooking Demo: The colorful market located in the center of downtown St. John's is where this tour begins. Taste local fruits like the famous Antiguan black pineapple and head over to the charming retreat owned by renowned local chef Chef Jacquie to master the preparation of fungie, the island's signature dish.
Seven Seas Explorer will set sail for the Caribbean during her inaugural season in December 2016. Contact our cruise specialists today at 1-800-377-9383 for more details on the sailings and excursions.


The Cruise Web, Inc.
reply@cruiseweb.com
1-800-377-9383