Regent Seven Seas Cruises Introduces Its First Female Ship Captain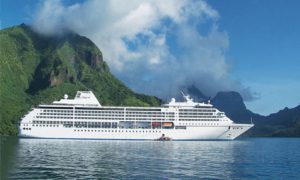 Regent Seven Seas Cruises, the world's most inclusive luxury cruise line, recently announced the promotion of Serena Melani from Staff Captain to Captain of Seven Seas Mariner. As the first female Captain in the Regent Seven Seas Cruises fleet, a native of the Tuscany region of Italy, and one of the handful of women to ascend the rank of captain in the cruise industry, Captain Serena Melani exemplifies the epitome of passion, commitment and enamor for the high seas.
Attaining her first shipboard position in 1998, her transition from working on roll-on/roll-off (RORO) ships, oil tankers and gas tankers to the cruise ship industry is quite fascinating – a decision impacted by her love for exotic places and interest in meeting new people.
After serving as 2nd officer, safety officer and Staff Captain with Regent Seven Seas Cruises for 6 years, Serena Melani embarked on her maiden voyage as Captain in February 2016. This 12-night South American sojourn from Buenos Aires to Rio de Janeiro sealed the deal for Captain Melani.
Seven Seas Mariner, the world's first all-suite, all-balcony ship offers all-inclusive cruise packages with round trip air, pre-cruise luxury hotel packages, unlimited sightseeing excursions, highly personalized service, free pre-paid gratuities, fine wines and Wi-Fi access, among other all-inclusive perks.
For the most inclusive luxury cruise experience, give us a call today and sail with Captain Melani aboard Regent Seven Seas Cruises' Seven Seas Mariner!

The Cruise Web, Inc.
reply@cruiseweb.com
1-800-377-9383