Create Your Own Wine Aboard Holland America's ms Koningsdam
When Holland America's ms Koningsdam debuts in April 2016, guests will be able to try their hand at mixing wines to create their own personal blend. This new winemaking experience will be offered at BLEND, a new specialty venue purpose-built for wine-blending.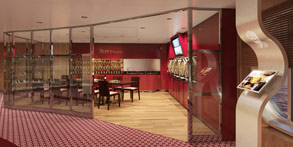 To bring this vision to life, Holland America has partnered with Washington State's oldest winery, Chateau Ste. Michelle. Their collaboration masterfully blends wine education and entertainment into an immersive new experience that will accommodate up to ten guests. Whether you're a self-proclaimed wine aficionado or someone who's a little more familiar with the boxed variety, you'll enjoy participating in the blending process and putting your own personal touch on a new creation.
Holland America Line's president, Orlando Ashford, describes the thinking behind this new experience: "At the core of every Holland America Line cruise is our desire to offer unique, immersive and innovative experiences, and BLEND by Chateau Ste. Michelle is all of those things and more. The BLEND experience on Koningsdam is designed to appeal to everyone, and it will be exciting for our guests to create an exclusive wine tailored to their personal taste that they can enjoy onboard with our exception cuisine."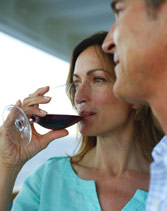 The BLEND experience will begin with a video welcome and winemaking overview from Chateau Ste. Michelle's Cellar Master, Bob Bertheau. Participants will learn about the history of winemaking in Washington State before exploring the different traits of the five single-vineyard red wines available for blending. After tasting each of the mixing varietals, the real fun begins as guests begin blending them into their own personal bottle.
After the new blend is bottled, participants can even create their own wine label. Afterwards, guests can enjoy their personal creation with dinner at one of the onboard restaurants, or in the privacy of their stateroom. Signed, sealed, delivered – blend yours!
Reservations are required for this one-of-a-kind wine blending experience, which will be offered daily at BLEND, only available aboard Holland America's ms Koningsdam.
To learn more about Holland America Line or to experience the brand new ms Koningsdam cruise ship for yourself, contact our expert consultants at 1-800-377-9383.

The Cruise Web, Inc.
reply@cruiseweb.com
1-800-377-9383