New Onboard App and Internet Package for Carnival Passengers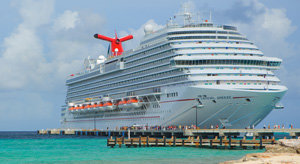 The Carnival Breeze now allows passengers to access useful information through a custom mobile app. Most excitingly, passengers will be able to chat with one-another throughout their cruise, for a small $5 flat fee. Additionally, the Carnival Breeze, Carnival Freedom and Carnival Sunshine will feature improved internet access with dramatically increased bandwidth and speed. Better still, these vessels will feature an industry first, social media package allowing guests unlimited access to Facebook, Twitter, Instagram and Snapchat for only $5 per day, or $25 per voyage!
Gus Antorcha, Carnival's Senior Vice President of Guest Commerce says, "Consumers expect a high level of connectivity even while on vacation and these new enhancements provide our guests not only with helpful tools for getting the most out of their cruise but also a convenient and cost-effective way for keeping in touch with their family and friends while on board. We recognize the increasingly important role that technology plays in people's daily lives and the launch of this application and new Internet packages provides us with a strong platform for introducing additional innovations and ways to use technology to enhance our guest experience even further."
The new mobile app being piloted on the Carnival Breeze features something called Carnival Hub, allowing guests to access ship features, facilities and constant updates on what's happening onboard. The app also includes daily schedules of onboard events, show times and a favorites list that allows guests to see what family and friends plan to do. Dining information is also available via this clever app, allowing guests to explore all of the many dining options on board. Searchable deck plans are also available, along with detailed itinerary information such as arrival and departure times for each port of call. To round out the feature-packed app, guests will also be able to monitor their onboard accounts from their iPhone and Android mobile devices. While only available on the Carnival Breeze currently, the plan is to have this great feature rolled out to the entire fleet in the next 24 months.
Carnival's enhanced internet connectivity is sure to be a hit with cruisers, who have until now battled limited internet speeds and functionality while at sea. Not only will guests have access to their social media accounts to share their vacation memories in real-time, they will have enhanced access to all of their online interests through the vastly improved onboard internet connection. Guest may also choose to upgrade to a "value" package allowing them unlimited access to internet while on vacation. Those who opt for the "premium" package will enjoy the fastest connection possible allowing access to data-hungry sites like Skype.
Upon the successful completion of these pilot programs, Carnival plans on rolling these amazing innovations out to their entire fleet, making Carnival the most connected ships at sea!
"In creating both the Internet plans and the app, we spent a lot of time listening to our guests to understand their needs and develop these products accordingly. While we trusted the plans and the app would be well received, we are stunned by how quickly and widely they have been embraced during the pilot period. We're excited to bring these innovations to more ships over the coming months while we continue to work to make them even better," said Gabriela Gonzalez, Carnival's Vice President of Guest Technology and Photo.
To take advantage of our Carnival cruise deals, call one of our experts today at 1-800-377-9383.


The Cruise Web, Inc.
reply@cruiseweb.com
1-800-377-9383