The Cruise Web's 10 Year Anniversary Party for Ellicia Ayers
On Thursday, October 16, The Cruise Web celebrated another big employee milestone – the 10 year anniversary for Ellicia Ayers, Accounting Coordinator for The Cruise Web. Not only is Ellicia critical to the company's day-to-day operations, she's also a valued cruising expert with tons of travel experience. Having been on eight cruise vacations, Ellicia is often sought out for her personal experience with particular destinations, cruise lines and ships. To celebrate Ellicia's 10 years of hard work and dedication to The Cruise Web, the office threw a surprise party in her honor. The party featured an array of Ellicia's favorite treats, including cupcakes and a giant chocolate chip cookie.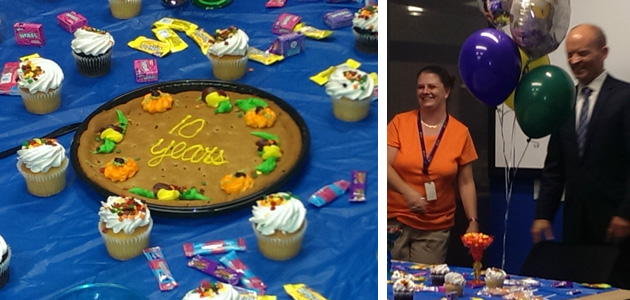 Ellicia, thanks for 10 great years, and here's to many more!


The Cruise Web, Inc.
reply@cruiseweb.com
1-800-377-9383