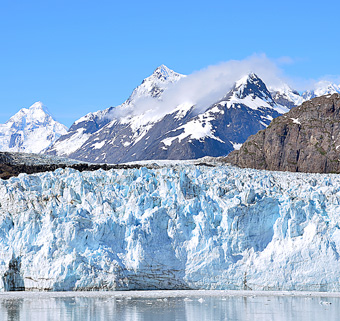 Alaska is one of the most unique – and most popular – cruise destinations in the world. Alaska cruises highlight the Last Frontier's fascinating cultures, rich history, majestic wildlife and natural beauty, including mountains, rivers and, of course, glaciers. There are many factors to consider when planning an Alaskan cruise, and careful consideration of each will ensure a memorable experience. When should you book, and when should you sail? Which ports should you visit, and which sites should be highest on your list of priorities? Should you take a cruise-only vacation, or add an in-depth land tour?
We'll tackle these questions and more in our guide to Alaska cruises.


When Should You Book an Alaska Cruise?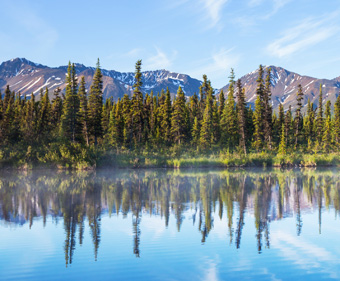 September marks the end of the 2014 Alaska cruise season, but it's also the best time to start planning your 2015 Alaska cruise. There are a few reasons for September being the best month to book next year's Alaska cruises. For starters, this is often when you'll find the best Alaska cruise deals. Prices usually increase as the cruise season approaches and inventory diminishes. For a popular destination like Alaska, the rule of thumb is to start planning your vacation at least 8 to 10 months in advance of when you want to sail, but even that could be cutting it close – especially if you prefer a specific stateroom. This brings us to our next reason to book early – to take advantage of the best selection of staterooms. Everyone loves a balcony stateroom, but it's probably never more important than on an Alaska cruise where so much of the experience comes from cruising alongside massive glaciers. Don't miss out on the chance to marvel at Alaska's wildlife and glaciers from your own private balcony.
The location of your cabin also matters, especially on an open-jaw (one-way) north or southbound Alaska itinerary where one side of the ship may offer significantly better views. If sailing north, look for the starboard (right) side; when heading south, stick with the port (left) side. Lastly, booking early gives you the widest selection of ships, the newest of which will sell out first.

When Should Your Alaska Cruise Depart?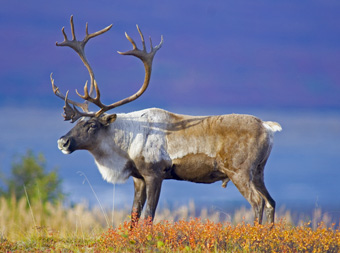 The Alaska cruise season runs from the end of April through September, and the experience does vary slightly depending on when you sail. June through August are warmer months, but also the most likely to receive rain. You're less likely to have rain in April or May, but Alaska is more likely to still have snow on the ground, which can be good or bad depending on what activities you have in mind. You're more likely to spot wildlife during the peak summer months, but more likely to see the Northern Lights later in September – so once again, it all comes down to what is drawing you to Alaska, and what is most important to you.
However, if you're just looking for the best deal, it'll usually be found during the "shoulder" periods at either end of the cruise season. The weather may be a little chillier, but April, May and September will almost always feature the most affordable Alaska itineraries.

What are the "Must-See" Sites and Cities in Alaska?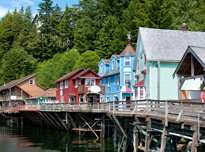 Alaskan cruise itineraries are full of memorable sites and ports of call, and each offers a unique glimpse into Alaska's history and culture. Just as important, each port is also a gateway into the state's wilderness, which is full of natural treasures and unbelievable sights. Popular ports include Anchorage, Juneau, Ketchikan, Seward, Skagway and Sitka. In and around these cities are a plethora of unforgettable sites, such as Glacier Bay, Tracy Arm Fjord and more. There are also additional "must-see" destinations that can only be visited with an Alaska cruisetour, but more on that later.
Anchorage could be an outdoor fanatic's dream stop. You can enjoy a strenuous hike, bike along the Tony Knowles coastal trail, take a flight-seeing tour over glaciers, visit the Anchorage Museum to see native art or head farther out of town to the Kenai Fjords which are teeming with wildlife.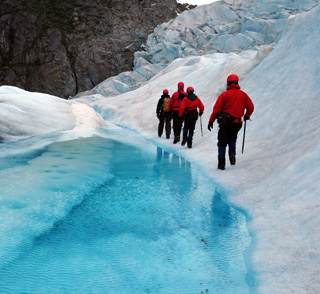 Juneau, which can't be accessed by road, but rather is only accessible by cruise ship, ferry or plane, became much of what it is thanks to the Gold Rush in the 1880s. You can learn about Alaskan salmon at the Macaulay Salmon Hatchery, go whale watching, tour the Alaskan Brewing Co. or visit the Alaska State Museum to see exhibits on Eskimos, Aleuts and other native tribes. However, if there's one must-see, it's the nearby Mendenhall Glacier. Take a helicopter ride onto the massive glacier, hike atop the moving ice or explore the waters by kayak or canoe.
Ketchikan is known as the "Salmon Capital of the World," and rightfully so. Sample this fishing town's fresh catch of the day, visit the Eagle Center, hike up Deer Mountain, zip-line through the rainforest (yes, rainforests in Alaska!), kayak in Misty Fjords or see the world's largest collection of Northwest totem poles. No trip to Ketchikan is complete without a stroll along Creek Street, the former red light district now lined with colorful restaurants and shops sitting upon pilings over the water.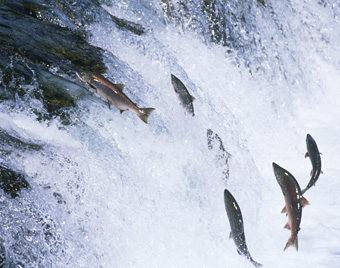 Seward is one of Alaska's oldest, most charming cities. It's the gateway to the Kenai Fjords National Park and one of the most lucrative fisheries in the United States. You can tour the starting point of the Iditarod sled race, go fishing for salmon on the Kenai River, spot marine life in Resurrection Bay or visit the Alaska SeaLife Center to view puffins, sea lions and more. The biggest must-see near Seward is the Kenai Fjords National Park where you can spend hours exploring the tidewater glaciers and coastal fjords.
Skagway offers a glimpse into what life was like for those seeking a fortune via the Yukon Gold Rush. Ride the scenic White Pass and Yukon Route Railroad through granite mountains, go white-water rafting, shop for some local jewelry or tour the Skagway Museum and Archives to see the tools prospectors used during their expeditions. You shouldn't leave Skagway without trying your luck at panning for gold.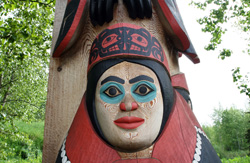 Sitka is a great place to learn about Alaska's Russian past. You can visit the eagles and owls of the Alaska Raptor Center, hike up Castle Hill to see where the American flag was first raised over Alaska or explore St. Michael's Cathedral – a shining example of Russian architecture. When cruising to Sitka, make sure you tour Sitka National Historic Park (aka Totem Park) to view the towering totems and learn about the native Tlingit people.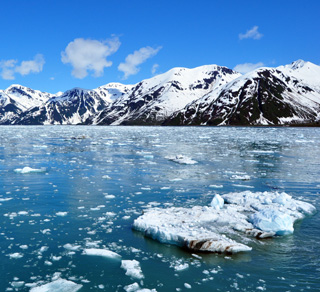 Glacier Bay National Park is a 3.3 million acre National Park that you can sail through on an Alaska cruise. This is the largest UNESCO protected biosphere in the world, consisting of over 50 tidewater and terrestrial glaciers and snowcapped mountains. Park rangers will point out interesting sites while sharing information about the glaciers – like the Muir Glacier or Johns Hopkins Glacier – and surrounding wildlife, including bears, moose, seals and whales.
The Tracy Arm Fjord is where you'll see the twin Sawyer Glaciers and others that are so bright and electric blue that you'll want sunglasses. As you sail along the glaciers, keep your eyes peeled for brown bears and wolves along the shores, while bald eagles soar overhead. The highlights of this passage are the Sawyer Glaciers. If you're lucky, you could even witness a glacier calving – an amazing phenomenon where a massive piece of ice breaks off and drops into the water below.

What About Alaska Cruisetours?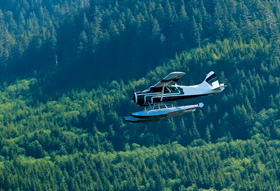 Reading through the Alaskan sites and cities listed above, you may have noticed a few big omissions, such as Talkeetna, Fairbanks and Denali. These are three unforgettable destinations that can't be seen with a cruise-only vacation, and three very good reasons to consider an Alaska cruisetour. Cruisetours are vacation packages that bundle a cruise with an extended land tour. The result is a more in-depth vacation that offers the most bang for your buck. The following destinations are only included in Alaska cruisetours:
Talkeetna is a small Alaskan town located at the base of the mighty Mt. McKinley. The region is covered in hiking trails with varying degrees of difficulty. You can also hop on a flight-seeing tour or board a jet boat for a river tour. The must-see of Talkeetna is Mt. McKinley which, at over 20,000 feet above sea level, is really more of a "can't-miss."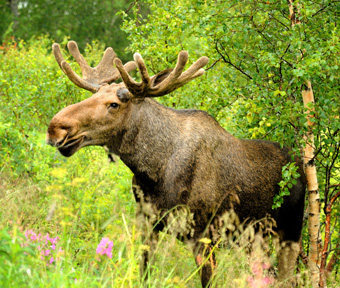 Fairbanks is the farthest north that most Alaska cruisetours venture, and this is another great entryway for unforgettable adventure and sightseeing. You can pan for gold, ride aboard a classic sternwheeler riverboat along the Chena River, tour an authentic Indian village, relax in the Chena Hot Springs or learn about the extensive Trans-Alaska Pipeline. When traveling this far north, you may as well take advantage of your location and join a one-of-a-kind flight-seeing tour of the Arctic Circle.
Denali National Park is an absolute paradise for wildlife enthusiasts and nature lovers. There are many ways to enjoy this 6 million acre nature reserve. You could go white-water rafting, take a helicopter tour, venture out on a sight-seeing hike or explore the Husky Homestead where you can meet sled dogs and learn about the history of the Iditarod. The abundant wildlife is one of Denali's main attractions, so see it all with a wilderness tour. A guide will teach you about the territory while pointing out moose, caribou, wolves, bear, eagles and more.

Where Should You Book Your Alaska Cruise?
With The Cruise Web, of course! We use a personal consultative approach that considers each of the factors mentioned above to make your planning process hassle-free and fun. We'll discuss different itineraries and guide you towards the best cruise line for your particular needs. We also have access to exclusive promotions and an extensive list of preferred cruise line partners, so you'll always get the best deal for your time and money.
To book your Alaska cruise or learn more about the destination, contact one of our expert consultants by calling 1-800-377-9383, or complete an online information request.
Have you ever cruised to Alaska? What is your favorite part about cruising through the Last Frontier?






The Cruise Web, Inc.
reply@cruiseweb.com
1-800-377-9383